Time to Play to Announce People's Play Awards This Friday
This Friday, December 2 at 8pm ET, Time to Play (that's us!) will reveal the winners of this year's People's Play Awards live on www.timetoplay.tv. Join us by RVSPing here.
This will be our biggest episode yet with tons of giveaways and prizes for those who participate in the episode. The People's Play Awards encompass numerous toys across a variety of categories. The nominees were chosen by the editorial team at Time to Play. Consumers voted to choose the winners.
Puppy in My Pocket to Air on Boomerang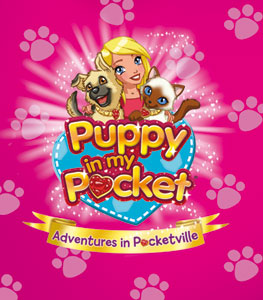 Cartoon Network and MEG Toys announced that the animated television series Puppy In My Pocket Adventures in Pocketville will be broadcast in the U.S. on Boomerang in early 2012.
The new agreement with Cartoon Network marks an expansion of the Adventures in Pocketville relationship with Turner Broadcasting into the United States, and extends the show's reach beyond broadcasts already underway across Europe, the Middle East, Africa, and Pan-Asia on Turner platforms.
The Adventures in Pocketville animated TV series is based on the Puppy in My Pocket Brand from MEG and is a co-production between Mondo TV, Giochi Preziosi, and MEG.
The toy line, based on the television series, will be distributed in North America by Jakks Pacific, Inc., and will feature collectible figures, accessories, playsets, and plush, which are expected to begin shipping to retailers nationwide in spring 2012.
The North American merchandise licensing and promotions for the television series is represented by Licensing Works.
Richard Scarry Product Line in Nordstrom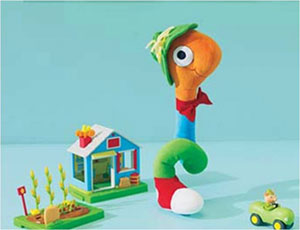 Cookie Jar Entertainment, and its licensing division, CPLG, have teamed up with Nordstrom to offer a range of Richard Scarry's Busytown products this holiday season. As of last month, all Nordstrom full-line stores and nordstrom.com will be featuring an assortment of Richard Scarry's Busytown products, such as classic picture books from Random House; Eye Found It! and Busy, Busy Airport board games from Wonder Forge; plush, playsets, vehicles, and figure packs from The Bridge Direct; fashion tees for toddler boys from Mighty Fine; and The Busy World of Richard Scarry and Busytown Mysteries DVDs from Mill Creek Entertainment. A Lowly Worm plush with DVD and playset are featured in the Nordstrom holiday catalog, which was sent to two million Nordstrom customers nationwide.
Fox's Ice Age Becomes Touring Show
Twentieth Century Fox Consumer Products and Stage Entertainment Touring Productions announced the launch of Ice Age Live! A Mammoth Adventure, a completely original live entertainment spectacular. The show will combine ice skating, aerial arts, puppetry, and film with a new story based on the first three films. The production is slated to premiere early November 2012 at the Wembley Arena in London and continue on a global, five-year tour visiting more than 30 countries around the world.
With more than $4 billion in box office, home entertainment, and consumer products sales, Ice Age continues to be a success. The first Ice Age television holiday special, Ice Age: A Mammoth Christmas, is now airing. The fourth installment of the film series, Ice Age: Continental Drift, is expected to be in theaters in 3-D July 2012. The film features a returning cast voiced by Ray Romano, John Leguizamo, Denis Leary, Seann William Scott, and Queen Latifah along with new characters voiced by Jennifer Lopez, Wanda Sykes, Keke Palmer, Aziz Ansari, and Drake, among others.