LEGO Targets Girls with LEGO Friends Line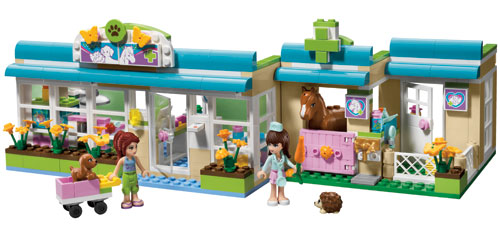 The LEGO Group announced the introduction of LEGO Friends, a new play theme targeting girls ages 5 and up. LEGO Friends delivers on a girl's desire for realistic roleplay, creativity, and a highly-detailed, character-based world with the core values of LEGO building.
The LEGO Friends collection of 23 products ranges in price from $5.99–$99.99 and the first 14 will be available for sale in select toy, discount merchandise, specialty, and online stores beginning December 26 in the UK and January 1, 2012, in the United States. A rolling international launch will follow in the spring, with the remaining nine sets launching in the summer months.
"We felt it was time to test assumptions that girls aren't interested in building and to breathe fresh air into a toy category filled mostly with pre-fabricated play experiences for girls," said Jørgen Vig Knudstorp, CEO, LEGO Group in a statement.
"We focused on creating a play experience centered on the joy of creation, while heeding the way girls naturally build and play. We are incredibly proud of the solution we deliver with LEGO Friends, and are resolved to build this platform for years to come."
LEGO Friends is the first 100 percent LEGO building experience fully optimized to girls' tastes and interests. Anchored by the introduction of a new mini-doll figure, LEGO Friends introduces a new LEGO minifigure platform tailored to girls' requests for a more realistic, relatable, and stylized figure. Designed to the same scale of the classic LEGO minifigure, the mini-doll figure stands roughly 5 millimeters taller than its minifigure sibling, yet features similar constructability, shares the iconic "claw" hand to hold the same accessories, can wear the same hair and headpieces, and is compatible with all LEGO building sets. A total of 29 different mini-doll figures will be introduced in 2012.
This is certainly not the first time that LEGO has targeted girls. There have been many attempts over the past few decades. LEGO Clikits, introduced nearly eight years ago, was the latest iteration of sets for girls. LEGO Friends is different from previous attempts in that it addresses that girls want to build and play LEGO in much the same way that boys do but just not with the same themes that boys enjoy.
Jakks Updates its 2011 Guidance Based on Disappointing Holiday Season

Jakks Pacific, Inc., announced in a statement that "the sales performance of products has been disappointing, in what appears to be a difficult retail sales environment for toys, especially during this holiday season, which has also resulted in higher markdown allowances and higher royalty expenses relating to license guarantee shortfalls." Jakks says it currently anticipates net sales for the full year 2011 of approximately $660 million, with diluted earnings per share in the range of $0.37 to $0.40, excluding non-recurring financial and legal advisory charges. This is a reduction from the company's previously anticipated full year 2011 net sales of approximately $770 million to $775 million, with diluted earnings per share in the range of $1.32 to $1.35, excluding such one-time charges. The company's guidance with respect to diluted earnings per share is a non-GAAP financial measure, due to the exclusion of such one-time charges. Such one-time charges are anticipated to equal $0.09 per share; accordingly, on a GAAP basis, the company anticipates diluted earnings per share for the full fiscal year ending December 31, 2011, to be in the range of $0.28 to $0.31.
ABC Kids Expo Heads to Vegas in 2013; Louisville Upgrades for 2012
All Baby & Child, Inc., (ABC), the parent company and organizer of ABC Kids Expo, announced that it will host its 10th annual event at the Kentucky Exposition Center on October 14–17, 2012.
However, ABC says that based on feedback from the 2011 show, the company is working closely with Louisville officials and suppliers to address concerns for the 2012 event in Louisville. Those concerns include improved healthy food options and reduction in wait times, reconstruction of the Expo Center's WiFi system, and greater availability of restaurant options in the city on Sunday.
Additionally, ABC is moving the show to Las Vegas for 2013. It is tentatively scheduled for October 15–18, 2013.
For more information visit at www.theabcshow.com