Wish Factory Launches Cody Simpson Doll Today at TRU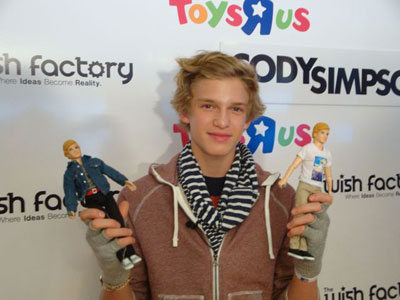 The Wish Factory and Atlantic Recording artist Cody Simpson were on-hand at Toys "R" Us (TRU) Times Square today for the launch of his doll line. Fans waited outside for the chance to meet Cody and have him sign purchased dolls from the line.
The line includes two basic dolls, both 11.5 inches. The fashion dolls look like Cody, complete with sculpted hair resembling his signature side-swept surfer-do. One doll features a gold coast tee and khakis, and the other doll features a denim jacket and black pants. Both have bendable joints and each includes a pair of shoes, sunglasses, microphone, guitar pick, and lanyard. The dolls are exclusive to TRU with an MSRP of $16.99 each.
The Wish Factory was launched earlier this year by Scott Bachrach.
Sanrio Acquires Mr. Men
It was reported earlier this week that Sanrio has acquired the rights to Mr. Men and Little Miss from Chorion. Terms of the deal were not disclosed.
This will be the first brand that Sanrio is working with that was not created in-house. The company is reportedly looking to diversify beyond its signature Hello Kitty brand through future acquisitions.
Mr. Men and Little Miss were created by UK author Roger Hargreaves, who died in 1998. It is believed that he wrote the first book, Mr. Tickle, in the early 1970s when his son asked what a tickle looked like.
J.C. Penney, Martha Stewart in 10 Year Retail Deal
J.C. Penney Company, Inc., and Martha Stewart Living Omnimedia, Inc., (MSLO) announced they have entered into a strategic alliance and will join forces to create a comprehensive retail experience.
Beginning in February 2013, customers will be able to visit Martha Stewart retail stores inside the majority of J.C. Penney department stores. These Martha Stewart stores are intended to be destinations for home and lifestyle merchandise. J.C. Penney will market and source the products.
Under the terms of this 10-year agreement, the two companies will also jointly develop an e-commerce site, expected to launch in 2013. The site will offer Martha Stewart expertise and enable consumers to purchase a wide range of home and lifestyle products, including those sold in J.C. Penney and other merchandise designed or selected by Martha Stewart. MSLO is expected to receive in excess of $200 million from J.C. Penney over the initial 10-year contract period, according to the companies.
J.C. Penney says it has invested $38.5 million for 11 million newly issued shares of Class A common stock at $3.50 a share, for a 16.6 percent stake in MSLO. In addition, J.C. Penney will have representation on MSLO's board of directors.
Harry Potter to Expand in Universal Parks
Warner Bros. Entertainment and Universal Parks and Resorts announced a partnership to bring The Wizarding World of Harry Potter—a themed entertainment environment that debuted in Orlando in June 2010—to Universal Studios Hollywood.
The two companies also announced their plans to significantly expand The Wizarding World of Harry Potter at Universal Orlando Resort.
It is expected to be a fully immersive environment for the entire family that brings the stories of Harry Potter to life and is faithful to the visual landscape of the films.
Specific details of its expansion will be announced over time, according to Warner Bros.
DDA Blueprint Launches
DDA PR and Blueprint PR announced a new stand-alone company. The new venture, owned 50/50 by DDA PR and Blueprint PR, will benefit from the two companies' distinct reputations and expertise. DDA Blueprint will be run by Blueprint PR's co-directors Janet Balmforth and Aimee Norman, with DDA PR's CEO Lawrence Atkinson and COO John Stannard serving as non-executive directors. The four principals will form the board of the new company.
The joint venture will see all Blueprint Public Relations' current and future business run through DDA Blueprint, with its operations and staff provided with a base at DDA PR's headquarters in London. DDA Blueprint will have access to DDA PR's reach in the U.S. through its offices in Los Angeles, while Blueprint PR in the UK brings its extensive television and theatre expertise to the DDA Group of companies.
Hasbro Eliminates PVC from Packaging
Hasbro announced this morning that it will eliminate polyvinyl chloride (PVC) from all new core toy and game packaging beginning in 2013. Hasbro has already begun to phase out PVC from some packaging, and has committed to completely eliminating PVC in packaging for new product beginning in 2013.
Hasbro highlighted the commitment to eliminate PVC from all new core toy and game packaging for products manufactured at its contracted third-party facilities, in its 2010 Corporate Social Responsibility (CSR) Report, which is now available online at www.hasbro.com/csr
Phasing out PVC in packaging is the most recent effort in a long series of sustainable packaging initiatives by Hasbro, all of which are designed to minimize the impact on natural resources. Hasbro says these initiatives include:
• Elimination of Wire Ties: In 2010, Hasbro replaced all wire ties in its packages with ties made from paper rattan or bamboo mix to reduce environmental impact.
• Increase in Recycled Content: In 2010, Hasbro set a goal to derive at least 75 percent of paper and board packaging from recycled material, or from sources that practice sustainable forest management, by 2011. By 2015, Hasbro plans to increase that goal to 90 percent.
• New Sourcing of Paper: Hasbro outlined an aggressive paper sourcing policy in 2011, providing guidelines for suppliers regarding sustainable paper sourcing to help ensure that paper used in Hasbro products aligns with the company's commitment to environmental sustainability. Among the policy's key requirements is the expectation that suppliers will source paper with as much post-consumer recycled content as practical and financially viable. The company has communicated the policy to its suppliers, and has made it a part of its company-wide quality assurance procedures.