Rubies to Create Annoying Orange Costumes
The Collective, the entertainment management and production company for Annoying Orange, announced that it has partnered with Rubies Costume Company for a line of costumes and accessories inspired by The Annoying Orange, which are set to debut at retail Halloween 2012. The Rubies Costume Company deal was brokered on behalf of The Collective by The Joester Loria Group (TJLG), the licensing agent for The Annoying Orange brand.
MGA Announces Licensing Deals and Available Categories
MGA Entertainment recently announced a number of licensing deals for Lalaloopsy and Little Tikes. For Lalaloopsy, MGA has signed AME/LF USA for apparel; Cranston Fabrics for OTC fabric and finished fleeces; Imperial Toy for novelty toys, bubbles, sand and beach toys; Stoneridge Cycle for sporting goods; and The Northwest Company for domestics.
For Little Tikes, MGA has signed The Canadian Group (TCG) for puzzles, games, and magnetic creations. Fundex has been signed for backyard games and pool games. JJ Sands has been signed for plastic infant bottles, infant feeding accessories, toddler feeding cups, plates, and utensils.
MGA also announced that the following categories are available in the following brands:
Lalaloopsy:
Watches, outerwear, swimwear, consumer electronics, food and beverage, health and beauty, seasonal, ride-ons, outdoor play environments, music compilations, and amusement.
Little Tikes:
Footwear, accessories, domestics, consumer electronics, food and beverage, health and beauty, infant products, furniture, seasonal, publishing, interactive/video games, and wheeled goods.
Bratz:
Jewelry, hair accessories, outerwear and swimwear, consumer electronics, food and beverage, seasonal, health and beauty, publishing, wheeled goods, music compilation, and interactive/video games.
HIT Signs Techno Source for Barney
HIT Entertainment has announced that Techno Source, a division of LF Products, has been named as toy licensee for Barney. Under the terms of the deal, the Techno Source toy range will include plush, play sets, and figurines which will be available spring 2012 in the U.S. and Canada.
Dinosaur Train to become Rail Event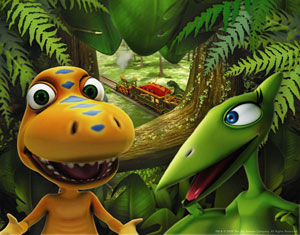 The Jim Henson Company has granted a licensing agreement to Rail Events, Inc, to operate live events based on PBS Kids series Dinosaur Train. Kicking off in summer 2012 at tourist railroads and railroad museums across the U.S. and Canada fans will have the opportunity to meet their favorite Tyrannosaurus Rex, Buddy.
Nickelodeon in Garden Décor Deal
Exhart, a garden décor manufacturer, has signed a deal with Nickelodeon to create a line of garden products featuring Dora the Explorer and SpongeBob SquarePants.
The new line will include garden stakes, statuary, wind chimes, and other accessories. The line is scheduled to debut at major retailers in fall 2012.
ShopTVCity Launches for CBS Fans
CBS Consumer Products has joined forces with TeamFanShop, Inc., to launch a new online store for Television City. ShopTVCity.com highlights products with unique and relevant slogans and imagery from the shows. Shoppers will receive flat rate, quick, and efficient shipping, year-long returns, and an unconditional satisfaction guarantee, according to the companies.
The following shows from the Television City collection are featured with merchandise: 7th Heaven, Andy Griffith Show, The Beverly Hillbillies, The Brady Bunch, Cheers, Beverly Hills 90210, Charmed, Dynasty, Ghost Whisperer, Gomer Pyle, Gun Smoke, Happy Days, Hogan's Heroes, Jericho, Laverne & Shirley, Little Rascals, Love Boat, Medium, Melrose Place, Mighty Mouse, Mod Squad, Mork and Mindy, Taxi, Touched by an Angel, and Twilight Zone.
MLS, Adidas Announce Official 2012 Soccer Ball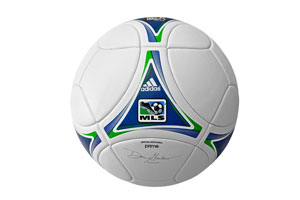 Adidas and Major League Soccer unveiled the adidas PRIME, the new official match ball for the 2012 MLS season. Designed to improve accuracy, consistency, and performance in all conditions, the PRIME is created exclusively for MLS with a unique graphic design and will be used by all 19 clubs beginning in 2012.
The PRIME features the official blue, green, and white colors of MLS and a unique graphic design inspired by the handles and shape of the Philip F. Anschutz trophy, awarded to the MLS Cup champion.
Delta and DreamSeat in Marvel Furniture Deals
Marvel announced a licensing deal with Delta Children's Products. Delta has obtained the rights to develop an extensive line of furniture featuring both the movie design and comic stylings of an array of Marvel franchises, including Marvel's The Avengers movie (in theaters May 4, 2012), Spider-Man (classic comic styles), Marvel Heroes, Marvel Comics (retro collection), and Marvel's Super Hero Squad. The initial product line is expected to hit retail in early 2012.
The core furniture line will include beds, nightstands, chests, chairs, shelving units, and desks. The accessories will be centered on the infant category with such items as playpens, booster seats, walkers, swings, and strollers.
Marvel has also entered into a licensing deal with DreamSeat. DreamSeat will produce a collection of Marvel-themed interchangeable chair panels for its patented XZipit System, which allows people to personalize their chair by having the ability to zip logo panels in and out of DreamSeat's XZipit line of furniture. The line includes recliners, office chairs, video game rockers, club chairs, and other items. DreamSeat has the rights to develop panels featuring Marvel's The Avengers movie, Spider-Man (classic comic styles), Marvel Heroes brand, and Marvel Comics. The initial line is now available.