Innovation First Introduces Bobble Bots with Mind Candy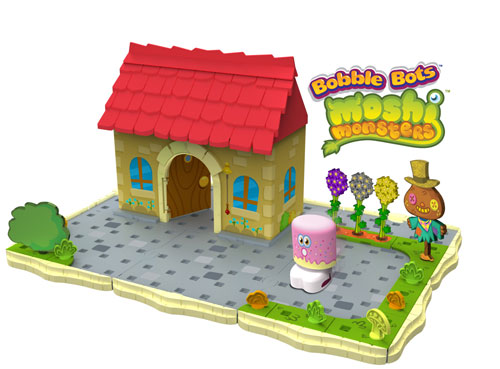 Innovation First International, the company behind Hexbug, announced this morning that it is launching a new Bobble Bots brand and product line. For this new licensing partnership, the company has joined forces with Mind Candy, the company behind Moshi Monsters, on the debut range called Bobble Bots Moshi Monsters. The line is expected to hit shelves across Europe and North America this spring.
Based on the collectible Moshling characters of Monstro City, the cute and cuddly bobble-head mini robotic pets and customizable playsets leverage the patented Hexbug Nano vibration technology. The range will see Moshi Monsters brought to life for its 50 million fans worldwide as the tiny Moshlings buzz around exploring their customizable environment.
The initial assortment of Bobble Bots Moshi Monsters products available at launch will include 24 battery-operated collectible Moshlings and a variety of configurable replicas of the environments found online in Monstro City. Every Bobble Bots Moshi Monsters product will include secret codes to unlock digital assets in the online world, further enhancing the user experience and designed to drive re-engagement back to the site.
Beanstalk Signs Fashion Designer Matthew Williamson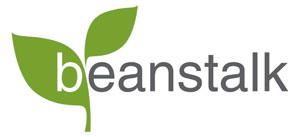 British fashion designer, Matthew Williamson, announced that he has appointed Beanstalk to help develop his brand's international licensing program. Beanstalk will be working with Matthew Williamson to secure licensing partners across a range of luxury lifestyle categories including fragrance, eyewear, footwear, luggage, housewares, and children's apparel internationally.
Matthew Williamson has three freestanding stores in London, New York, and Dubai. The lines are also sold in more than 170 high-end department stores globally. The company produces four women's wear collections annually and shows during London fashion week. The company has also collaborated with several international corporations such as H&M, Macy's, and Coca-Cola on co-branded limited-edition products as well as having a longstanding partnership with Debenhams. To visit the site, click here: www.matthewwilliamson.com
MGA and Lionsgate in Lalaloospy Deal
Lionsgate announced last week that it has entered into an agreement with MGA Entertainment to acquire the home entertainment distribution rights to Lalaloopsy. Lionsgate will serve as the exclusive distributor of Lalaloopsy product for all packaged media and digital platforms in several territories, including the United States, Canada, and the United Kingdom.
Lionsgate's initial home entertainment feature release, Adventures in Lalaloopsy Land: The Search for Pillow, will launch in March.
Fruit Ninja Signs Jazwares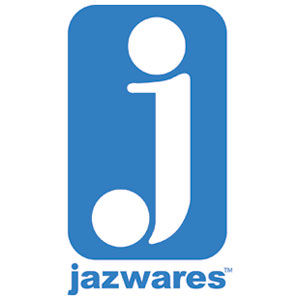 Jazwares announced that it has been awarded the master toy license for Halfbrick's hit app, Fruit Ninja. Jazwares' Fruit Ninja line includes fruit figures and plush featuring splat sound effects, slicing features, ninja blades, and branded bandanas; electronics will include Fruit Ninja-themed headphones and speakers. Products will hit store shelves this spring.
With more than 100 million downloads to date, Fruit Ninja, which was initially released for iPod Touch and iPhone platforms in April 2010. The app is currently available on five different platforms including Xbox Kinect and Facebook.
Little Airplane's Small Potatoes Expands Internationally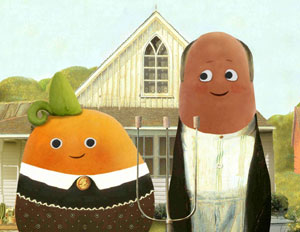 Little Airplane Productions' short-form, animated series Small Potatoes grows internationally with Thai PBS, HOP! Channel Israel and Turkey, and RUV Iceland adding the show to their programming lineups.
Small Potatoes premiered on CBeebies in May last year and also airs on Disney Junior in the U.S., ABC in Australia, and TVO and Knowledge in Canada. The series follows the adventures of a band of four singing potatoes, the Small Potatoes. Every episode represents a different phase of the band's career, from their "roots" in rock 'n roll to their journey into jazz, reggae, disco, and hip hop. The series was created and directed by Josh Selig, founder and president, Little Airplane Productions.