Kidz Bop and SiriusXM Launch Block Party Format
Kidz Bop and SiriusXM have teamed up to launch Kidz Bop Block Party!, where kids rule the radio. The two-hour weekly show will premiere on Kids Place Live, channel 78, tomorrow, Friday, January 13 at 6pm ET. To celebrate the show's launch, kids everywhere are invited to enter the "Kidz Bop Block Party! Super Contest" for a chance to win a trip to New York City to be a guest DJ on the show. To enter, simply upload a video now through January 30 to KidzBop.com.
Clifford Gets Live Touring Show
Scholastic Media, a division of Scholastic Inc., recently announced the kick off of a 50 City live touring show called Clifford The Big Red Dog Live! A BIG Family Musical. Beginning in Vermont and Connecticut, the tour will include stops in more than 50 cities and will include both school and public performances.
The production, directed by Mark Fleischer, features a book written by Jeremy Dobrish with music and lyrics by Dennis Scott. The production team also includes music director John Kroner, choreographer Keith Coughlin, set design by David Miller, costume design by Isabel Rubio, and lighting design by Steve Zakszewski. The musical is produced by Mills Entertainment in cooperation with Scholastic Media; The Brad Simon Organization serves as the exclusive booking agency for the production.
Chugginton's Wilson Gets A Balloon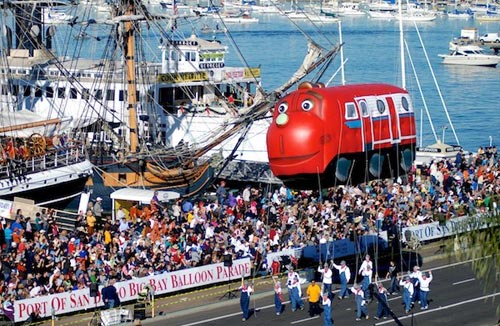 The first Chuggington parade balloon featuring Wilson made its debut at the Port of San Diego Big Bay Balloon Parade in San Diego, Calif., on December 28, 2011. Ludorum, which submitted this photo to aNb Media, developed the balloon in conjunction with Big Events, Inc. Chuggington airs daily on Disney Channel's Disney Junior programming block.
Crowded Teeth Debuts at The Land of Nod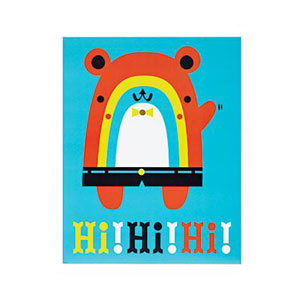 Crowded Teeth, a whimsical brand of artwork featuring sweet characters with bold, fresh graphic design, expands its product offering with a broad array of items being manufactured and sold by specialty retailer, The Land of Nod.
The first Crowded Teeth item at The Land of Nod debuted last week—an art print featuring "Rainbow Bear Hi! Hi! Hi!." Through 2012, new product introductions will include home furnishings, such as bedding, hanging décor, chairs, art prints, toys, and more. Meanwhile, wooden toys, plush, hand puppets, and arts and crafts items are all in development.
Bob the Builder Gets an App
HIT Entertainment and BigPlay Studios have announced the launch of Bob the Builder: Muck's Train to Trouble for the iPad, iPhone, and iPod Touch, available in Apple's App store. This is the first app release for the Bob the Builder brand.
Bob the Builder: Muck's Train to Trouble is an interactive reading experience, which also features painting activities, video clips, and games. Every page includes narration, familiar character voices, custom animations, and easy-to-read words with highlighted text.
With this first Bob the Builder app, HIT Entertainment adds to its growing iOS apps portfolio, which includes apps featuring Thomas & Friends, Angelina Ballerina, Fireman Sam, and Barney.
Sun-Mate Signed to Make Products for Multiple Properties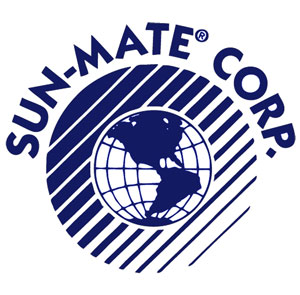 Sun-Mate Corporation, the global consumer products manufacturer, has been named a licensee for Star Wars, Spider-Man, Power Rangers, WWE, the Hello Kitty/Kiss joint branding venture, and the fashion art brand Public Zoo.
Sun-Mate will be developing ATM machines, arcade-style games, tabletop games, and guitars based on Star Wars for the U.S. market.
Spider-Man will be featured on keyboards, drums, ATM machines, and other outdoor activities being developed by Sun-Mate for the U.S.
Sun-Mate will be developing various pinball game machines for Power Rangers brand for the U.S.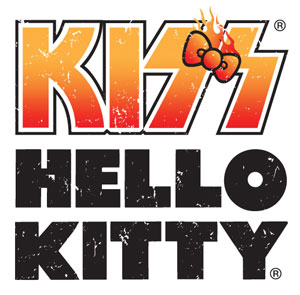 Sun-Mate will be manufacturing a variety of outdoor and backyard games for the WWE brand such as WWE blasters, pool and beach toys, water guns, and vinyl balls.
For the Hello Kitty/Kiss brand, Sun-Mate will create a line that is expected to include cameras, MP3 players, cell phone cases, iPhone cases, laptop computer cases, microphones, headsets, headphones, SMS text messengers, PDAs, musical instruments, electronic watches, boom boxes, speakers, walkie-talkies, amps, ATM machines, karaoke machines, and doll houses.
Leveraging the wide appeal of the Public Zoo clothing line first introduced by Han L. Lee in 2009, Sun-Mate will be developing personal electronics, such as headphones, iPod and iPhone cases and accessories based on the character-inspired clothing line.