Techno Source Acquires IP Rights to Glow Crazy
Techno Source, a division of LF Products, announced that effective immediately the company has acquired intellectual property rights to the Glow Crazy line from Beverly Hills Teddy Bear Co. for all toy related categories.
Techno Source plans to expand the Glow Crazy assortment, which currently includes the Distance Doodler glow wand, Doodle Dome tent, Glow-to-Go activity set, and Glow Glove. The company will support the line with a comprehensive marketing campaign that will include direct response television, public relations, and in-store promotions. Glow Crazy products will be available for purchase at mass and specialty retailers nationwide.
Formerly marketed under the Beverly Hills Teddy Bear Co. BIGiggle brand, the patented Glow Crazy products allow kids to throw light across the room and have it appear on removable and reusable glow canvases and other objects.
HIT's Top Management to Leave as Sale to Mattel Closes
HIT Entertainment announced that the company's president and CEO, Jeffrey Dunn, and COO, Sangeeta Desai, will be leaving the company after the closing of HIT's acquisition by Mattel, which is expected to happen as this month ends.
Dunn, who has been leading the company since March 2008, when he was appointed by current owner APAX Funds and tasked with restoring the business and preparing it for future sale, will exit immediately following the closing of the acquisition. Desai, who became HIT's COO in 2009, will depart following a short transition period.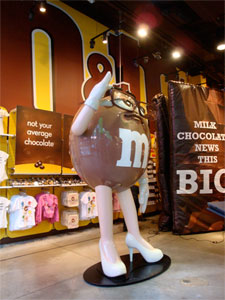 M&Ms Reveals New Character, Ms. Brown
Mars Chocolate North America revealed its newest (and sixth) M&Ms character, Ms. Brown during an event in its New York City Times Square location yesterday.
The premise behind Ms. Brown, chief chocolate officer, is her wit and wisdom has given her unmatched knowledge of milk chocolate. More details about the character will be revealed in an ad, created by BBDO, during this Sunday's Super Bowl.
The character is expected to be the focal point of the brand for 2012. Ms. Brown will be featured in a series of television, print and digital ads, in-store displays, and promotions as well as on Facebook and Twitter. Look for candy, of course, as well as a product line to follow.
Jakks Names Bender/Helper Impact Agency for Monsuno, Winx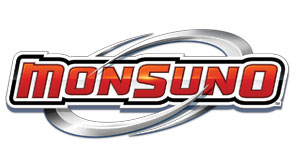 Jakks Pacific, Inc., announced that it has named marketing communications and public relations firm Bender/Helper Impact (B/HI) as its media relations agency for the launch of its intellectual property Monsuno, and its product line for the Nickelodeon series, Winx Club.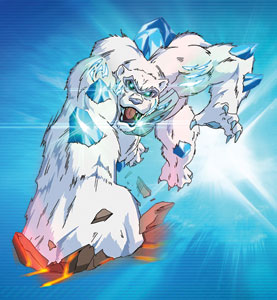 The multi-faceted Monsuno property will launch with a comprehensive toy line and an original animated television series scheduled to debut on NickToons.
In addition to the new Monsuno property, B/HI will handle media relations for Jakks' line of toys and products based on the animated action and fantasy series, Winx Club. The new Winx Club line will include dolls and playsets, roleplay, dress-up, and Halloween costumes.