Royaltie$ Brand Showcase Preps for Year Two
aNb Media's (that's us!) trusted licensing publication Royaltie$ will host its second annual Royaltie$ Brand Showcase, a one-day media event spotlighting the most influential, recognized, and sought-after lifestyle brands and branded products. The event will take place on Tuesday, July 24 at the Altman Building in New York City.
The Royaltie$ Brand Showcase is an opportunity for brands to introduce their fourth quarter priorities to a broad scope of media including print, broadcast, and online outlets planning holiday coverage. More than 50 members of the media attended the 2011 event.
Both evergreen properties and some of today's hottest brands will exhibit, including companies in the apparel, food, electronics, and stationery categories. Last year's exhibitors included American Greetings, Discovery Communications, The Boy Scouts of America, Mattel, and Nickelodeon, to name a few.
Companies interested in exhibiting at the Royaltie$ Brand Showcase can contact Andy Krinner at andy@anbmedia.com or (646) 763–8721 or Donna Moore at donna@anbmedia.com or (646) 763­–8718. For questions regarding media relations, please contact Melissa Winston at mwinston@litzkypr.com.
Travel Channel to Air Toy Hunters Series
The Travel Channel recently announced that it has greenlit a series called Toy Hunters. The weekly half-hour series will follow toy and collectibles dealer Jordan Hembrough as he scours the country for, what the Travel Channel calls, hidden treasures to sell to his buyers around the world. Originally a special that aired on the Travel Channel earlier this year, this original series centers on Hembrough and his quest to claim the status as the ultimate toy collector. In each of the 12 episodes, Hembrough travels from city to city on his quest for product, says the network.
Toy Hunters will be produced by Sharp Entertainment with Travel Channel's Stone Roberts as executive producer. An air date has not yet been announced. However, see clips on what has already aired on Travel Channel's website.
NYIGF Changes to Five-Day Format
The New York International Gift Fair (NYIGF) is adopting a new five-day format. This summer's show will run from Saturday August 18 through Wednesday August 22. In previous years the show ended on a Thursday.
The location for NYIGF remains New York City's Jacob Javits Convention Center and Passenger Ship Terminal Piers 92 & 94.
NYIGF's 10 divisions will continue to have staggered opening and closing dates, with Pier divisions—At Home at Pier 94 and New York's Newest at Pier 92—and Handmade Designer Maker and Handmade Global Design (at the Javits Center) running Saturday through Tuesday; and Accent on Design, At Home featuring Home Textiles, Baby & Child, EX•TRACTS, General Gift, Personal Accessories featuring Details, Studio, and Tabletop running Sunday through Wednesday at the Javits Center. The Gourmet Housewares Show at NYIGF, which is presented annually during the summer market, also will run Sunday through Wednesday.
"An overwhelming majority (more than 85 percent) of exhibitors surveyed are in favor of reducing the length of the Fair by one day," said Dorothy Belshaw, NYIGF director and GLM senior vice-president, in a statement. "Based on daily traffic and attendance patterns over the past few shows, we anticipate that attendance will not be affected negatively by this change."
These changes do not impact the summer 2012 launch of Artisan Resource, a new artisan production-sourcing event for U.S.-based importers, direct import retailers, and wholesalers, alongside NYIGF.  The first semi-annual edition will debut Monday, August 20, through Wednesday, August 22, 2012, at New York City's Jacob Javits Convention Center.
Italy's Tip the Mouse to Become TV Series

Italian publisher Giunti and Italian Studio Bozzetto & Co. have partnered with German media and brand management company m4e AG to develop and produce a preschool TV series based on the children's book series Topo Tip (Tip the Mouse). The companies are joined by co-production partners Studio Campedelli and Italian broadcaster RAI.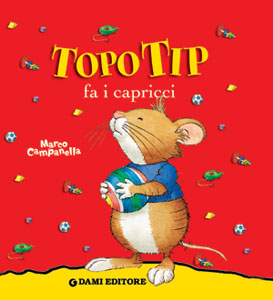 Topo Tip, created by Italian Andrea Dami and published by Giunti Editore S.p.A., have already sold more than four million copies.
Designed for ages 3–7, the books are most successful in Italy, The Netherlands, and Germany, where they are published under the German title Leo Lausemaus by Helmut Lingen Verlag.
Lucas' Roffman, Fisher-Price's Clutton Named to LIMA Hall of Fame
The International Licensing Industry Merchandisers' Association (LIMA) has chosen two licensing industry icons for induction into the Licensing Industry Hall of Fame. Howard Roffman, president of Lucas Licensing, a division of Lucasfilm, Ltd., and the late Stan Clutton, former senior vice-president of inventor relations, new business, and inbound licensing for Fisher-Price, Inc., will be inducted into the Licensing Industry Hall of Fame during the annual LIMA Opening Night Awards Ceremony on June 12, 2012, during Licensing International Expo 2012 in Las Vegas.
Throughout his more-than-30-year career at Lucasfilm, Ltd., Howard Roffman has been a driving force in the creation and expansion of a merchandising behemoth, managing all licensing initiatives for the company's stellar properties, including Star Wars and Indiana Jones. With a slate of product categories that includes toys, publishing, apparel, consumer electronics, housewares, and much more, Roffman helped to build the licensing program from the ground up at a time when such comprehensive campaigns were all but unprecedented.
During Clutton's nearly 40 years in the licensing business, his greatest impact was in the toy industry. Clutton played a key role in the success of Fisher-Price's licensed products and continually maintained strong relationships with licensors and inventors from around the world. At Fisher-Price, Clutton oversaw marketing activities, new product ideation, and development. He was responsible for the development of iconic toys such as Tickle Me Elmo, Rock 'n Roll Elmo and the Read with Me DVD. Through his drive and supervision, Fisher-Price became a prominent destination for preschool properties.
Clutton passed away in December 2011, and the legacy he left behind will continue to live on within the licensing community and the lives of children and families around the world.