Clinton Group Asks Jakks to Sell Company; Jakks Issues Response

The Clinton Group, Inc., a diversified asset management firm with approximately $2.7 billion in assets under management, announced yesterday that it sent a letter to the board of directors of Jakks Pacific, Inc., requesting that the directors, "embark on a sale process of the company, including openly considering the indication of interest from Oaktree Capital Management," according to the statement issued by The Clinton Group. The Clinton Group, along with its affiliates, owns about 2.4 percent of Jakks' common stock.
Oaktree sent a letter to Jakks Pacific in mid-September 2011 expressing interest in Jakks Pacific for a price of $20 per share. Jakks' stock closed yesterday at $16.55.
Yesterday's letter from The Clinton Group noted that Jakks is well positioned to grow market share and increase its mix of proprietary products. However, the markets remain focused on the company's recent under-performance. In addition, The Clinton Group pointed out that Jakks' stock "trades at a discount to the prices that strategic and financial buyers could pay for the business, given the potential synergies and long-term perspectives of these buyers; and Clinton is dismayed at the Board's decision to adopt a poison pill and expects the Board to permit any interested buyer to bring their proposals directly to shareholders," says the statement.
Jakks issued the following statement when the market closed yesterday afternoon. "The Jakks Board of Directors appreciates input from its stockholders. The Board continually reviews the company's strategic plan and opportunities to enhance stockholder value. We note that at no time has the company received any communications regarding the sale of the company other than highly conditional expressions of interest from Oaktree. The Board remains confident that continued execution of the company's strategic plan, including potentially transformative projects planned and already underway, will provide significant value to Jakks stockholders. Jakks is committed to maintaining an open dialog with its stockholders and to delivering continued growth, success, and value creation."
Borghese and Primary One Brands' Product Line Hits Shelves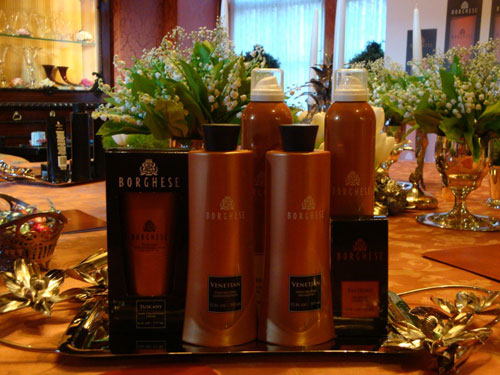 Borghese and its licensee Primary One Brands introduced its mass market hair care lines for men and women at a party last night held at the home of Borghese president and CEO, Georgette Mosbacher. The intimate reception on Manhattan's Upper East Side, overlooking the Metropolitan Museum of Art, showcased the product line, which is now available at retailers nationwide such as Target, CVS, Walgreen's, Duane Reade, Walmart, and more. The Italian-inspired products feature a range of professional-grade, botanical-enriched shampoos, conditioners, and styling products with price points ranging from $13–$18.
Celebrity stylist, Jonathan Antin was on-hand to offer styling tips and makeovers to guests.
IMC Licensing, which represents Borghese, brokered the deal.
MEGA Brands Reports Q4 and 2011 results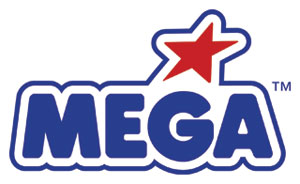 MEGA Brands, Inc., announced its financial results for the fourth quarter and full year ended December 31, 2011. Consolidated total net sales in 2011 increased 2 percent to $376.8 million compared to $368 million in 2010. Sales increased 2 percent in Toy product lines and 3 percent in the Stationery & Activities segment. On a geographic basis, sales were up 1 percent in North America and 5 percent in international markets.
Reported net earnings were $8.3 million in 2011 compared to $131.1 million in 2010. Reported earnings in 2011 include a $3 million loss on the settlement of debt in 2011 and, in 2010, a $144.3 million gain on the settlement of debt and transaction costs and other expenses of $13.4 million.
Adjusted net earnings increased to $12.3 million or $0.75 per share in 2011 compared to $0.9 million or $0.07 per share in 2010.
MEGA Brands says that the term "adjusted net earnings" does not have standardized meaning under IFRS and, consequently, is unlikely to be comparable to similar measures used by other issuers. A reconciliation of adjusted net earnings with IFRS financial statements is provided in the Corporation's Management's Discussion & Analysis for the year ended December 31, 2011.
Fourth quarter 2011 consolidated net sales decreased 3 percent to $108.5 million compared to $111.8 million in the corresponding 2010 period. Sales decreased 8 percent in Toy product lines, after a string of eight consecutive quarters of year-over-year increases. Stationery & Activities sales increased 35 percent, the third consecutive quarter of year-over-year growth for this segment. On a geographical basis, sales declined 4 percent in North America and 1 percent in international markets.
Reported net earnings were $0.2 million compared to $11.3 million in the same 2010 period. Reported earnings include contingent consideration charges of $0.1 million in the 2011 period and $0.2 million in the 2010 period resulting from the transition to IFRS.
Adjusted net earnings were $0.3 million or $0.02 per share compared to $11.5 million or $0.70 per share in the 2010 fourth quarter.
Fourth quarter results were mainly impacted by lower than expected sales of Toys in the United States. However, retail sales of MEGA's Toys during the quarter were higher than in the fourth quarter of 2010.
"MEGA Brands achieved important milestones in 2011, including sales growth in all of our operating segments," said Marc Bertrand, president and CEO. "The MEGA Bloks and Rose Art brands gained momentum at retail and we entered 2012 with a positive outlook thanks to a compelling offering for preschoolers, girls and boys of all ages, and collectors."
For 2012, Bertrand outlined a number of lines that are expected to be successful for the company such as MEGA Bloks' Lil' Princess assortment as well as Hello Kitty and Moshi Monster sets.
In the boys construction category, major product launches for 2012 include Power Rangers Super Samurai in the first quarter, Spider-Man in the second quarter based on the new movie, and World of WarCraft in the third quarter. The popularity of MEGA Bloks Halo continues to grow worldwide and we expect 2012 sales to be stimulated by the release of the Halo 4 video game by Microsoft Games Studios.
Bertrand also says that the company invested in production equipment and tooling at its Montreal facility in 2011 to increase production efficiency and expect to benefit from this investment in 2012 and beyond.
Grupo Eolo Establishes U.S. Office; Hires Ninomiya and Georgeo
Grupo Eolo, a European outdoor toy and game manufacturer, has established an office and distribution facility in Miami, Fla. The initial line of kites and outdoor games will be available to the industry through both domestic and FOB programs.
Eolo-Sport, Inc., has hired Ken Ninomiya to help lead the U.S.-based sales division and Sophia Georgeo to manage independent toy and specialty shops.
"This office and distribution facility will be a key element to our global growth and help us to focus on the U.S.- and Canadian-based markets with a domestic sales program and a FOB program," said Alex Prieto, general manager, in a statement. Both markets will be serviced from the Miami-based office with full support from corporate operations in Hong Kong and Spain.