JPMA and ABC Merge
The Juvenile Products Manufacturers Association (JPMA) and All Baby and Child, Inc., (ABC) are merging. In negotiations finalized during the JPMA Annual Legislative Summit in Washington, D.C., JPMA and ABC executed a letter of intent agreeing to actively pursue a merged industry not-for-profit trade association dedicated to promoting the interests of the entire industry.
The negotiation and execution of a merger agreement is expected by June 30, 2013.
As part of the agreement, a minimum of $2.6 million has been committed over three years to execute specific industry-wide strategic objectives identified by the two organizations' boards, according to a statement put out last week by the organizations.
In a separate agreement, ABC has agreed to provide $1.2 million of funding to JPMA over the same period to support JPMA initiatives. In return, JPMA will continue to endorse the ABC Kids Expo as the largest trade show of its kind serving the juvenile products industry.
Both groups say they want to re-inforce the industry trade show as the preeminent worldwide event for the juvenile products industry. The organizations will increase the scope and effectiveness of safety standards. The organizations also plan to develop a vibrant retail trade group to advance the interests, growth, and well-being of independent juvenile products retailers.
Evolution to License Floppets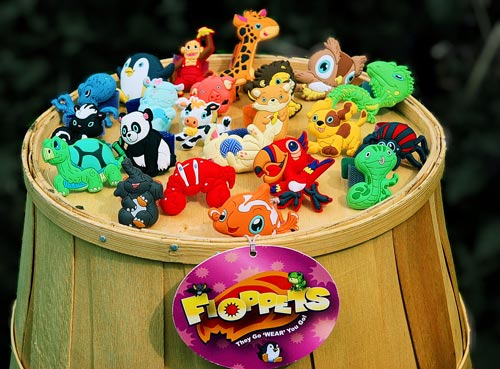 Evolution Management Group, Inc., (EMG) a licensing and brand management firm, has been appointed by Zydeco Studios to handle the global licensing, sales, and brand management for the new children's novelty brand, Floppets. Floppets are a customizable collection of characters that can be attached to anything.
Under the terms of the multi-year agreement, EMG will help to extend the sales and distribution of Floppets into a multitude of retail channels and categories, including toys, footwear, gift, amusement/theme parks, and vending machine capsules. Floppets is a gender-neutral property with a target audience of kids ages 4 and up. EMG will be assisting Zydeco to expand its current product offerings with the addition of licensed characters.
Henson to Develop New Children's Series, ImaginOcean
The Jim Henson Company is in development on a new animated children's series, ImaginOcean, based on the critically acclaimed Off-Broadway musical, John Tartaglia's ImaginOcean. The musical underwater adventure series (52 x 11') will be brought to life using the Emmy Award-winning Henson Digital Puppetry Studio, a proprietary technology that allows digital characters to be puppeteered in real time.
ImaginOcean is told from the point-of-view of an eccentric and charming young fish named Dorsel, performed by the Tony- and Emmy-nominated Tartaglia. The character-driven and story-based series is full of comedy, friendship, and music. It features a social-emotional curriculum that engages viewers as Dorsel and his pals learn how one small ripple can create a wave throughout an entire deep blue sea.
The ImaginOcean television series will be executive produced by Lisa Henson and Halle Stanford for The Jim Henson Company, with John Tartaglia, Jill Shinderman, and Michael Shawn Lewis executive producing for Jellyfish Jive Productions, LLC.
Imperial Partners with Zim for School Bubble Promo
Imperial Toy is launching an In-School Program with Zim Squared, a Youth Marketing company, focusing on the Super Miracle Bubbles (SMB) Glow Fusion Bubble Solution. Targeting kids in the first through third grade in 2,400 schools, the program will reach a total of 600,000 children nationwide creating awareness for SMB Glow.
Teachers will incorporate the Glow bubbles into their science lesson of the day. Based on a lesson plan tailored by Imperial, kids will learn all about the "Science of Glow" as they act out "Chemiluminescent Systems," which is the scientific process that makes the solution glow. After participating in several Glow-based science activities, each child will receive a bookmark to take home, which includes Glow artwork (promoting where the product can be purchased, which is Walmart, Toys "R" Us, and Target). It will also feature Imperial's SMB Glow QR Code.