K'NEX Signs Deal for KISS Building Sets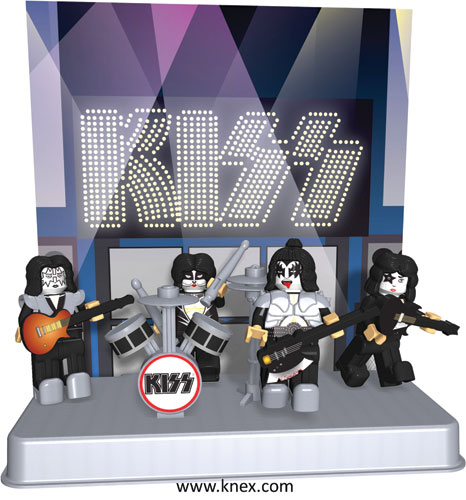 K'NEX announced that it has signed a licensing agreement with the band KISS, which was brokered by Live Nation Merchandise, KISS' exclusive global licensing agent. This agreement allows K'NEX to create building toys inspired by the band KISS.
Each buildable figure features the band's iconic black-and-white makeup, trademark hairstyle, and platform boots specific to each band member. Sets include all four band members and their instruments, such as guitars and drums, to recreate the full band experience. The packaging will double as a stage, says K'NEX.
Designed for children ages 5 and up, KISS buildable figure packs will be available exclusively at Target, target.com, and knex.com this fall.
Jim Henson Company to Produce 3-D Pinocchio
It was announced last week that Guillermo Del Toro will co-direct Guillermo Del Toro's Pinocchio with Mark Gustafson (animation director on The Fantastic Mr. Fox). The Jim Henson Company production will be a 3-D stop-motion animated version of Pinocchio based on the edition of Carlo Collodi's classic tale illustrated by Gris Grimly. Inferno will represent the property to international buyers at the upcoming Cannes Film Festival.
Del Toro most recently served as executive producer of DreamWorks' Puss in Boots, Kung Fu Panda 2, and the upcoming Rise of the Guardians as well as creative consultant on Megamind. Guillermo Del Toro's Pinocchio marks his first turn helming an animated feature.
With a story by Del Toro, his frequent collaborator Matthew Robbins, and Gris Grimly, Guillermo Del Toro's Pinocchio is a retelling of the tale. The puppet Pinocchio embarks on a series of extraordinary and thrilling adventures, proving himself to be as indestructible as his love for his father. Robbins wrote the screenplay for the project.
Lisa Henson will produce for The Jim Henson Company with Del Toro and Jason Lust. Grimly and Gary Ungar will serve as executive producers, as will Bill Johnson and Jim Seibel of Inferno. A release date for the film has not yet been announced.