Three Stooges Lottery Games
C3 Entertainment, Inc., The Three Stooges brand owner, and GTECH Corporation, its licensee for state lottery programs for both The Three Stooges Classic and Movie brands, saw eight states sign on for new Three Stooges-themed instant lottery ticket games this year with additional states expected to sign.
Three Stooges-themed instant scratch lottery games opened, and are currently running, in Massachusetts, Texas, Kansas, North Carolina, Nebraska, Georgia, Rhode Island, and New Hampshire. Massachusetts, the nation's No. 1 lottery for sales per capita, launched its Three Stooges $2.00 Instant Ticket game in March 2012 with a printing of 30,000,000 instant scratch tickets. Nebraska, Georgia, and New Hampshire Lotteries are also running Three Stooges Movie-themed games.
Additional Licensees for Trash Pack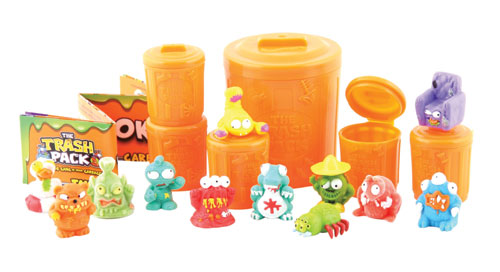 The Licensing Shop, on behalf of its client, Moose Toys announced several additional licensees joining The Trash Pack licensed merchandise program in the U.S. The program already includes previously announced partners such as Parragon Books Ltd. as the master publishing partner for the brand. The new deals were brokered by The Licensing Shop and include the following licensees: Pressman Toys for U.S. and Canadian rights for board games and puzzles; Accessory Innovations for U.S. rights for backpacks, bags, hosiery, cold weather accessories, lunch bags and headwear; Mad Engine for U.S. rights for T-shirts and fashion tops; and Bulls I Toys for U.S. and Canadian rights for impulse novelty toys.
Studio Licensing to Represent Peppa Pig in Canada
Studio Licensing announced that it is representing Peppa Pig for licensing and merchandising in Canada. Peppa Pig, licensed by Entertainment One Family, is now on the air in more than 180 countries. A consumer products program is expected to launch in 2013.
ACME Introduces Beatles Items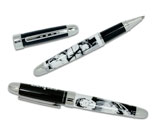 ACME Studio, the manufacturer of design objects and accessories, announced the third installment of the Beatles Collection, the result of a licensing agreement with Apple Corps, Ltd. brokered by Live Nation Merchandise.
Acme will release nine individually numbered limited-edition pens commemorating each year that the Beatles were together, the Singles eyeglass case featuring a collage of some of the most interesting and exciting singles covers that were done during the Beatles' career, and a pen and card case set packaged within miniature album covers.
Johnsonville Sausage Signs Monogram Food Solutions

Johnsonville Sausage announced that it has licensed Monogram Food Solutions to produce various ready-to-eat meat snacks. Through this agreement, Monogram will produce and market Johnsonville Deli Bites, Bacon Jerky, and other innovative meat snacks.
Monogram will soon begin producing Johnsonville Deli Bites, available in Original, Salami, and Beef varieties, as well as Applewood Smoked Bacon Jerky. These products are expected to be available at retail and convenience store shelves nationwide this summer. Additional meat snack offerings are being developed and are expected to launch in the future.
This partnership was developed through The Joester Loria Group, which represents Johnsonville Sausage.