Kellogg Company Signs with The Joester Loria Group

The Kellogg Company has appointed The Joester Loria Group (TJLG) as its exclusive licensing agency for the U.S. and Canada. TJLG will develop and execute a strategic licensing program around key themes and trends relevant to each Kellogg brand, across a full range of lifestyle products, housewares, and home goods as well as select food extensions.
TJLG will represent brands including Apple Jacks, Cheez-It, Eggo, Froot Loops, Honey Smacks, Keebler, Kellogg's Corn Flakes, Special K, Kellogg's Frosted Flakes, Frosted Mini-Wheats, Pop-Tarts, Kellogg's Raisin Bran, and Rice Krispies, in addition to its archive of classic advertising art and characters such as Tony the Tiger; Snap, Crackle, and Pop; Toucan Sam; The Keebler Elves; and original Kellogg artwork by American artists such as Norman Rockwell.
Hasbro, Aéropostale, C-Life Partner for T-shirt Deal
Hasbro and Aéropostale, a mall-based apparel retailer, announced the creation of an exclusive T-shirt collection featuring Hasbro's Battleship and G.I. JOE brands.
The new Hasbro- Aéropostale line, created by C-Life Group, includes both Battleship and G.I. JOE men's graphic T-shirts and is currently available on Aéropostale.com worldwide, leading into the Battleship film debut on May 18, followed by G.I. JOE: Retaliation on June 29.
"C-Life is thrilled to have spearheaded this venture between Hasbro and Aéropostale," said Heather Miceli, vice-president of licensing for C-Life Group, maker of the T-shirts, in a statement. "We're confident that our T-shirt designs have captured the synergy between these two iconic companies."
EBG to Launch NewYork.com
Entertainment Benefits Group (EBG) has joined forces with the original owners of NewYork.com to transform the domain into the central resource for researching information, planning and booking activities, and visiting New York City. The site is scheduled to launch later this summer. EBG will operate NewYork.com on behalf of a joint ownership group.
Care Bears Premiere New Series, New Character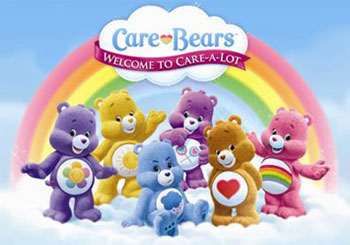 The Care Bears will return this summer in an all-new CG animated series Care Bears: Welcome to Care-a-Lot on Saturday, June 2 at 8 a.m. ET on The Hub. The half-hour series will feature the bears in exciting new adventures in the land of Care-a-Lot. The series will introduce a new, younger addition to the group: the playfully curious Wonderheart Bear. The re-imagined series is produced by American Greetings Properties.