One Direction Makes Appearance at Licensing Show; Hasbro Is Master Toy
Hasbro announced it has entered into an agreement with worldwide music sensation One Direction to produce a new line of toys and games based on the members of the popular boy band. The group made an appearance at Hasbro's booth at last week's Licensing Show.
One Direction's debut album "Up All Night" rose swiftly to the top of pop charts around the world. With a large, dedicated fan base, including more than 4.7 million Facebook fans and 3.1 million Twitter followers, tickets for the group's debut tour in the UK sold out within minutes prompting expansion into tour dates in North America, Australia, and New Zealand.
Featuring all five members of the popular boy band, the One Direction product offering from Hasbro will be sold globally, with the exception of the United Kingdom and Ireland, in fall 2012. The collection will include fashion dolls, mini-figures, and more.
MGA Introduces Bratzillaz
MGA Entertainment announced the debut of Bratzillaz, an all-new line of charmed fashion dolls who possess extraordinary magical powers. The enchanted good witch cousins of Bratz, Bratzillaz takes girls on a supernatural flight of imagination and discovery. The line is expected in stores this July.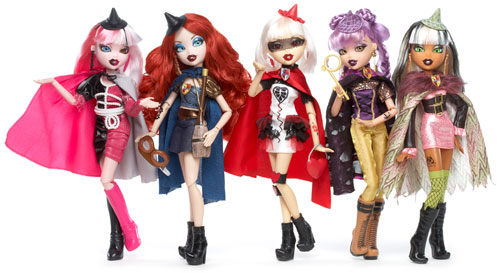 Here are the characters in the line: Cloetta Spelletta has the power to change you into anything you want. Jade J'Adore has the power to help you find your one true love. She'll help you heal your broken heart, too. Yasmina Clairvoya has the power to see the future. She'll help you be ready for anything coming your way. Sashabella Paws has the animal kingdom under her spell. She'll help you communicate with creatures everywhere. Meygana Broomstix not only has the power to fly, but also to make dreams come true. She'll help make your wildest dreams take flight.
In August, Bratzillaz will extend into the digital space with interactive content on www.bratzillaz.com. In a first for MGA Entertainment, Bratzillaz games will also be available on apps for smartphones.
LIMA Reports Licensed Sales on the Rise
As last week's Licensing Show got underway, The Licensing Industry Merchandisers Association (LIMA) 2012 Licensing Industry Survey announced that sales of licensed products are on the rise for the first time in five years, jumping 5 percent in 2011 to an estimated $109.3 billion in the U.S. and Canada. That figure is derived from the survey's findings that trademark owners (such as entertainment studios, sports leagues, fashion houses, corporate brand owners, and others) generated $5.316 billion in royalties in 2011, up 5 percent from royalties generated in 2010. The numbers were developed by researchers at the Yale School of Management.
Following are just a few highlights from the new report:
• Character-related merchandise (encompassing celebrities/entertainment/TV/movies) grew 4.4 percent to nearly $2.5 billion in royalty revenues and an estimated $48 billion in retail sales. This category includes goods and services based on the TV and film productions of major studios and entertainment properties, and celebrity brands such as Jennifer Lopez, Kathy Ireland, and Paris Hilton.
• Trademark/brand licensing, the second largest category in the survey report, and the one associated with major corporate brands from leading packaged goods companies such as P&G and General Mills as well as classic brands such as Coca-Cola, Harley-Davidson, and Ford, surged 7.7 percent to $910 million in royalties and $21.2 billion in retail sales.
• Licensed fashion sales, including branded goods such as Perry Ellis, Polo Ralph Lauren, and Liz Claiborne, rose 5.8 percent last year to $730 million in royalties and $16 billion at retail. The changes in the industry are being driven by greater use of exclusive licensing in the mid-tier and mass merchandising segment.
• The NBA, MLB, and other sports leagues and individuals drove a 3.9 percent sales gain to $670 million in royalties and $12.3 billion at retail. Sports licensors report longer strategic partnerships, continued reorganization at retail, and a greater opportunity to participate in the growth of a retailer's own-label products.
• Art licensors are a relatively small category in the licensing world, and a fragmented one relative to its size, and sales rose 3.1 percent to $132 million in royalties and retail sales of $3.9 billion. New platforms such as tablets and smart phones with a social context continue to provide opportunities for growth by creating new accessories categories.
The Credit Collective Rebrands to The Creditors Network
The Credit Collective announced that it has rebranded itself as The Creditors Network. A concept that capitalized on the strength of business collectivism, the online information trading system allows companies to directly exchange online credit references, credit alerts, and sales leads. The system has gathered and aggregated financial information on more than 30,000 North American retailers. Its proprietary networking software lets network members quickly and easily exchange data that's necessary to their mutual survival. But over the years, primarily through member requests, the company has evolved what it does to encompass far more than just credit, which is the reason for the name change to The Creditors Network.
"We outgrew the name," says CEO and co-founder, Ron Solomon. "Even though we will always be a collective, the information that gets exchanged is no longer confined to credit. The original vision was to help businesses communicate directly and in a meaningful way. Now we're expanding on that vision to help companies manage a more diverse set of vital business practices."
One way in which the company has diversified its portfolio of offerings was by recently introducing a one-of-a-kind MAPP Violation Alert system. The service allows companies to notify one another about online merchants that violate Minimum Advertised Pricing Policies (MAPP). Once a MAPP Alert is entered, a proprietary algorithm cross-references the violating company with its database to find out if it's actually operating under another name.
Beyond this, The Creditors Network just announced the beta version launch of a service that automatically monitors the entire internet for MAPP violations. The service is not limited to Amazon and eBay resellers, but, rather, can find and identify most, if not all online violators, according to The Creditors Network. The company is also working with anti-trust experts to develop an entirely new concept in MAPP policy. Additionally, Solomon says they plan to increase the number of free educational webinars and launch an advanced sales management tool that will help network members manage the thousands of leads they receive through the network in 2013.
Oaktree, Jakks Talks at Standstill
Reuters reported yesterday that Oaktree Capital Management ended talks over a standstill and confidentiality agreement with Jakks Pacific after the two parties failed to agree on terms.
Reuters says that a standstill pact would have capped Oaktree's stake in Jakks, which is trying to fend off a hostile takeover, while a confidentiality agreement would have encouraged the toymaker to open its books to the private equity firm.
Oaktree wrote to the Jakks' board on Friday saying it would be willing to restart discussions if the terms were acceptable, Jakks said in a filing with the U.S. Securities and Exchange Commission.
Jakks moved to appease shareholders in April by agreeing to discuss Oaktree's $670 million offer and outlined plans to buy back shares to put pressure on the private equity firm to raise its bid.
The toy maker had also agreed to provide information requested by Oaktree subject to the signing of a confidentiality agreement.