More Stars Sign on for Mr. Peabody & Sherman
DreamWorks Animation SKG, Inc., announced last week during Licensing Show that Stephen Colbert (The Colbert Report), Emmy Award winner Allison Janney (The Help, The West Wing), Ellie Kemper (Bridesmaids, The Office), Ariel Winter (Modern Family) and Stephen Tobolowsky (Californication, Dr. Seuss' The Lorax) have joined previously announced cast members, Emmy Award winner Ty Burrell (Modern Family) and Max Charles (The Amazing Spider-Man, The Three Stooges) in the studio's Mr. Peabody & Sherman, which is now scheduled to be released on November 8, 2013. The film had previously been slated for March 14, 2014; a release date now planned for the studio's Me & My Shadow.
"These incredible casting additions have elevated Mr. Peabody & Sherman to a new level of excitement and we are truly fortunate to work with so many talented actors," said DreamWorks Animation chief creative officer Bill Damaschke. "I'm certain that their collective passion and enthusiasm for the film will bring the classic characters of Mr. Peabody & Sherman to new life and thrill audiences of all ages when we open in November of next year."
Mr. Peabody & Sherman is directed by Rob Minkoff (Stuart Little, The Lion King) and produced by Alex Schwartz (Journey to the Center of the Earth, Bridge to Terabithia) and Denise Cascino (Megamind, Shrek the Third). It is being written by Craig Wright (United States of Tara, Six Feet Under) with revisions by Michael McCullers (Baby Mama, Austin Powers in Goldmember). Bullwinkle Studios' Tiffany Ward and Classic Media's Eric Ellenbogen are serving as executive producers on the film along with Jason Clark (Monster House, Stuart Little).
Based on Jay Ward's classic cartoon, Mr. Peabody is the world's smartest person who happens to be a dog. When his "pet" boy Sherman uses their time traveling WABAC machine without permission, events in history spiral out of control to disastrous and comical results.
Cloud b, Sprout in TV Sponsorship Deal
Cloud b (offering products that help children sleep) announced that it has entered into a strategic partnership with Sprout TV. The new ad campaign is a first for the company in its 10-year history, positioning Cloud b as the sponsor of Sprout's the Good Night Show via a nightly billboard, which reads: "Tonight's Good Night Show, in partnership with the Great Sprout Tuck In, is sponsored by Cloud b…where good sleep begins."
The 30-second spots featuring Cloud B's Twilight Turtle (airing through the end of June, as parents prepare their children for bed) will also be positioned in Sprout programming available through Video on Demand.
Zoobles Back at McDonald's
Spin Master Ltd. has teamed up with McDonald's to bring Zoobles back into the McDonald's Happy Meal lineup for 2012. After a successful initial global launch of the Zoobles Happy Meal campaign in 2011, Spin Master and McDonald's launched a robust international campaign on June 15 that will run in more than 55 countries around the world for 2012.
Beyblade at Burger King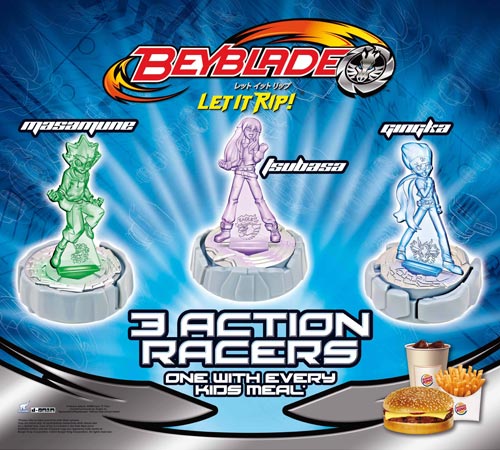 Nelvana Enterprises and d-rights, Inc. announced that Beyblade action racer toys will be featured in a Kid's Meal premium promotion at Burger King restaurants this summer. More than 3,300 restaurants will offer the premium in territories including Latin America, Europe, the United Kingdom, and the Middle East.
One of three Beyblade action racers will be offered in Kid's Meals in a six-week program running from June 18, 2012, through to July 29, 2012. The program will be supported by online, on-air, and in-restaurant promotion.
Miniclip in QSR with Del Taco
Miniclip, the gaming website with more than 70 million game players per month, is launching its first national promotion with Del Taco Restaurants this month.
The Miniclip kids meal promotion will be available in more than 525 restaurants in 17 states and provide diners with an exclusive Miniclip decoder toy with purchase. The decoder toy will reveal a special code for access to a secret area on Miniclip.com to play exclusive games with special trophies for the Del Taco audience. The promotion will be supported by Del Taco through in-store POP.
Miniclip has created some of the world's most recognizable digital properties, some of which have been played over a billion times across online and mobile platforms. Its extensive catalog of different game genres and more than 800 games in its library hold the attention of game players at record levels, with its 70 million monthly unique game players spending an average of over 45 minutes each visit.
A2E2 Introduces Rainbow Valley Heroes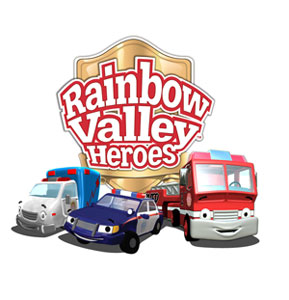 A Squared Elxsi Entertainment LLC (A2E2), a joint venture between A Squared Entertainment and Tata Elxsi Ltd, introduced Rainbow Valley Heroes, an animated preschool series featuring a colorful and friendly world of police and fire rescue vehicles.
Rainbow Valley Heroes is a series of 26 x 11' shows following the adventures of a fun loving fleet of rescue trucks. Featuring colorful stories told through vibrant CGI animation, the show introduces engaging characters with big personalities.
Fire Chief Rusty and Pam the Paramedic join forces with their best pals Lieutenant Lonnie and Major Mia from the police station to lead their teams of fun loving rescue vehicles on a series of adventures, teaching kids about the value of friendship, sharing, and working hard at school while educating toddlers on subjects such as recycling, telling the time, and problem solving.
Created by screenwriter Daniel E. Taylor, the Rainbow Valley Heroes series will be represented by A2E2 globally, including licensing and new entertainment. The company intends to create new episodes, as well as new toys, digital and entertainment products, games, apparel, books and additional branded merchandise.