Fremantle Signs Deals for Tree Fu Tom
FremantleMedia Enterprises (FME) announced a number of licensees during last week's Licensing Show for the preschool property Tree Fu Tom. Giochi Preziosi will manufacture and distribute a range of Tree Fu Tom toys, including action figures, playsets, roleplay items and vehicles, both in the UK and across Europe and will have the exclusive right to manufacture the licensed products for sale anywhere in Europe, the Middle East, and Africa.
The rest of the deals were signed for the UK and Ireland. Random House Children's Publishers (RHCP) has been signed for publishing; Aykroyd and TDP for children's nightwear and underwear; Trade Mark Collections for bags, wallets, and umbrellas; Spearmark for lunchware, tableware, drinkware, and lighting; Worlds Apart for bedroom and play accessories; and Character World for bedroom textiles, furniture, and accessories.
Under the four-year agreement, RHCP has the publishing rights for all categories, apart from annuals. The licensing program will begin its full roll out next year with toys, publishing, and apparel launching in spring/summer followed by all other major categories in fall/winter.
A number of products will appear at retail ahead of the full roll out with FremantleMedia Home Entertainment launching the first DVD release this fall.
FME holds the worldwide distribution (excluding UK) and ancillary rights for Tree Fu Tom. The story combines innovative elements of heroic action, fantasy, and magic, coupled with unique interactive physical activity. Set in an enchanted world where movement creates magic, viewers are encouraged to interact with the show through physical actions that have been devised and approved by movement development specialists to assist in the development of children. The series airs on Cbeebies.
In addition, FME has announced new sales for the interactive preschool TV series to broadcasters across the globe. It has been acquired by Switchover Media (K2 and Frisbee) in Italy, NRK in Norway, YLE in Finland, Knowledge Network in British Columbia, BBC Kids in Canada, and VRT (Ketnet) in Belgium.
Gund to Create Uglydoll Plush
Gund announced last week that it has signed a licensing deal with Pretty Ugly, LLC to make Uglydoll branded plush characters. Gund, the plush division of Enesco LLC, will begin selling and shipping Uglydoll plush products to current and new retail customers worldwide this summer, while Pretty Ugly, LLC will focus its efforts on expanding licensing programs across multiple product categories for the Uglydoll brand.
"After 10 years of building Uglydoll into an evergreen brand, we have decided to discontinue manufacturing and selling products directly and, instead, focus our efforts on building the brand and continuing expansion of Uglydoll licensing programs across new and existing categories," said Alita Friedman, partner and chief brand officer. "We are excited to have Gund as our newest licensing partner for core plush dolls, continuing the business that we began. Given Gund's long tradition as a leader in soft toys, we expect Gund to expand the Uglydoll plush business with new products and broader distribution."
Xcel Brands Signs Zeikos for Mizrahi Electronic Accessories
Xcel Brands, Inc., has signed an exclusive licensing agreement with Zeikos, Inc., which will give Zeikos the license to manufacture and distribute ear buds and headphones as well as electronic device covers for iPads, iPhones, iPods, tablets, and laptops under the Isaac Mizrahi New York brand. The product line is expected to be available at retail in spring 2013.
Elmer's Signs Licensing Works as Agent
Licensing Works announced that it has been appointed by Elmer's Products, Inc., as the exclusive global licensing agent for its Elmer's, Painter's, and X-ACTO brands.
The initial Elmer's program will focus on manufacturing and promotional partners within the following product categories: tape, scrapbooking, No. 1 teacher brands, DTR products, office organization, master mailing products, poster board and construction paper, stationery/crafts, and H&BA.
The X-ACTO brand will be licensed to product categories that include tools and instruments that will target craftsmen, designers, professionals, sports, tactical, kitchen cutlery, gardening, medical, and office instruments and tools.
Family Guy and KISS in Co-Branding Deal
During last week's Licensing Show, Twentieth Century Fox Consumer Products and KISS announced an upcoming co-branded Family Guy/KISS product line that is expected to be on shelves this fall. Fox Consumer Products will look to create lines of co-branded merchandise inspired by other prominent guests featured on the show.
The Family Guy/KISS line is a collaboration that taps into the band's references within the show. So far, KISS has appeared three times on the series, which featured Peter Griffin's love for the band and the fact that Lois Griffin once dated Gene Simmons of KISS before he became famous.
To support the program, Fox Consumer Products and Live Nation Merchandise, KISS's licensing agent, will be looking for partners in the following categories: vinyl figures, bobble heads, apparel, plush, novelty, barware, social expressions, and fine art.
Rubicon Acquires Monster in My Pocket Rights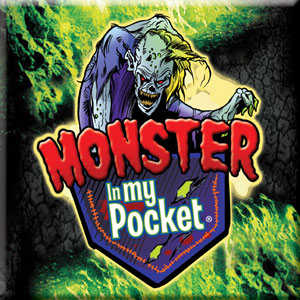 Rubicon Group Holding (RGH) has acquired worldwide licensing, merchandising, and digital media rights to the Monster In My Pocket brand of collectible monsters from MEG, creator and owner of the intellectual property.
As a result of the agreement, RGH will create a global brand strategy for the IP, which includes developing and producing a broad range of animated Monster In My Pocket content for theatrical and television distribution, DVDs, game platforms, apps, and online and social media. The new content will be supported with a comprehensive licensing and retail development program. MEG retains master toy license rights to the property.
WBCP Signs Shooting Stars for Middle East
Warner Bros. Consumer Products EMEA (WBCP) announced that it has appointed Shooting Stars as its licensing representatives in the Middle East region. Under the agreement with Warner Bros. Consumer Products, Shooting Stars will be responsible for licensing WBCP's vast portfolio of classic brands, films, and new theatrical releases in connection with merchandise in Saudi Arabia (KSA), United Arab Emirates (UAE), Kuwait, Qatar, Oman, Lebanon, Jordan, Bahrain, Yemen, and Iraq.
LeapFrog, MEGA in Stationery/Activity Deal
LeapFrog Enterprises and MEGA Brands announced a new partnership to bring a range of stationery and activity products to market this July for the back-to-school season.
The new LeapFrog-branded line of products produced by MEGA Brands will include creative and dry erase workbooks, flash cards, writing pads, pencils, and more. The products, for kids ages 2–7, will feature original LeapFrog characters Leap, Tad, and Lily as well as the cast of LeapSchool.
Star Trek Die-Cast Models from Mattel
In anticipation of 2013's upcoming Star Trek movie, Mattel will once again create a line of die-cast models inspired by the iconic franchise under license from CBS Consumer Products. The detailed miniatures will include the U.S.S. Enterprise, and are expected to be available at retail May 2013. This deal is similar to the agreement the companies reached for the 2009 movie. The next Star Trek movie is scheduled to be in theaters on May 17, 2013.
Herotainment Hires Carlin West Agency
Herotainment LLC, a children's media company that develops content for kids, announces that it has signed Carlin West Agency LLC (CWA) to further develop its Herotopia brand and serve as licensing agent for North America. CWA plans to extend the brand across key licensed product categories. Penguin Children's previously acquired the worldwide publishing rights for Herotopia. Books will be published under Penguin Children's pop-culture imprint Sunbird in late 2013.