Jakks Acquires Maui Toys

Jakks Pacific, Inc., announced that it has acquired Maui, Inc., a manufacturer and distributor of spring and summer activity toys, outdoor sports-related toys, and impulse toys including the Wave Hoop and Sky Ball products.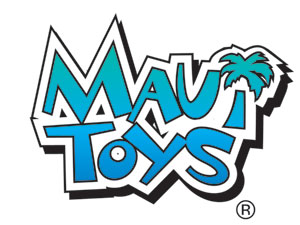 Jakks Pacific has acquired all of the shares of stock of Maui, a 24-year-old, privately held company, and its Hong Kong-based affiliate A.S. Design Limited. The business is comprised of proprietary non-licensed brands.
Stephen Berman, CEO and president, Jakks Pacific, Inc., stated this morning that, "The Maui Toys acquisition complements our growing portfolio of non-licensed, proprietary brands. We expect that it will enhance our product portfolio, diversify our distribution, and offer great products to our consumers around the world. We anticipate expanding the Maui Toys product line through our strong distribution channels in key international markets."
Jakks says that it expects that the Maui acquisition will be accretive to earnings in 2013. The determination of the impact to 2012 is subject to completion of the purchase price allocation for 2012, which has not yet been completed, according to a statement from Jakks.
M&M's World NYC Kicks Off In-Store Personalized Printer with NY Giants star Osi Umenyiora; Watch the Video Here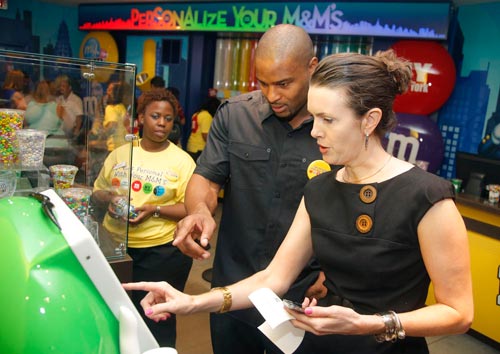 This week Mars Retail Group unveiled a new Personalized Printer at M&M's World New York, which will allow guests to create customized M&M's in the store in less than two minutes. Shoppers can select from a variety of images, as well as create customized messages that will be printed on M&M's.
Guests can choose from 15 different colors and one mix blend, as well as select two images and create two customized messages to feature on their personalized M&M's blend. Shoppers will be able to select from an array of clip art images, including the "big apple," "I Love NY," the Statue of Liberty, as well as the New York Giants, New York Jets, New York Yankees, and New York Mets logos, among others.  Each M&M's personalized blend will be available in 10 oz., 12 oz., 16 oz., and 32 oz. containers starting at $19.99.
To celebrate the newest addition to the store, M&M's World enlisted New York Giants star Osi Umenyiora to create one of the first personalized blends as well as unveil a special mosaic of the New York Giants logo that was created with more than 20,000 M&M's. The special mosaic will be on display at M&M's World New York for two weeks.
TimeToPlayMag.com's Jim Silver interviewed Osi Umenyiora at this week's launch event.

Discovery, Burger King in Promo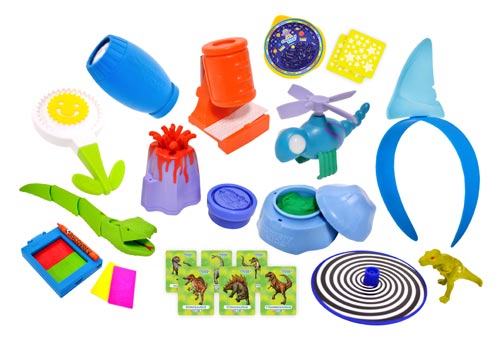 Discovery Communications announced a kids' meal promotion with Burger King for its Discovery Kids brand. The six-week summer promotion, which launched on July 23, will feature Discovery Kids premiums in every BK Crown Kids Meal sold at participating Burger King restaurant locations across the U.S. and Canada. The Discovery Kids promotion will be supported by a marketing campaign with promotional materials such as interactive online content at BKCrown.com.
Now, with the purchase of any BK Crown Kids Meal, customers will receive one of 12 Discovery Kids premiums, including a Discovery Kids Discoverscope, Discovery Kids Star Gazer, and Discovery Kids Growing T-Rex. Each toy will also include a 2×4 sticker sheet with explorer-themed stickers, which can be used to decorate the premiums.
Majesco Introduces NBA Baller Beats at NYC Event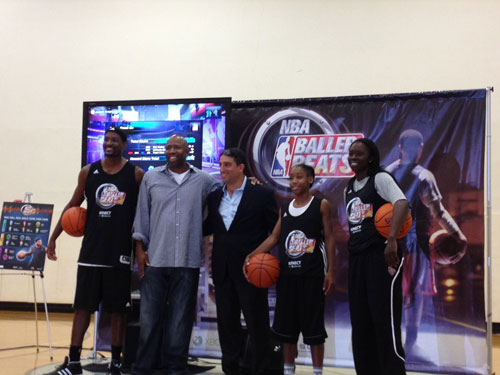 Majesco hosted an event this week in New York City to introduce the new NBA Baller Beats for Kinect for Xbox 360, which launches September 11. The game is the first motion-based sports video game that recognizes an actual ball. Using the basketball, kids ages 10 and up, can practice their ball-handling skills and get into a rhythm off the court by bouncing the ball to the beat of 30 licensed soundtracks across different music genres. An officially licensed Spalding basketball comes packaged with the game, although the game can recognize any type of ball.
Introducing the game was two-time NBA champion and Emmy Award winning TNT NBA analyst Kenny "The Jet" Smith, who also acts as a guide through in-game tutorials. Also on hand to demonstrate the game at the different levels was WNBA All-Star Essence Carson and Jashaun Agosto, a teen basketball superstar who was recently featured on The Ellen DeGeneres Show.