PlaySquare's Touchable Television Launches
PlaySquare, LLC, a new company that will develop tablet-based Touchable Television, which the group is calling the next generation of children's media for the touchscreen generation, launched last week.
PlaySquare's introduction of Touchable Television transforms television from a passive to an active experience. Touchable Television is the seamless combination of existing television episodes with interactive content that allows a child to step into and participate in the actual story of a television property.
PlaySquare has developed a proprietary technology and interface design that allows it to take existing video libraries and convert them into touchable, interactive experiences for the iPad. PlaySquare will license properties and convert them into interactive episodes.
The company's first licensing agreement, which was released as an app on iTunes on June 29, is with WordWorld, LLC. The WordWorld PlaySquare episode is free of charge for a limited time. PlaySquare is lead by a group of television and technology veterans. After a successful 13 years as an investment banker, Alex Kay, PlaySquare's CEO, co-founded the Ready to Learn Partnership, recipient of a $47.3 million grant from the Department of Education, to develop literacy content for children. The result of this initiative was WordWorld.
Scott Webb, CCO, was the creative director of Nickelodeon for 17 years, a tenure that included launching the 'orange' Nickelodeon, Nick-at-Nite, TV Land, and the Kids' Choice Awards. Considered both a branding expert as well as a leader in kids' media, Webb went on to launch or revamp several other networks including Oxygen Media, College Sports Television, and AMC's Yeah!
Tinsley Galyean, CTO, is an award-winning technologist and artist. Galyean has specialized in unique entertainment and educational user experiences for clients ranging from Disney, Discovery Kids, and Scholastic to MOMA, Sprint, and Motorola. He was one of the first graduates from MIT's Media Lab, from which he earned a Ph.D.
Care Bears, Chef Jonathon Sawyer Partner for Promotion
In honor of the Care Bears' 30th anniversary, American Greetings Properties (AGP) has partnered with chef Jonathon Sawyer's Cleveland-based restaurant Noodlecat for a special "Month of Caring" initiative. For the month of July, Noodlecat rebrands itself "Noodlebear" and will host three Care Bears events in American Greetings' hometown to help raise funds and awareness for the Cleveland Food Bank. The restaurant will feature newly-created "Noodlebear" signage and menus, Care Bears products and activities as well as a canned food drive.
The month-long celebration will kick off on July 8 as chef Jonathon Sawyer and his family will be joined by the Care Bears for an afternoon of food and fun. From 2p.m. to 3p.m., Sawyer will give a cooking event at "Noodlebear" by demonstrating how to make a veggie steam bun and teaching kids all about healthy eating. Following the demo, kids will have the opportunity to view an episode of the Care Bears' new CG-animated television series Care Bears: Welcome to Care-a-Lot.
The following Sunday, "Noodlebear" will host a Care Bears Love to Share event from 2p.m. to 4p.m., which will feature a Care Bears-themed menu for kids including items such as Funshine and Harmony Bear Chicken Skewers, a Care Bears meet and greet, activities, and a screening of the new Care Bears television series.
The Noodlebear events will be open to the public and tickets are now being sold. A portion of ticket sales from both events will be donated to the Cleveland Food Bank.
The Jungle Book Expected in Theaters in 2014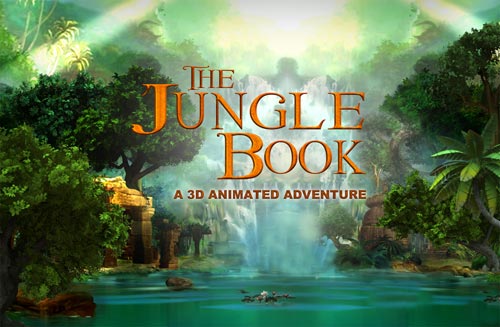 DQ Entertainment Ireland Limited is expanding with the creation of a dedicated feature film division, which is planning a steady slate of motion pictures in the coming years based on iconic, universally beloved characters and stories.
The first film expected from this new division is a $45 million stereoscopic 3-D animated feature film based on Rudyard Kipling's classic tale The Jungle Book.
Already in pre-production, The Jungle Book producers have tapped an experienced team of talent from the world of feature animation, including screenwriter Billy Frolick (Madagascar, Holy Cow), co-directors Jun Falkenstein (The Tigger Movie, The Smurfs, Despicable Me,) and Kevin Johnson (Alvin and the Chipmunks: Chipwrecked, Harry Potter & The Sorcerer's Stone, Astro Boy, Stuart Little), and production designer James Hegedus (Shrek).
The film is being produced by Tapaas Chakravarti, chairman and founder of DQE, while Eric S. Rollman, CEO of Rollman Entertainment, Inc., former president of both Marvel Animation and Saban/Fox Family Productions, with DQE'S vice-president of intellectual property, Rouhini Jaswal, will serve as executive producers.
The Jungle Book is targeting a theatrical release date in 2014. Pre- and post-production will be based in Los Angeles with animation production at DQE's headquarters in Hyderabad, India.