The Passing of Bill Bacus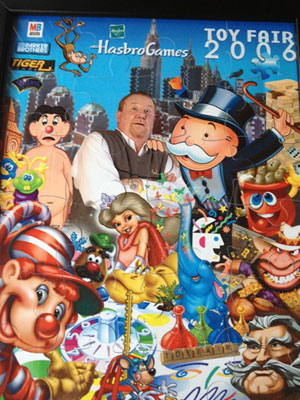 aNb Media has just learned that toy industry veteran Bill Bacus passed away last week after a battle with cancer. A funeral service will be held this Saturday, November 24 at Saint Mary's Church in Greenville, WI.
Bill is survived by his wife Jo Ann Zimmerman, his children Kirk (Betsy) Bacus, Kimberly (Micah) Langseth, and Keith Bacus. Bill is also survived by six grandchildren: Collin, Shawn, Kyle, Brooke, Claire, and Drew; his father Bob Bacus, his sister Susan (Charles) Heck, and his brother Andrew Bacus.
The family asks that donations in his name be made to Toys for Tots. The family says that Bacus felt strongly about always providing toys for children at Christmas.
Here is a link to the obituary of Bill Bacus.
For those who would like to send a condolence message to the family, Jo Ann Zimmerman can be reach at: N 1123 Craftsman Court, Greenville, WI 54942.
Hong Kong Toys & Games Fair Dedicates Floor Space for Toys Aimed at Adults
The 39th annual Hong Kong Toys & Games Fair 2013 will highlight the new Kidult World, capitalizing on the industry trend toward adult toys and games. Kidult World will bring three components under one umbrella including hobby goods; magic items; and vehicles, mechanical toys, and action figures. To emphasize this new space, additional activities for Kidult World exhibitors will be arranged and announced shortly. Buyers will be able to get a glimpse of key products from the three segments at a special display area.
The Fair has built a strong reputation through the decades and has developed into the largest event of its kind in Asia, and the second largest in the world. The 2012 Fair attracted more than 35,800 buyers from around the world. This year, 1,900 exhibitors are expected. The Hong Kong Toys & Games Fair 2013 will be held January 7–10 at the Hong Kong Convention and Exhibition Centre, sponsored by the Hong Kong Trade Development Council.
Ellis, Berrie to Be Inducted into Toy Industry Hall of Fame
Judith Ellis and the late Russ Berrie have been selected as the newest inductees into the Toy Industry Association's (TIA) Toy Industry Hall of Fame. The inductees were nominated from within the toy industry and selected by a vote of TIA members and previous Hall of Fame honorees.
Ellis is the founder and chair of the nation's first baccalaureate program in toy design, which she launched at the Fashion Institute of Technology (FIT) in 1989. The program now boasts more than 350 alumni who work in leading toy design, manufacturing, and inventor groups across the globe, while an estimated 3,500-plus products have been designed by FIT toy design alumni. She has received two SUNY Chancellor's Awards for Excellence in Faculty Service and Distinguished Classroom Faculty and the FIT President's Award for Faculty Excellence.
Berrie, who passed away in 2002 of a stroke, was chief executive and chairman of Russ Berrie & Company, which he founded in 1963. He built a large company on stuffed animals and other toys and gifts—from his initial launch of Fuzzy-Wuzzies to its immediate follow-up with the Bupkis family and the SilliSculpt lines. In the 1980s, the Snuggle bear line prospered, followed by Troll-mania in the early 1990s. Under his leadership, Russ Berrie & Company became one of the largest gift companies in the world, with more than 1,500 employees globally and reaching $300 million in annual sales. Berrie also devoted endless time, energy, and resources to numerous charitable causes.
The 2013 ceremony honoring the inductees will take place at the 13th annual Toy of the Year (TOTY) Awards on Saturday, February 9, 2013, at The Plaza Hotel in New York City. The ceremony will kick off the 110th American International Toy Fair.
TRU Launches Site in China; Adds Mobile Sites Globally
Toys "R" Us, Inc., (TRU) announced the launch of a dedicated web store in China: Toysrus.com.cn. TRU has also announced the development of mobile-optimized sites and apps in 11 markets around the world, including Australia, Canada, France, Germany, Japan, Spain, and the UK. In the coming months, it will introduce the same capabilities in Portugal, Austria, and Switzerland, as well as the Netherlands, where it does not currently have a store presence. Tablet-optimized sites will be available in select markets, as well.
In October 2011, TRU acquired the majority stake in its business in Greater China and Southeast Asia from Fung Retailing. With this agreement, the existing TRU-licensed operations in this region became 70 percent majority owned and controlled by Toys "R" Us, Inc., and 30 percent owned by Fung Retailing.
In August, TRU opened its first stores in Beijing. The following month, the company opened stores in Tianjing Galaxy Mall in Northern China and Nanning Mixc in Southern China. TRU currently operates 30 stores across 21 cities throughout China.
Earlier this month, TRU announced that international shipping is now available for online orders on Toysrus.com and Babiesrus.com to more than 60 countries across Asia, the Caribbean, Central America, Europe, North America, and South America. The company is providing this service to its customers in partnership with i-parcel, an international air express company that facilitates global shipping capabilities.
Kevin Clash, Voice of Elmo, Resigns from Sesame Workshop
Kevin Clash, the voice of Elmo, has resigned from his role at Sesame Workshop amid allegations that he had a sexual relationship with a second underage boy. The controversy began last week when a man accused Clash of having a sexual relationship with him when he was underage. That story was recanted amid news of an alleged pay-out from Clash. The young man then recanted the recanted story.
Today, a lawsuit was filed by a second accuser named Cecil Singleton. Singleton alleges that he and Clash has a sexual relationship when Singleton was underage.
Sesame Workshop issued this statement today about Clash, "Sesame Workshop's mission is to harness the educational power of media to help all children the world over reach their highest potential. Kevin Clash has helped us achieve that mission for 28 years, and none of us, especially Kevin, want anything to divert our attention from our focus on serving as a leading educational organization. Unfortunately, the controversy surrounding Kevin's personal life has become a distraction that none of us wants, and he has concluded that he can no longer be effective in his job and has resigned from Sesame Street. This is a sad day for Sesame Street."
It is too early to assess whether the news surrounding Clash will have any affect on toy sales of Elmo-related products. Hasbro, the master toy licensee for Sesame Street, issued this statement to aNb Media today.
"Sesame Street and its wonderful characters have been entertaining and educating children and families for more than 40 years. We are confident that Elmo will remain an integral part of Sesame Street and that Sesame Street toys will continue to delight children for years to come."