TimeToPlayMag.com Launches Kids' Birthday Central
TimeToPlayMag.com (that's us!) launches Kids' Birthday Central. The site is designed to guide parents as they plan their child's birthday party as well as attend the parties of other kids. The site features gifts under $15, party favor ideas, party theme ideas, and decorating and treat ideas. Kids' Birthday Central also features a toy advisor for choosing gifts, wish lists, and giveaways. The site will feature blogs from TimeToPlayMag.com's staff, Parent Panel as well as additional guest bloggers and contributors.
Visit www.timetoplaymag.com/kidsbirthdaycentral/
Corus/Nelvana and The Bridge Launch Pinkie Cooper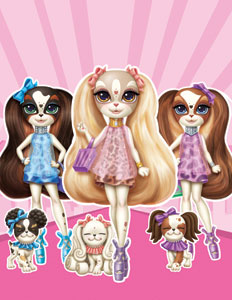 Corus Entertainment's Nelvana Enterprises and The Bridge Direct are teaming up for the launch of Pinkie Cooper and the Jet Set Pets. The toy line from The Bridge Direct will feature a range of fashion dolls and accessories with a canine twist.
In support of the toy launch, Nelvana will develop and create all Pinkie Cooper digital content including original webisodes, a Pinkie Cooper website, several apps, and all social media marketing for the launch. Nelvana will also oversee the consumer product merchandising and marketing plans associated with the brand going forward.
Beginning this month, Nelvana will roll out seven three-minute webisodes to be seen on the Pinkie Cooper website and a dedicated YouTube channel. Up to four Pinkie Cooper apps are also slated to launch this year. The Bridge Direct's toy line will launch in August, and will feature nine-inch Pinkie Cooper dolls.
The brand centers around Pinkie Cooper and her best friends Ginger and Pepper, who turn their fascination with fashion into intriguing international adventures. Pinkie, Pepper, and Ginger travel the world reporting on red carpet events for Pinkie's fashion web channel, as well as creating new designs, music, and fashion statements along the way.