Uglydoll in Universal Monsters Deal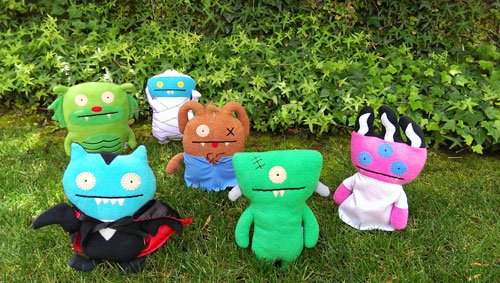 Pretty Ugly, LLC, the licensors of Uglydoll brand, has partnered with Universal Partnerships & Licensing to develop an all-new series of Uglydoll plush dolls based on the Universal Monsters, which is scheduled at retail for this Halloween. Gund, a division of Enesco, will offer these co-branded characters including Wedgehead as Frankenstein, Ice-Bat as Dracula, Ox as Wolfman, Tray as Bride of Frankenstein, Big Toe as Creature from the Black Lagoon, and Babo as Mummy.
Biggest Loser Line of Foods
NBCUniversal Television Consumer Products and Five Star Gourmet Foods announced that they are teaming up for the launch of a new line of The Biggest Loser fresh and frozen healthy meals and snacks. The line, which is expected to launch later this year, will include branded single-serve salads, fruit and veggie snacks, bagged salads, and fresh and frozen steamed meals.
The deal was brokered by Joy Tashjian Marketing Group and was licensed through NBCUniversal Television Consumer Products and Shine America.
Honey Boo Boo Product Line Launches
Discovery Communications debuts a Honey Boo Boo merchandising program inspired by the TLC series Here Comes Honey Boo Boo. Items planned to launch this fall include posters and calendars by Trends; T-shirts and tops for girls and juniors by Bioworld; talking key chains featuring some of the most recognizable sayings from the show, figural key chains featuring Alana, throw blankets, rubber bracelets, drinking vessels, "talking" and non-talking straws, "talking pens" and disposable cameras with images and sayings from the show by License 2 Play. How to Honey Boo Boo, a companion book to the series created in partnership with William Morrow, will be available July 9.
Additional items are planned to debut in 2014 in categories including accessories (hats, jewelry); health and beauty (hair accessories, lip balm, bubble bath); party goods and stationery; Halloween costumes; toys; novelty items (bobbleheads, pins, magnets); mobile games; and apps.
Deals for the Here Comes Honey Boo Boo licensing program have been brokered on behalf of Discovery Communications by licensing agent Big Tent Entertainment.
Jakks, Duck Dynasty in Gaming Deal
Jakks Pacific, Inc., announced that it signed an agreement with Duck Commander, Inc., the Louisiana-based and family-owned company featured on the A&E TV series Duck Dynasty, to develop, distribute, and market the Duck Commander Deluxe Plug It In & Play TV Game.
Featuring the imagery and voice talent of various members of the Robertson family, including Phil, Uncle Si, Willie, Jase, and others, the Duck Commander Deluxe Plug It In & Play TV Game takes hunting enthusiasts through the bayous of Louisiana in search of ducks, beavers, frogs, and more. Powered by Jakks' TV Games platform, everything fans need to play is included in a single purchase. No additional console or software is required. The game is expected to receive a "T for Teen" video game rating from the ESRB and will be in stores this fall.
Nickelodeon Signs Peter Rabbit Licensees
Nickelodeon and Gund announced the launch of a plush collection based on the re-imagined, CG-animated preschool series Peter Rabbit. The line will feature plush of all sizes featuring Peter, Benjamin, and Lily will make its debut in spring 2014.
Separately, Nickelodeon announced a multi-year master toy licensing agreement with Cartwheel Kids to manufacture, distribute, and market a line of toys and products based on Peter Rabbit. Set for fall 2014, the product line will span multiple categories including plush toys, figures and playsets, roleplay items, and seasonal products.
In February, Nickelodeon debuted the CG-animated preschool series Peter Rabbit. The series is a reimagining of the Beatrix Potter children's books.
Skylanders Adds Licensees
Activision Publishing, Inc., a wholly owned subsidiary of Activision Blizzard, Inc., announced licensing initiatives for Skylanders as well as the new video game universe, Destiny, from the developer, Bungie.
Activision's Skylanders is anchored by key global partners Penguin, Topps, Rubie's, MEGA Brands, and PowerA.
Newly signed licensees include American Greetings, who is creating a comprehensive social expressions program through party goods and greeting cards; consumer electronic products by KIDdesigns; athletic shoes and slippers by Cortina Leomil Group; a Skylanders-themed Monopoly game by USAopoly; and Skylanders-branded personal care items and novelty stationery by MZBerger.
Additionally, promotional partnerships have helped build and expand awareness of the brand including a three-phased Frito-Lay national promotion followed by McDonald's, which launched a Skylanders Giants Happy Meal program in April 2013 in North America that will be rolling out to other countries throughout the year.
Additionally, in 2014, Activision, in collaboration with Bungie, will launch a focused merchandising program to support the game launch of Destiny.
SELF-branded Exercise Equipment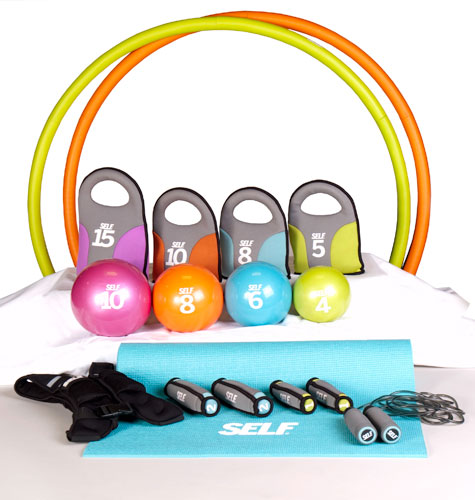 SELF Magazine, a Condé Nast publication, and licensing agent, FremantleMedia, have unveiled the new line of SELF-branded fitness products that will launch later this year. The product line was developed under license by CAP Barbell, Inc. Products will include hand weights, fitness hoops, weighted balls, yoga mats, weighted vests, and jump ropes. Each piece of equipment will include QR codes linking consumers to www.Self.com for online tips about proper use, as well as exercise routines designed by SELF specifically for each particular piece of equipment.
New Licensees for Mike the Knight
HIT Entertainment, a division of Mattel, announced licensees for Mike the Knight. Amscan, Inc. introduces a line of Mike the Knight party goods and costumes, which will be available this summer exclusively on PartyCity.com. Disguise will introduce costumes and accessories this fall. Publications International is currently offering sounds books.
VTech's range of InnoTab Learning App Tablets will feature Mike the Knight software this fall.
Ravensburger introduces Mike the Knight puzzles for preschoolers this fall.
New Licensees for Peppa Pig
Entertainment One Family (eOne Family) announced the U.S. expansion of the Peppa Pig brand with the addition of five new licensing agreements, as well as several line extensions in the toy, book, and DVD categories.
The new licensing deals will mark the brand's U.S. debut in several key categories: games and puzzles; backpacks and lunch kits; health, beauty, and accessories; novelty gear; and magazine publishing. The new items will complement the existing assortment of licensed Peppa Pig gear currently available, including toys by Fisher-Price, books by Scholastic and Candlewick Press, DVDs by Entertainment One, and mobile apps by P2 Games.
TCG will manufacture, distribute, and market a new line of games and puzzles featuring Peppa Pig. The product line will include the Tumble & Spin memory game, three 24-piece and three 48-piece jigsaw puzzles, and Magnetic Creations. The new puzzles will be available at retail in August 2013. Fast Forward will produce Peppa Pig backpacks and lunch kits for children age 2–6. The new line is scheduled to launch in May 2014.
Added Extras will produce a line of hair accessories, bath and hair products, lip balm, and costume jewelry for girls age 2–6. The new items will be available in spring 2014.
Underground Toys will produce an assortment of collectible gear for Peppa Pig fans of all ages, which is expected to be available this fall.
Redan Publishing will launch a dedicated Peppa Pig issue for children ages 3–8. The interactive magazine will include Peppa Pig-themed games, stories, and activities and will be distributed in grocery stores, bookstores, and specialty retailers beginning in July 2013.