LIMA Awards Announced
The International Licensing Excellence Awards from the International Licensing Industry Merchandisers' Association (LIMA) were announced last night in Las Vegas during Licensing Show. Skylanders by Activision Publishing, Inc., was named Overall Best Licensed Program of the Year and Hot Topic received the Best Retailer of the Year Award for The Hunger Games.
The latest crop of awards winners (listed by category) are:
ART OR DESIGN
Best Art or Design Program of the Year
• The Very Hungry Caterpillar/The World of Eric Carle (by Eric Carle Studio/The Joester Loria Group)
Best Art or Design Licensee of the Year
• Kids Preferred for The Very Hungry Caterpillar/The World of Eric Carle
CHARACTER OR TOY BRAND
Best Character or Toy Brand Program of the Year
• Skylanders (by Activision Publishing, Inc.)
Best Character or Toy Brand Licensee of the Year—Hard Goods
• LEGO (for Marvel Super Heroes)
Best Character or Toy Brand Licensee of the Year— Soft Goods
• Alfred Angelo (for Disney Fairy Tale Weddings)
CORPORATE BRAND
Best Corporate Brand Program of the Year
• HGTV HOME (by HGTV HOME/Beanstalk)
Best Corporate Brand Licensee of the Year
• Sherwin-Williams (for HGTV HOME)
FILM, TELEVISION, CELEBRITY, OR ENTERTAINMENT
Best Film, Television, Celebrity, or Entertainment Program of the Year
• Marvel's The Avengers (by The Walt Disney Company/Marvel Entertainment)
Best Film, Television, Celebrity, or Entertainment Licensee of the Year— Hard Goods
• CVS/Pharmacy (for NUANCE Salma Hayek)
Best Film, Television, Celebrity, or Entertainment Licensee of the Year— Soft Goods
• Vans (for Yo Gabba Gabba!)
SPORTS
Best Sports Program of the Year
• National Basketball Association
Best Sports Licensee of the Year
• Junk Food Clothing Co. (for Vintage NFL)
PROMOTION
Best Licensed Promotion of the Year
• 50 Years the Art of Soup: Campbell Soup Company (for Andy Warhol at Target)
RETAILER
Best Retailer of the Year
• Hot Topic (for The Hunger Games)
OVERALL BEST LICENSED PROGRAM OF THE YEAR
• Skylanders (by Activision Publishing, Inc.)
BabyFirst Signs Brand Central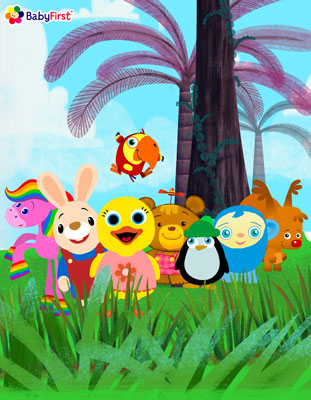 BabyFirst, a cable TV network that seeks to provide babies a positive, meaningful, and friendly start in life, has signed with Brand Central LLC, as its exclusive licensing agency. BabyFirst is the latest addition to Brand Central's expertise with baby and television brands, which include nursery designer Petit Tresor, pacifier brand NUK, and other TV networks and production companies.
Since its launch in 2006, BabyFirst now has network television programs available to more than 80 million homes in 33 countries. By offering a complete media ecosystem (TV, online content, mobile/tablet apps), BabyFirst supplies parents with content for their babies where and when they want it, and acts as a reliable, effective, and trusted source of information for parents on topics related to the early stages of parenting.
Ross Misher, CEO of Brand Central, said, "BabyFirst has created one of the most successful brands in the market, and we are thrilled to have the opportunity to represent such an influential market leader in this space. BabyFirst offers access to rich, identifiable characters which will translate into engaging interactive consumer products—we are confident our partnership will continue to generate new opportunities for babies and toddlers as they explore their world."
Beanstalk to Represent Shula's Steak Houses
Beanstalk has announced plans to extend the signature restaurant group, Shula's Steak Houses through licensing. Beanstalk will leverage Shula's food, service, and the exclusive Shula Cutto complementary food and beverage products including frozen meals, frozen potatoes, appetizers, soups, sauces, condiments, dry spice rubs, and non-alcoholic drinks. Beanstalk will also continue to build upon Shula's association with sports by extending into tailgating gear, including grills and grill accessories.
Named for and owned by legendary NFL Hall of Fame coach, Don Shula, the first steak house opened 24 years ago. Today, the restaurant group has 34 locations in high traffic tourist venues, major hotels, and airports throughout the U.S. The restaurants serve more than four million guests annually. Shula's "Eat Like a Legend" ad campaign is featured on billboards, radio, and print.
CBS Consumer Products to Represent The Honeymooners
CBS Consumer Products will represent The Honeymooners television series on behalf of Jackie Gleason Enterprises, LLC. The classic TV series featured legendary characters, Ralph Kramden (Jackie Gleason) and Ed Norton (Art Carney). This agreement follows CBS Consumer Products' announcement of The Honeymooners musical, which will be directed by two-time Tony-winner Jerry Mitchell from a book by Dusty Kay and Bill Nuss with music by Stephen Weiner and lyrics by Peter Mills.
The Honeymooners will become part of CBS Consumer Products' Television City portfolio, joining the ranks of more than 150 iconic television series including The Andy Griffith Show, Beverly Hills 90210, The Twilight Zone, The Brady Bunch, and Cheers.
Outfit7 Launches Tom on the Road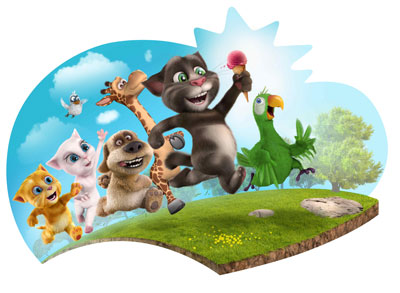 Outfit7 is launching a new property called Tom on the Road. Tom on the Road follows the Talking Friends franchise enormous mobile achievement—one billion-downloads as of this month, second only to Angry Birds—and 600 million combined views between user generated content and YouTube webisodes and videos, according to Outfit7.
Tom on the Road includes television, home entertainment, live events, and attractions, merchandise as well mobile and web. The new property will hit consumers in a major global launch in October 2015, following an early sneak peak the final quarter of 2014.
Talking Tom is a charming social cat that likes to get the attention that is due to a big celebrity in the making. His best friends Talking Ben (a visionary and talented inventor, though sometimes carried away by his creativity) and Talking Pierre (music and video-games lover, and often good-hearted trouble-maker) provide comedic support for his efforts, while Talking Angela (the sophisticated City Kitty, with a highly talented music pedigree) is the ever-elusive love interest. Talking Ginger (an energetic dreamer) and Talking Gina (wise and supporting) help the group in their efforts to discoveries, fun and fame.
Outfit7 seeks licensees to support Tom on the Road in toys, publishing, apparel and home goods. The demographic for the Talking Friends property, as well as the new Tom on the Road property, are families and boys and girls ages 6–12.