King Features to Represent Chicken Soup for the Soul; Betty and Veronica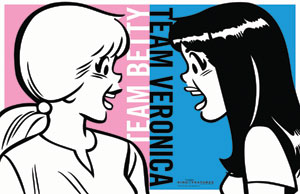 King Features Syndicate and Chicken Soup for the Soul Publishing, LLC, announced last week that they have reached an agreement to license the name, logo, and other proprietary assets from the publishing brand.
King Features offered the following statistics on the brand: Chicken Soup for the Soul receives an average of 110 million targeted media impressions per month, and reaches another 25 million unique users per month through its independent blog and radio networks. A Harris poll reported that 88 percent of the U.S. public knew of the brand. There are more than 250 titles in the line. The demographic is more than 80 percent female—and more than 60 percent are married, employed, college graduates, and over the age of 35; 80 percent of book purchases are given as gifts.
King Features will initially target giftware and apparel licensees.
In a separate announcement, Archie Comics has tapped King Features to lead the licensing strategy for Betty and Veronica. King Features Licensing will look to support the franchise in the following categories: apparel, fashion accessories, electronic accessories, stationery, and gifts.
Evolution to Represent This One 'N That One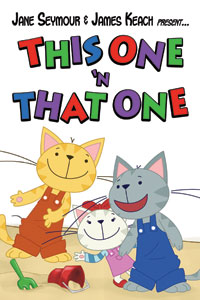 Evolution has been appointed as the global licensing agent for children's property This One 'N That One, created by actress and author Jane Seymour and actor, writer, director and producer James Keach.
This One 'N That One are comical twin kittens who are full of laughter and love and lots of mischief. This One is definitely more of a thinker than his brother, That One. He likes to consider every angle, but his indecisiveness can sometimes be a bigger problem than That One's recklessness. He is, however, adept at reasoning his way out of tough situations, and what he lacks in brawn, he makes up for in cleverness. They reside with their parents, Big Jim Cat and Lady Jane, in a home by the sea.
Based on Jane Seymour and James Keach's own twin sons, these two kittens have many exciting adventures in the three book series originally published by Penguin Putnam Books for Young Readers, as well as additional books published by Angel Gate, a division of Left Field Ink, Inc. Keach's PCH Films has partnered with Cosmic Toast Studios on the development, production, and distribution of the animated series This One 'N That One for launch in fall 2014.
Evolution will focus on plush, apparel, accessories, apps, toys, playsets, storybooks, coloring, and activity books, how-to books, and DVDs, which are all intended to launch in specialty and online retailers beginning spring/summer 2014, with expansion to mass retailers in spring 2015, following the release of the animated series.
Daniel Tiger's Neighborhood Exclusively at TRU
The Fred Rogers Company, and licensing agency, Out of the Blue Enterprises have signed a deal with Toys "R" Us to bring the product line for Daniel Tiger's Neighborhood exclusively to Toys "R" Us starting this September. Jakks Pacific, is the North American master toy licensee for the popular property. In addition to the initial toy offerings from Jakks, other new Daniel Tiger's Neighborhood merchandise includes games and puzzles from University Games, books from Simon & Schuster Children's Publishing imprint Simon Spotlight and personalized T-shirts available on Toysrus.com and at Toys "R" Us Times Square through partner Ty's Toy Box.