MGA Launches Mooshka; Signs Licensees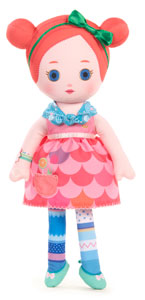 MGA Entertainment launches Mooshka, the company's newest entertainment and toy brand this holiday. Combining colorful soft dolls with an array of animated e-books, Mooshka unites the joy of play with the importance of reading.
MGA Entertainment has already secured a number of licensees for Mooshka. Franco Manufacturing Co., Inc., has been signed for bedding and accessories, throws, beach towels, slumber bags, bath, and accessories. Thermos, LLC has been signed for lunch kits, insulated and non-insulated bottles, food jars, and reusable ice.
MGA Entertainment introduces the Mooshka dolls with a fall television campaign, a dedicated brand website, a multi-category licensing program, and a national public-relations campaign. The companion Mooshka e-book apps, featuring a wide array of original Mooshka stories, will be available free on the App Store.
Joester Loria Group Signs Deals for The Hive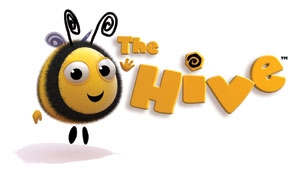 The Joester Loria Group has brokered two new deals for the Disney Jr. preschool series, The Hive, with Bakery Crafts and Ceaco. The series has been airing on Disney Jr. since October 2012. Ceaco has secured the license to produce jigsaw puzzles.
Ceaco will offer 24- and 36-piece puzzles, which will also include value-added features such as flocking. Products will be shown at the Fall Toy Preview in Dallas and will be available to ship to leading national accounts and key specialty retailers in 2014.
Bakery Crafts has licensed The Hive for cake and cupcake decorations including cake toppers, cupcake rings, and edible icing art launching in 2014 at Walmart, Publix, Kroger, Supervalue, and across grocery chains nationwide.
DreamWorks Signs Mr. Peabody & Sherman Licensees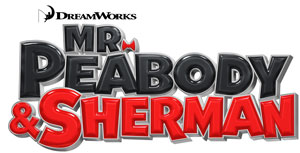 DreamWorks Animation has secured consumer products partners in North America for Mr. Peabody & Sherman, which is expected in theaters March 7, 2014.
The licensing program will be anchored by Random House Children's Books as master publisher and also includes:
•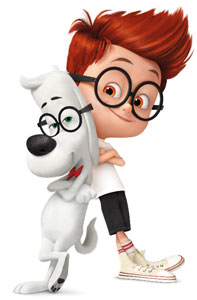 IDW Publishing (comic books and graphic novels)
• Hallmark Cards, Incorporated (stationery)
• Ludia (iOS, Android and Facebook games)
• Hybrid Jem (knit tops, tees and apparel for kids)
• Concept One (accessories)
• Funko (vinyl figures and bobbleheads)
• Comic Images (plush)
• Rasta Imposta (costumes)
• PopFun (glassware and decorative refrigerator magnets)
• SmileMakers (stickers)
• Multipet International (pet toys)
Knockout Licensing Signs Justin Time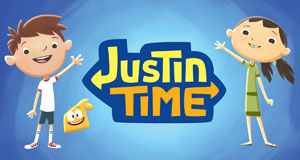 Guru Studio has appointed Knockout Licensing and Super RTL Merchandising as its agents in the U.S./Canada and Germany respectively, for its TV series Justin Time. Guru plans on selecting agents in additional key markets as the Justin Time series grows in popularity in each market.
Knockout Licensing, headed by Carole Postal and Tamra Knepfer, have acquired the consumer product rights for the U.S. and Canada.
Justin Time is broadcast on Sprout and NBC Kids, Discovery Familia, and Netflix. Two books (The Pancake Express and The Big Pet Story) have been released by Immedium and are available at Barnes & Noble, Amazon, Chapters Indigo, and independent bookstores across North America.
Super RTL Merchandising has secured the licensing rights for German-speaking Europe. Justin Time is broadcast on parent company Super RTL, the largest kids network in Germany. Justin Time has aired in more than 70 countries.
memBrain Licensing Signs Christina Milian's Shelby Star Property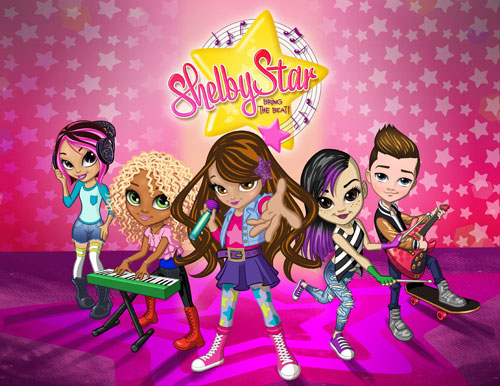 Licensing and brand management firm memBrain announced that it has been selected by singer/songwriter Christina Milian to oversee the global brand licensing program for Shelby Star. The mother/daughter duo Christina and Carmen Milian have partnered with memBrain on Shelby Star to create a design-forward program for a wide range of product categories including animation, publishing, toys, apparel, accessories, and more. Co-created by singer/songwriter, actress, dancer, and fashion designer Christina Milian, along with her mother and entertainment manager, Carmen Milian, the pair plans to leverage Christina's celebrity and style and Carmen's business acumen, to launch a brand that promotes diversity, creativity, and collaboration.
Shelby Star is a 12-year-old girl who aspires to dream big and reach for the stars. Featuring a diverse lineup of supporting characters and close ties to the music industry, Shelby Star is a brand that delivers real world style and endless creative opportunities for media and merchandise. The new merchandise program will be designed to appeal to Christina's global fanbase as well as tween girls.
ASPCA Signs Licensees
The ASPCA (The American Society for the Prevention of Cruelty to Animals) announced the following licensees. Commonwealth Toy & Novelty Co., Inc, has been signed for a line of plush, which is scheduled to launch by the end of 2013. Artists' Addiction Records, LLC (AAR)/Caroline/Universal Distribution, a label known for TV soundtracks for shows such as NCIS, Hawaii 5-0, and Friday Night Lights, will release Artists for Animals, a music compilation to benefit the ASPCA. Confirmed artists to date include Bob Dylan, Dolly Parton, Jason Mraz, Colbie Caillat, Pauley Perrette, and David Archuleta. Firestar Diamond is launching an exclusive collection of diamond fashion jewelry sold under the brand name Tender Voices. It is available at retailers including Zales and Reeds Jewelers. Apparel company David & Goliath has created a line of pet-themed Tshirts. Girls' clothing company Puppy Luv Glam has puppy-themed apparel line. Van has signed on as a licensee with more information to be released closer to the products' launch date in 2014.
Eyewear Inventions will create a line of eyeglass frames, lenses, sunglasses, readers, magnifiers, and accessories. These companies join a roster of existing licensees including G Mason Group, European Home Designs, and American Greetings Corporation, as well as seasonal partners West Elm and PBteen.
Wonder Forge Signs Tickety Toc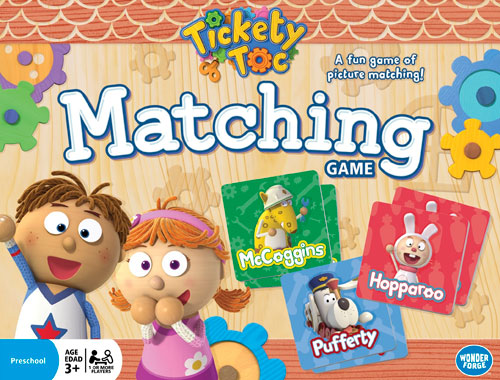 Wonder Forge has recently secured game licensing rights to Tickety Toc through a multi-year partnership with Zodiak Kids, brokered by U.S. licensing agent Established Brands. Tickety Toc airs seven days a week on Nick Jr.
Wonder Forge will debut its Tickety Toc Matching Game this fall through an exclusive retail partnership with Toys "R" Us, and will launch additional signature games in 2014. A multi-category consumer products program for Tickety Toc will launch in North America in fall 2013 led by master toy partner, Just Play, and Home Entertainment partner, Anchor Bay Entertainment.
Live Nation Merchandise Enters Asia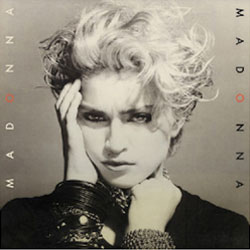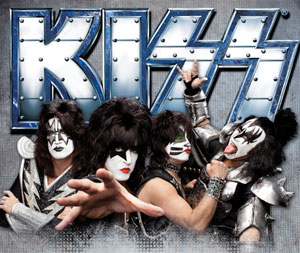 Global Pursuit Co., Ltd., the newly-established worldwide consumer products licensing, marketing, and brand equity company, has finalized a representation deal with Live Nation Merchandise to expand their licensing efforts in Taiwan, Hong Kong, and China for Live Nation's roster of more than 150 music artists, including AC/DC, Aerosmith, Coldplay, KISS, Lynyrd Skynyrd, Madonna, Maroon 5, Ozzie Osbourne, and Pink Floyd The Wall.
Jazwares Signs World War Z and Teen Titans Go!
Jazwares announced two separate licensing deals this week. It has signed a deal with Paramount Pictures to create a line of action figures for the film World War Z, which is expected in theaters June 21. Available this summer at major retailers nationwide, Jazwares' World War Z line will include six-inch articulated figures from the film.
In a separate announcement, Jazwares has been signed by Warner Bros. Consumer Products as the master toy and electronics partnership for Teen Titans Go!, Warner Bros. Animation's new comedy adventure series based on the DC Comics superheroes, which airs on Cartoon Network.
Teen Titans Go! action figures, plush, and roleplay toys will be available for holiday 2013 sales at Toys "R" Us.
The Bridge Signs Strawberry Shortcake
AG Properties (AGP), the intellectual property and outbound licensing division of American Greetings Corporation, has named The Bridge Direct, Inc., as the master toy licensee for Strawberry Shortcake.
Dolls and other toys based on everyone's berry best friend and her six friends from Berry Bitty City will be launching globally in fall 2014.
The new toy collection will highlight the modern day Strawberry Shortcake from the television series and DVD collection. The product line will include dolls, playsets, and plush.