Thomas & Friends to Reach Parents in Mexico
HIT Entertainment, a subsidiary of Mattel, Inc., announced that morning news personality and actress Galilea Montijo has signed on to represent Thomas & Friends in Mexico. This follows the launch of the brand's new Facebook and Twitter pages dedicated to reaching parents in Mexico, and the launch of the Thomas & Friends television series on Televisa.
In her role as spokesperson, Montijo (mother to an 18-month-old son) will support the new Friends to Grow (Amigos para Crecer) campaign in the region and will also endorse the brand via her Twitter and Facebook accounts. She debuted in her newest role by hosting a Thomas & Friends fun day and story time at the Museo Tecnológico (MUTEC) in Mexico City in June.
Last November, Thomas & Friends launched on Televisa (Canal 5) airing three days a week. The brand also recently launched on Facebook and Twitter.
Lundby Returns to the U.S.; Beau James Company President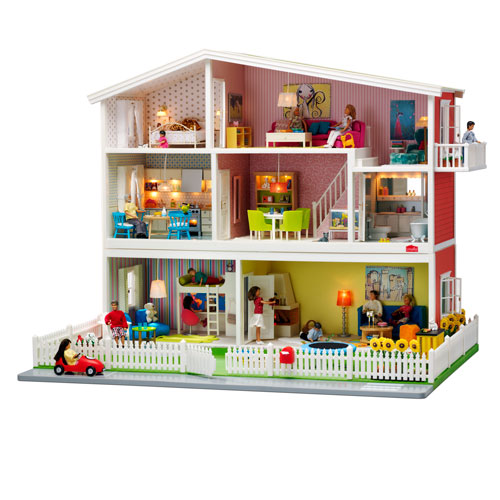 Swedish classic brand Lundby is returning to the North American market after a 10-year absence. Lundby, a subsidiary of Sweden's Micki Leksaker AB of Sweden, announced plans to begin selling its dollhouses through specialty toy stores and Amazon.com.
Lundby, famous for its dollhouses, has been following trends in fashion and home décor since 1947. The historical accuracy in each and every dollhouse captures a snapshot of that decade's style as well as that era's modern conveniences. Each Lundby dollhouse features a pre-wired, child-safe, five-volt lighting system.
"We are extremely excited to bring such an iconic brand to U.S. consumers," said Beau James, president of Lundby North America, in a statement. "Lundby's tradition of combining quality and durability in each and every house created reflects the age in which we live to the last detail. We are proud to introduce these beautiful products to a whole new generation of children."
The first traditional home to debut in 2013 is Smaland. It features contemporary colors and patterns combined with today's contemporary furniture.