Balluun Creates ShopToyFair365 for TIA
The Toy Industry Association (TIA) has signed an agreement with Balluun, a leader in social B2B technology, which will make Balluun's software the exclusive e-commerce platform for its tradeshows and constituents. The software, called ShopToyFair365, will aim to ease and enhance business for show participants at the upcoming American International Toy Fair.
The news follows Balluun's recent partnership with Advanstar to power Shop The Floor, which launched during the August MAGIC tradeshow.
Warner Bros. Launches Umbrella Brand for EMEA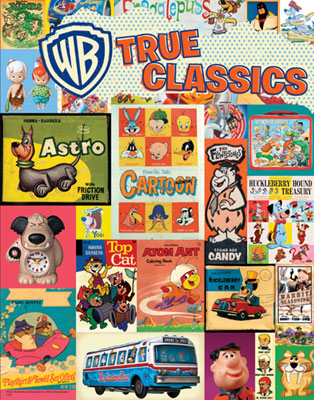 Warner Bros. Consumer Products EMEA (WBCP EMEA) has launched WB True Classics, an umbrella brand designed to boost the presence of Warner Bros.' entertainment portfolio of classic animation, television, and movie brands at retail throughout the EMEA region.
WB True Classics will provide partners with the opportunity to present the Warner Bros. classic licensed products in a highly branded, cohesive way to enhance the consumer shopping experience and positively impacting sales. This includes on-trend packaging that enables retailers to stock garments on tables in high volume boxes and fully branded store-in-store POS executions.
Slugterra Gets First TV Movie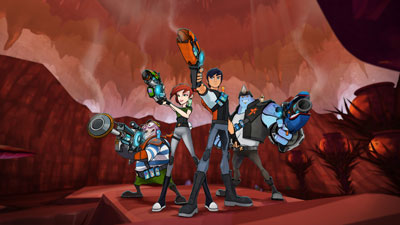 Nerd Corps Entertainment has announced production on the first-ever Slugterra TV movie, Slugterra: Ghoul from Beyond. The original one hour movie will continue the story of the Slugterra TV series, which currently airs worldwide on Disney XD and free TV.
"We're very excited to present the next chapter in the world of Slugterra, both as licensed global property and a narrative," said Ken Faier, CEO at Nerd Corps Entertainment. "It brings new opportunities for distribution and sales, unique product tie-ins and promotions for licensees, which we are currently working on with our partners."
In Slugterra: Ghoul from Beyond, a new danger emerges from beyond the 99 caverns of Slugterra, and Eli and the Shane Gang must rush to the rescue.
DHX Media Creates New Animated Series
DHX Media has started production on a new 26 x 30-minute, 2-D animated comedy series, Looped, targeted for kids ages 6–12. The series, created by Neptoon Studios' Todd Kauffman and Mark Thornton, is commissioned by Corus Entertainment's YTV in Canada and has already presold to Super RTL in Germany.
The series will follow friends Luc and Theo who are stuck in a time-loop where every day is the same Monday.
Franklin and Friends Heads to China
Corus Entertainment's Nelvana Enterprises has entered into a deal with China's national broadcaster CCTV to air Franklin and Friends for the first time on its children's channel, CCTV Kids channel (CCTV-14). The deal was brokered by Ciwen Media Group on behalf of Nelvana Enterprises.
Airing in Chinese, the 52-episode half-hour series premiered on September 23, and airs weekdays on the channel's Animation World block. As part of the translation, the opening song of the series was recorded by CCTV Kids' popular host, Uncle Dong Hao.
The broadcast deal follows Nelvana's content acquisition and representation deal with Ciwen Media Group, which granted the Chinese firm exclusive distribution rights and merchandise representation rights across a broad array of categories for Franklin and Friends as well as several other Nelvana brands.
As part of the roll out, Ciwen is launching a merchandise program in conjunction with the CCTV broadcast of Franklin and Friends, which will integrate TV, new media platforms, publishing, and consumer products. The first of these deals is a publishing deal with Jieli Publishing, which will see 12 TV tie-in books published before year's end.