TimetoPlayMag.com's Byrne Launches Toy Time Book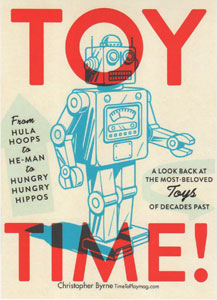 TimetoPlayMag.com's Christopher Byrne (AKA The Toy Guy) launches his new book Toy Time today. A look back at the most beloved toys of the decade, the book invites readers to reminisce about their childhood favorites.
Here are just a few of the fun facts found in the book:
• Barbie has had more than 130 careers over the years, one of the most recent is computer scientist.
• Twister was almost pulled from the market—until Johnny Carson played it on The Tonight Show with Eva Gabor.
• Play-Doh was originally developed to be a new kind of wallpaper cleaner.
• Mr. Potato Head was the first major mass-market toy ever advertised on TV.
• Chatty Cathy was once voiced by Maureen McCormick, otherwise known as Marcia Brady from The Brady Bunch.
From Hula Hoops to He-Man to Hungry Hungry Hippos, see if your company's classics made the cut. Read excerpts from the book and order it here.
Peanuts Get First-Ever Animated Shorts
Peanuts Worldwide has partnered with Normaal Animation and Télévisions to create 500 all-new animated shorts based on the Peanuts comic strip and characters created by Charles M. Schulz. The 90-second shorts are part of Peanuts Worldwide's long-term content building strategy, which includes a new animated feature film from Twentieth Century Fox and Blue Sky Studios set for global release in November 2015.
The new collection marks the first-ever animated interpretations of the Peanuts comic strips in short form and will be available for global distribution in fall 2014.
Sprout Introduces New Series
As part of its strategic commitment to increasing its original programming, Sprout has announced production on two new television series. The new original series Floogals will be an 11-minute mix of CGI and live-action, which will premiere on Sprout in 2015. The series will be co-produced by Sprout and The Foundation and distributed by Zodiak Kids.
Floogals follows the wild and comedic adventures of three diminutive aliens who land on earth and move in with a family to find out everything they can about human interactions. The program teaches kids how to confront and conquer everyday problems and gain a greater appreciation and understanding of the uniqueness of the world around them.
Sprout has also joined forces with Scholastic Media, a division of Scholastic Inc., for the creation of Astroblast!, a new animated, interplanetary comedy series for kids ages 2–5, which will debut in summer 2014.
Astroblast! is inspired by the books of the same name by author and illustrator Bob Kolar. Astroblast! follows the zany adventures of a crew of space animals who run the Astroblast Space Station. The show will impart simple, age appropriate messages about friendship, self-awareness and nutrition as well as other themes to support a child's social, emotional, and physical growth.
Authentic Brands Group Acquires Juicy Couture
Fifth & Pacific Companies, Inc., has entered into a definitive agreement to sell the Juicy Couture brand to Authentic Brands Group(ABG) for $195 million, payable in cash. In order to ease the transition through the first half of 2014, Fifth & Pacific also signed a short-term licensing agreement with ABG with a $10 million guaranteed minimum royalty payable to ABG.
"This decision is the result of a process we began last year—studying our resource allocation needs, our capital structure, and the operating risks and opportunities associated with a three brand portfolio while still maximizing shareholder value," says William L. McComb, CEO of Fifth & Pacific. The sale will also allow the company to shift its focus to bring Kate Spade to its full potential, says McComb.
ABG is expected to announce licensees and affiliates that will work to take over elements of the operating business, including associates, retail stores, wholesale, international, and components of the e-commerce site.
Centerview Partners and Perella Weinberg Partners advised Fifth & Pacific Companies, Inc. on this transaction.