A Squared, Genius Brands Merge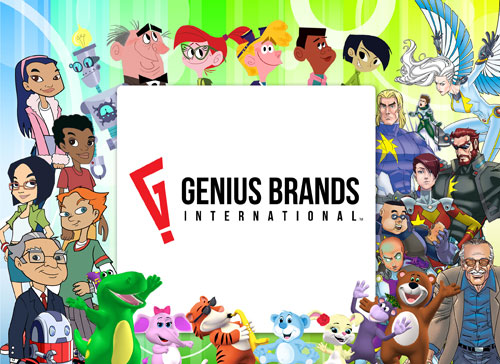 Genius Brands International, Inc., and A Squared Entertainment, LLC announced a merger to form an intellectual property (IP) and multimedia content creation and distribution company.
Combining the assets and experience of both companies, the two companies will be consolidated under the Genius Brands International banner. Andy Heyward, formerly CEO of DIC Entertainment and co-president of A Squared Entertainment, will assume the role of chairman and CEO of Genius Brands International; Amy Moynihan Heyward, formerly co-president of A Squared Entertainment, will serve as president. Klaus Moeller, currently CEO of Genius, will become Genius Brands vice-president of special markets, and will continue with the company as a member of its board of directors.
The new Genius Brands International board of directors will consist of former California Governor Gray Davis; Jeff Weiss, president and COO of American Greetings Corp.; Lynne Segall, publisher and senior vice-president of The Hollywood Reporter; Will McDonough, founding partner of Atlas Merchant Capital, formerly a partner at Goldman Sachs; and Bernard Cahill, co-founder of ROAR. Klaus Moeller, Andy Heyward, and Amy Moynihan Heyward, complete the board of directors.
In addition to Warren Buffett's Secret Millionaire's Club, A Squared Entertainment created Martha & Friends with Martha Stewart; and Gisele & the Green Team with Gisele Bündchen. Thomas Edison's Secret Lab is currently in development. The company also has an exclusive partnership with Stan Lee's POW! Entertainment and Archie Comics. Together, they have created Stan Lee Comics and have four new superhero series in development. The first, Stan Lee's Mighty 7, launched earlier this year as a comic book series, with a trilogy of original films debuting early next year.
Genius Brands International features Baby Genius musical baby toys and music-based products—including a library of more than 500 toddler tunes, 11 developmental videos in multiple languages, a collection of learning toys, extensive content, apps, and much more.
Mattel's Monster High to Become Movie
The Hollywood Reporter ran a story last week about the signing of Josh Schwartz and Stephanie Savage to write and produce a Universal live-action Monster High film adaptation. Read the full story here.