Duke Retires from Walmart; McMillon Named President and CEO
Wal-Mart Stores, Inc., announced that its board of directors elected company veteran Doug McMillon to succeed Mike Duke as president and CEO, effective February 1, 2014. McMillon was also elected to the company's board of directors, effective immediately.
"This leadership change comes at a time of strength and growth at Walmart," said Rob Walton, chairman of Walmart's board of directors, in a statement. "The company has the right strategy to serve the changing customer around the world, and Doug has been actively involved in this process. The company has a strong management team to execute that strategy."
Duke will continue serving as chairman of the executive committee of the board and, in the tradition of his predecessors, stay on as an advisor to McMillon for one year. Walmart said it plans to make an announcement on McMillon's successor as CEO of Walmart International by the end of the fiscal year.
Bandai Launches Tamagotchi Friends
Bandai is relaunching the worldwide phenomenon Tamagotchi under the brand Tamagotchi Friends. The Tamagotchi Friends brand, supported by new devices, technology, and an immersive portfolio of interactive lifestyle products, will launch globally throughout spring and fall 2014, beginning with animated webisodes, which debuted globally on November 23 and will continue throughout the year and into 2014.
Tamagotchi Friends brand will encompass physical products, including digital friends, apparel, apps, and more. In addition, there will be a virtual world on social media and at TamagotchiFriends.com.
Tamagotchi fans in North America were first reintroduced to Tamagotchi with the brand's Tamagotchi L.i.f.e. app that debuted in February 2013.
WIT, Walmart Team up for Pitch Meetings at NY Toy Fair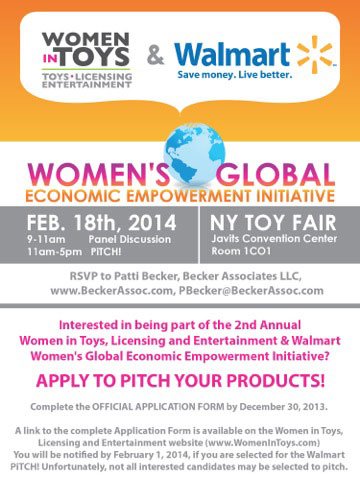 Women In Toys (WIT) announced its second annual WIT—Walmart Women's Global Economic Empowerment Initiative, which will be held during New York Toy Fair, February 18, 2014, from 9am–5pm. The collaboration between Walmart and WIT is aimed at helping women toymakers navigate through the buying process with Walmart, and to help Walmart reach its goal to source $20 billion from women-owned businesses by 2016.
During this event, women-owned businesses of all sizes will be able to pitch their products to Walmart. In a meeting space and promotion supported by the Toy Industry Association, at last year's inaugural event, 55 WIT member companies met with 11 Walmart toy buyers in multiple categories. Since then, several dozen pitched products are being listed by Walmart.
The kick-off event will be a panel discussion: "What You Need to Know: Top Five Tips for Pitching Walmart" to be held February 18, 2014, 9am–11am. Walmart pitch meetings are by appointment only during Toy Fair, February 18, 2014, 11am–5pm at the Jacob Javits Convention Center, Room 1C01. This year's featured speakers include Raquel Taylor and Kelly Deimel of Bobo Buddy, which is a plush product that attaches to a pacifier that was picked up for 1,600 stores at the 2013 event.
For more information and to sign up to pitch, go to www.WomeninToys.com.
The Passing of Blue Box's Peter Chan Pui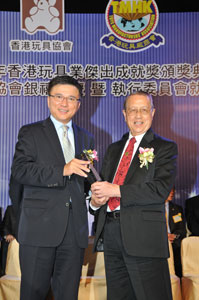 Blue Box Toys mourns the passing of its founder and chairman, Peter Chan Pui on November 15, 2013, in his hometown of Hong Kong. He founded the company in 1952 with the vision of making a line of children's toys and products that are educational, fun, and safe. More than a half century later and under his direction, Blue Box Toys has evolved into an integrated manufacturing, sales, and marketing organization.
"The passing of Chan Pui, my father, is an incredible loss both personally and professionally," said David Chan, CEO of Blue Box Toys, in a statement. "His many years of dedication to Blue Box Toys helped establish the company's strong reputation around the world. It was this dedication and determination that not only shaped the company, but taught me and anyone who ever had the pleasure of meeting him, that if you develop high quality, educational products, it will resonate with children worldwide."
Chan added, "My father was widely respected and admired by the toy industry worldwide for his vision to create educational quality toys and juvenile products. More importantly, my father was an exceptional father and human being who touched the lives of many people inside and outside of the toy industry."
He received the 2011 Outstanding Achievement Award by the Hong Kong Toys Council and The Toys Manufacturers' Association of Hong Kong.