Fox Plans Theme Park in Malaysia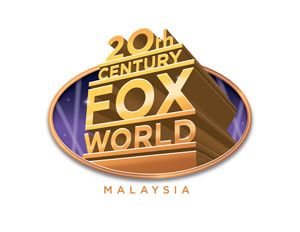 Twentieth Century Fox Consumer Products in partnership with Genting Malaysia, resort operators in Asia, announced the name of the first-ever Twentieth Century Fox theme park: Twentieth Century Fox World at Resorts World Genting, Malaysia. The park, spanning 25 acres, is expected to open in Malaysia in 2016.
"The opening of the first Twentieth Century Fox Theme Park at Resorts World Genting takes our rich history of storytelling to a whole new level and will provide an exceptional entertainment experience," said Jeffrey Godsick, president of Twentieth Century Fox Consumer Products, in a statement. "People from around the world will gather here in Malaysia to become part of the story and to experience the magic and adventure of their favorite Fox properties."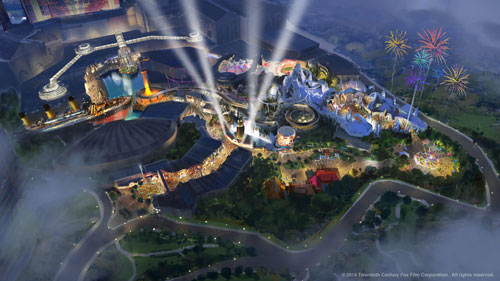 Chairman and chief executive of Genting Malaysia, Tan Sri Lim Kok Thay, said in a statement. "We are investing over $300 million to develop the world's first unique and compelling world-class Twentieth Century Fox Theme Park. Having the distinction of being the first of its kind in the world, Twentieth Century Fox World will be built on a grand scale that consists of unique and creative concepts featuring more than 25 rides and attractions of a cinematic nature. The theme park will definitely pave the way for continued growth of Resorts World Genting with a next-level family entertainment experience which will attract tourism dollars to Malaysia."
With Twentieth Century Fox World targeting families and adults alike, the park anticipates a strong growth in visitors from both Malaysia and international arrivals including China and Southeast Asia. Highlights from the park will include more than 25 acres of land, featuring more than 25 rides and attractions from media-based rides, thrill rides, dark rides, children's rides, and water rides. Some of the rides and attractions based on Fox titles are expected to include Ice Age, Rio, Alien vs. Predator, Planet of the Apes, and Night at the Museum. Retail merchandise and themed food and beverage outlets will also be featured.
NPD Says Toy Sales Up During Black Friday Weekend
The NPD Group reported that the toy category in the U.S. performed well during the Black Friday week (week ending November 30, 2013), with dollar sales growing 4 percent compared with Black Friday 2012. The organization reports that the holiday shopping season (defined as September 29–November 30, 2013) has toy sales up 6 percent on a dollar basis compared with last year's sales.
The NPD Group noted that of the 11 super categories it tracks in the toy sector, seven experienced positive dollar sales growth. Those with the highest growth and their respective change in dollar sales compared with Black Friday week 2012 are youth electronics up 29 percent; plush up 23 percent; arts & crafts up 13 percent; and outdoor & sports up 11 percent.
Disney Has Indiana Jones Franchise for Future Films
The Hollywood Reporter says that Paramount and Disney reached a deal for rights to the Indiana Jones franchise. Read the details here.
Crunch Time for Holiday Shoppers
There is just one weekend left before Christmas and here are some remaining stats on shopping. The average holiday shopper has completed half of their shopping as of December 9, according to The National Retail Federation's latest holiday survey conducted by Prosper Insights & Analytics. That means there is still half to be done and that was good news for retailers who were preparing for a very big holiday shopping weekend over December 14 and 15. At that point, 32 million or 14 percent said they had not even started, while another 20 million, or 8.9 percent said they had already finished.
However, when those stats were released, a snowstorm was brewing for New York's Tri-state area. That would potentially keep consumers out of stores, and perhaps, in front of their computer. The weekend prior (December 7 and December 8) saw a large storm hit much of the South and Mid-West. What has yet to be determined is what impact these storms are having on holiday shopping. The gifts still need to be purchased so will these storms drive more consumers to shop online?