Disney Revealed Next Heroine, Moana
At the end of December, Disney announced Moana will be its newest character. The Polynesian adventurer is slated for theaters in 2018. Read Jeff McKinney's blog post here.
Target Data Breach
In the week before Christmas, Target suffered a massive data breach affecting millions of in-store shoppers who used debit and credit cards. Online shoppers were not affected. Target has been updating consumers through its website. For the latest on this continuing investigation click here.
Duck Dynasty Merchandise Stronger than Ever
In the days before Christmas, Duck Dynasty's Phil Robertson was briefly suspended from the TV series due to anti-gay remarks he made during an interview. However, Forbes is reporting that the TV series sold an estimated $400 million worth of licensed goods in 2013. The show will continue and new licensing deals have been signed. Read the Forbes article here.
World of Eric Carle, Wendy's in Meal Promo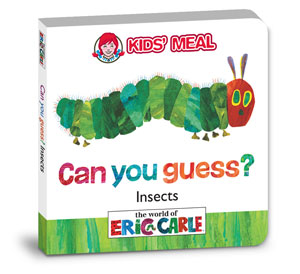 In celebration of the 45th anniversary of The Very Hungry Caterpillar by Eric Carle, The World of Eric Carle and Wendy's announced a yearlong Under 3 Kids' Meal promotion featuring Eric Carle's art and iconic characters in a series of board books. The promotion kicks off now and will run through December 28, 2014, in participating Wendy's restaurants in the U.S. and Canada. The seven mini books will feature the following themes: insects, animals, food, vehicles, sea creatures, animal colors, and sounds. Participating Wendy's will distribute coupons for special offers on The World of Eric Carle products, available at retail. The Joester Loria Group is the exclusive worldwide licensing agency representing The World of Eric Carle.