Li & Fung to Spin Off its Licensing Division
Li & Fung announced today that, as part of an extensive three-year plan for the company, it plans to spin off its brand and licensing business under a new umbrella called the Global Brands Group. The division will be headed by Bruce Rockowitz, group president and CEO of Li & Fung Limited. (Li & Fung purchased The Licensing Company earlier this year.) The company also announced its decision to proceed with an application for a possible spin-off and separate listing of its Global Brands Group on the Hong Kong Stock Exchange.
Overall, Li & Fung reported that core operating profit increased by 70 percent to $871 million and net profit increased by 21 percent to $755 million. This solid performance was driven by the positive performance in the Distribution Network, following the turnaround of LF USA, as well as continued growth momentum in the Logistics Network. The Trading Network achieved solid results and demonstrated the company's continued dominance and resilience in its core business, according to a statement issued by Li & Fung.
Rockowitz said in a statement, "Overall, 2013 was a year of substantive progress and created an even stronger foundation to support our position as a global leader in our industry for years to come. We created many positive changes at LF USA, which have put that part of the business back on track and we drove improvement in the group's overall margins and profitability even while continuing to invest in select strategic areas."
Trade in Video Games at Walmart

Walmart announced earlier this week that it is launching a video game trade-in program starting on March 26. Customers will be able to apply the value of their games immediately towards the purchase of anything sold at Walmart and Sam's Club, both in stores and online. The program will rollout at more than 3,100 Walmart stores nationwide.
"Gaming continues to be an important business for us and we're actively taking aim at the $2 billion pre-owned video game opportunity," said Duncan Mac Naughton, chief merchandising and marketing officer for Walmart U.S. "When we disrupt markets and compete, our customer wins. They'll save money on video games and have the flexibility to spend it however they want."
Here's how Walmart says the program works:
• Customers bring their working video games, in the original packaging, to the electronics department.
• Associates scan the UPC code and evaluate the game for obvious damage such as deep scratches or cracks.
• The customer is then provided with a trade-in value for each game. The total value accepted by the customer is awarded immediately. It can be applied at checkout in a Walmart store or Sam's Club or online.
In addition, later this year, Walmart says its customers will also be able to purchase pre-owned video games in stores and on Walmart.com. The video games will be labeled "Certified Pre-Owned," which means the product is fully refurbished and in like-new condition.
Walmart says this in-store video game trade-in program builds on its existing trade-in offerings. In-store, customers can trade in tablets and smartphones. While online, customers can receive credit for a larger range of products.
Incredibles 2, Cars 3 Coming to Theaters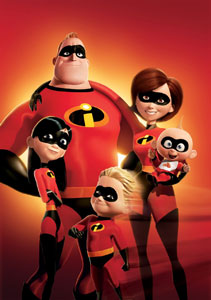 During a recent Disney shareholders' meeting, CEO Bob Iger said that Incredibles director Brad Bird is currently working on a storyline for the sequel. In addition, Cars 3 is also in development. No release dates have been announced yet for either film. In the meantime, it was also announced that the original Incredibles will be re-released in 3-D in theaters soon.
Trending on TTPM.com: Girls Toys
TTPM.com is showcasing what's trending in each specific product category. Today it's GIRLS TOYS. This trending list is determined by consumers. It's the number of page views for that item in the previous 30 days and is updated every 24 hours.