Mattel Partners with China's Fan Bing Bing for Celeb Barbie Doll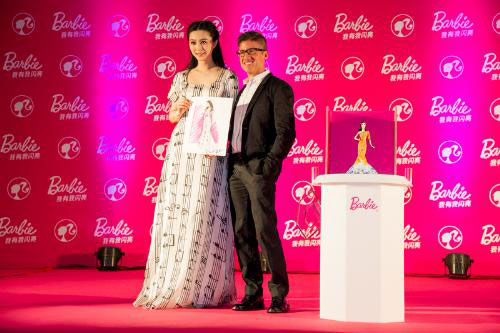 Mattel announced the launch of the Barbie Fan Bing Bing Celebrity Specialty doll. Actress Fan Bing Bing made a special appearance to launch the doll in China this past weekend alongside Robert Best, Barbie's chief designer for the Barbie Specialty line. Fan Bing Bing is the first actress from China to be invited to join the Barbie global celebrity Hall of Fame. Other notable actresses in the Barbie Hall of Fame include Cher, Elizabeth Taylor, Audrey Hepburn, and Marilyn Monroe.
Born in 1981, in the coastal city of Qingdao, China, Fan Bing Bing began her acting career in 1996. She established her own studio in 2007 and since then has gone on to have an eclectic career as an actress, producer, entrepreneur, principle of an arts school, and continues her endeavors in many philanthropic projects. She gained international stardom and recognition with her Dragon Robe red carpet debut at the Cannes Film Festival in 2010. The dress, co-designed by Chinese designer Laurence Hsu and Fan, featured two leaping dragons, crashing waves on the hem, and an elegant bright yellow that was exclusively used by emperors in ancient China.
The Barbie Fan Bing Bing doll, featuring the star in her famous Dragon Robe, debuted globally at the Grand Gateway complex in Shanghai this past Saturday, May 31. Soon after, it will be available in stores across China, as well as selected stores overseas. Thirty dolls as autographed by Fan Bing Bing will be exclusively for sale at the Barbie T-Mall online store.
The launch of the new doll coincides with a three-week long Barbie Shine Your Way exhibition, which will run from May 28–June 17 at the Grand Gateway in Shanghai. Shine Your Way is part of the Barbie commitment of giving play purpose and meaning and affording all girls across China the chance to shine in their own way.
Mind Candy Launches New Property
Last week, Moshi Monster creator Mind Candy announced the launch of a new property called World of Warriors. It is due out later this year on iOS and Android. Read about it from the UK's MCV tech site here.
Trending on TTPM: Baby Bed & Bath
TTPM is showcasing what's trending in each specific product category. Today it's Baby Bed & Bath. This trending list is determined by consumers. It's the number of page views for that item in the previous 30 days and is updated every 24 hours.