Brilliant Sky Toys & Books Acquires Bean Head Toys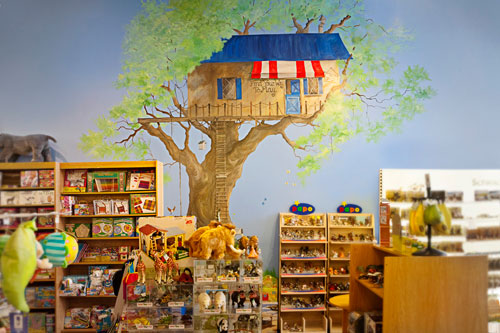 Bean Head Toys has been sold to regional toy store chain Brilliant Sky Toys & Books. Originally started by Chris Lowe seven years ago in Sandy Springs, Ga., Bean Head Toys was built on a desire to provide educational toys in a fun, mind-developing atmosphere for kids. A second store opened in Buckhead (Atlanta, Ga.) several years later. Terms of the deal were not disclosed.
With the addition of the two Atlanta stores, Brilliant Sky Toys & Books has grown to 17 stores located across the country offering more than 10,000 specialty toy products.
"We look forward to serving Bean Head Toys' customers as we share many of the same core values for toy retail as this wonderful Atlanta institution," said Baxter Lee, owner of Brilliant Sky Toys & Books, in a statement.
The Buckhead store is now open and the Sandy Springs location is being renovated. Renovations began on July 28 and the grand opening is expected on September 6.
Digital Kids Conference Returns to Toy Fair
The Toy Industry Association and media company Digital Kids Media announced that the Digital Kids Conference will co-locate once again during Toy Fair 2015 in New York City's Jacob K. Javits Convention Center.
Taking place February 16­–17, the Digital Kids Conference will address new strategies, valuable tools, and marketplace insight that will enable youth-focused media professionals to create best-selling digital toys, games, and media services for kids. The pre-conference Learning Summit, scheduled for February 15, will explore rapidly changing innovations occurring in learning technology, with a focus on consumer- and curriculum-based learning products.
Toy Fair's dates have been altered slightly in 2015. Toy Fair 2015 will take place Saturday, February 14–Tuesday, February 17. For more information, visit www.DigitalKidsCon.com. To learn more about Toy Fair, visit www.ToyFairNY.com.
Hello Kitty Is a British Third Grader
As part of Hello Kitty's 40th anniversary celebration, Sanrio has announced that Hello Kitty is a third grade girl who lives in London. Read Kitty White's (AKA Hello Kitty) profile here.
Trending on TTPM: Dolls
TTPM is showcasing what's trending in each specific product category. Today it's Dolls. This trending list is determined by consumers. It's the number of page views for that item in the previous 30 days and is updated every 24 hours.