New Inductees to be Added to Toy Industry Hall of Fame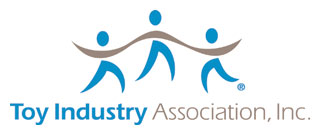 The Toy Industry Association (TIA) will induct Pat Feely, chairman of the Toy Industry Foundation and retired CEO of Radica Games Ltd., and the late Leslie Berger, founder of Cardinal Industries, into the Toy Industry Hall of Fame.
Both were selected by members of TIA in recognition of their significant contributions to the industry and the impact they have had on the lives of children through a lifelong commitment to toys and play. They will join a roster of 67 toy industry luminaries who have previously been inducted into the Hall since it was established in 1984. Their induction ceremony will be held on February 13, 2015 in conjunction with the annual Toy of the Year (TOTY) Awards celebration.
TRU Readies for Skylanders Trap Team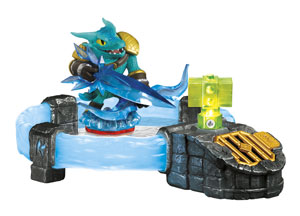 Toys "R" Us (TRU) will launch the latest extension in Activision Publishing's Skylanders franchise, Skylanders Trap Team, on October 5. For the fourth consecutive year, TRU will be the exclusive retailer where fans can find limited-edition Legendary Series of Skylanders toys. This includes alternative versions of new Trap Team characters and packs, such as Legendary Jawbreaker, Legendary Déjà Vu, and Legendary Nightmare Express Adventure Pack, all of which feature enhanced in-game powers.
The new video game reverses the magic of the "toys-to-life" play pattern by introducing an innovation that, for the first time, lets players take a digital character and bring it to life in the physical world. The game will feature more than 60 Skylanders to collect and more than 40 villains to capture. Skylanders Trap Team will be available on Nintendo Wii, Wii U, and 3DS; Microsoft's Xbox 360 and Xbox One; Sony's PlayStation3 and PlayStation4; as well as a variety of iPad, Kindle Fire, and Android tablets.
In celebration of the launch, TRU's international flagship store in New York City will host one-of-a-kind in-store experiences on October 4–5. Customers who visit TRU Times Square from 11 a.m.–5 p.m. on both days will have the opportunity to play the new game at dedicated kiosks throughout the store and receive complimentary giveaways, while supplies last. Fans can also be digitally teleported into a Skylanders Trap Team Most Wanted photo alongside the most notorious villains in Skylands, including Kaos and Chompy Mage. Kaos will also take over TRU's Twitter account, @toysrus, on October 4, 11 a.m.–5 p.m. EST, interacting with fans and building anticipation for the midnight release.
Doodle Jump Launches Toy Line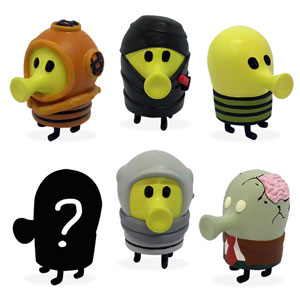 Lima Sky, the independent studio behind mobile game Doodle Jump, has unveiled its new Doodle Jump toy line. Designed and developed by Australia-based Goldie Marketing, the toys and collectibles are available exclusively at Toys "R" Us stores in the U.S.
Inspired by Doodle The Doodler characters from the game, the Doodle Jump Series 1 toy program is anchored by the MiniDoodles, including 18 collectible mini-figures, a double mini-figure blind blister and a six mini figure starter kit. The line will also feature five-inch MegaDoodles figures and eight-inch plush in six collectible designs. From Pirate to Sumo Wrestler to Wolfman to Rapper, the toys draw from celebrated Doodle Jump themes and from characters from all walks of life, giving collectors a chance to match their personal styles.
Master toy partner Goldie Marketing will preview the 2015 Series 2 Doodle Jump MiniDoodles and MegaDoodles at Fall Toy Preview and the Hong Kong Mega Show in October.
Tiggly Gets Funding from Habermaass
Ed-tech startup Tiggly announced that it had closed its Series A funding round led by Habermaass GmbH, a Germany-based early play and learning company that owns global brands such as HABA.
Tiggly creates learning manipulatives for tablets like the iPad, allowing children to incorporate physical toys from the early-education classroom into their digital game play. Tiggly launched its first product, Tiggly Shapes, in 2013. It is now available in more than 20 countries and is sold in more than 300 Apple Store locations across four continents. Tiggly will leverage the funding support from Habermaass GmbH to launch new products and apps for early learners later this year and deepen its distribution globally. Specific terms of the deal were not disclosed.
Bravado Signs Apparel Partners for The Beatles
Bravado, the North American Licensing Agent for Apple Corps Ltd., signed the Bentex Group and Extreme Concepts as its children's wear apparel partner in the U.S. and Canada for The Beatles and Yellow Submarine.
Under the agreement, Bentex and Extreme Concepts will create a range of apparel for newborn, infant/toddler, and big boys and girls that will include T-shirts, sets, separates, dresses, and fashion tops. Apparel will launch in spring 2015 at specialty, department stores, mass, mid-tier, and online retailers.
Trending on TTPM: Halloween
TTPM is showcasing what's trending in each specific product category. Today it's Halloween. This trending list is determined by consumers. It's the number of page views for that item in the previous 30 days and is updated every 24 hours.