Entertainment Vets Birth ZAG Animation Studio
The launch of a venture between Haim Saban (chairman and CEO of Saban Capital Group and founder of Saban Brands), Chris Columbus (writer, director, and Academy Award-nominated producer), Michael Barnathan (Academy Award-nominated producer), and Jeremy Zag (founder of ZAG Entertainment LLC), marks the birth of ZAG Animation Studios.
The team will lead the studio in developing, producing, and distributing global feature-film family entertainment franchises starting in 2017. The studio plans to roll out one 3-D animated film and one CGI/live-action hybrid film per year.
ZAG Animation Studios has a slate of 10 original family features in development, comprised of both full CGI-animated films as well as CGI/live-action hybrids. The studio's first feature, Melody, will be full CGI, co-directed by Columbus and Zag. Additional films in the lineup include: CGI/live-action hybrid Ghostforce and full CGI film Abominable. More details on the line-up will be announced soon and will include a full collection of themed consumer products.
The Saban Group will be responsible for the coordination of all distribution and marketing strategies, while Saban Brands will handle worldwide licensing and merchandising for the films.
ZAG Animation Studios will operate out of ZAG Entertainment's brand new, state-of-the-art campus in Glendale, California.
New Children's Brand Aims to Help Kids Manage Emotions
Child development and parenting expert Denise Daniels, founder of Jelly Jam Entertainment, teamed with the Yale Center for Emotional Intelligence to create a curriculum exclusively for The Moodsters, a new children's brand designed to help kids learn how to understand and manage their emotions. The Moodsters features five lovable characters, each depicting a different emotion to teach simple strategies to build emotional intelligence skills. The property is slated to launch in late 2015 and will include apps, books, toys, digital content, and more.
Build-A-Bear Opens Up Shop in Times Square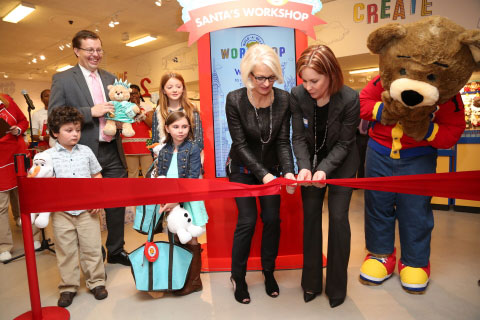 Build-A-Bear Workshop celebrated the grand opening of a new store location in Times Square in New York City on October 28 with special in-store events and promotions. To kick things off, Sharon John, Build-A-Bear Workshop CEO, was on hand for the ribbon-cutting ceremony. The first 200 guests to the new Build-A-Bear Workshop store were also invited to make a special stuffed animal for free to donate to the 92nd Street Y, which promotes individual and family development and participation in civic life. The 92nd Street Y will distribute the stuffed animals to local children in need of a teddy bear hug.
The new seasonal pop-up shop will be located at 1619 Broadway, in the historic Brill Building. The Times Square Build-A-Bear Workshop store will encourage families to share in a new holiday tradition by selecting and customizing a furry friend from a unique assortment of proprietary products, the latest licensed properties, and New York City-themed merchandise.