Big Hero 6 Licensees Roll Out Product for Upcoming Film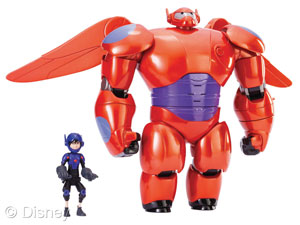 Disney Consumer Products (DCP) rolled out a robust range of products that celebrate the comedy-adventure Big Hero 6, which debuts in theaters November 7, 2014. Best-in-class licensees including Bandai, Freeze, GDC, and Jay Franco in addition to Disney Store and Disney Publishing Worldwide have developed an assortment of action figures, plush, roleplay toys, apparel, home décor, books, and more that take inspiration from the film's action-filled adventures. The film's breakout character Baymax is the star of the product collection with products ranging from interactive action figures with transformative battling capabilities to plush and tech accessories that celebrate his personality.
Big Hero 6 products are available now at mass and specialty retailers nationwide, Disney Store locations, and DisneyStore.com. DisneyStore.com also offers a Create Your Own shop that allows fans to personalize a variety of items, from tech accessories and school supplies to apparel and party invitations, with their favorite characters from the movie.
Apparel licensee Threadless is also hosting a contest from October 27 through November 17 that invites participants to design an original T-shirt inspired by Hiro, Baymax, and the rest of the Big Hero 6 team. The winner will receive a prize package including $2,000 cash, a $500 Threadless gift card, and a hand-drawn, framed Big Hero 6 piece of artwork from a Disney character artist. For official contest rules and design submissions, please visit threadless.com/bighero6.
KidQuest Launches Partner Program with Top Kid Brands
KidQuest, the app providing interactive children's crafts, experiments, and activities, sealed partnerships with four leading children's brands. Branded kids' activities from Garfield, Jim Henson's Doozers, Peep and the Big Wide World, and FETCH! with Ruff Ruffman will now be featured on the KidQuest platform, including:
• FETCH! with Ruff Ruffman: Discover engineering as you build your own catapult.
• Peep and the Big Wide World: Learn about water lilies as you make your own in a sciencecraft.
• Garfield: Fun interactive drawing games where you learn how to sketch Garfield like a pro.
• Doozers: Build a solar cooker to help the Doozers make delicious s'mores.
The deals represent the launch of KidQuest's Partner Program, which seeks to provide top brands with a way to connect with families through activities featuring their original characters. The KidQuest app is available for free download on Apple iOS devices and comes with dozens of free crafts, experiments, and activities. Premium content packs are available as purchased add-ons to extend the library of free content.
Tapatío Hot Sauce Extends Brand in Non-Food Categories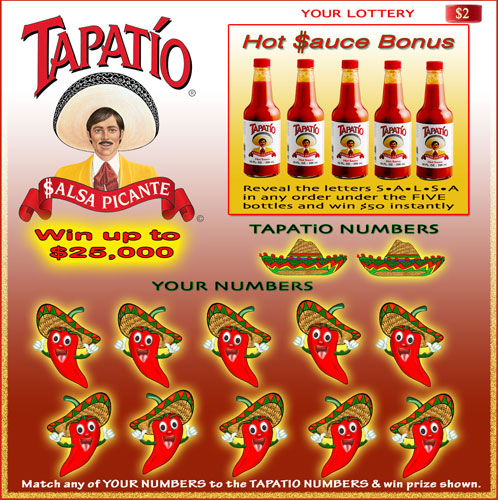 Firefly Brand Management, the exclusive licensing representative for Tapatío Hot Sauce in non-food categories, finalized a number of licensing deals for the hot sauce brand. New licensees include Hybrid Apparel for T-shirts; Aristocrat, Inc., for Slot Machines; Frost Productions for Lottery Scratchers; Poprageous, Inc., for leggings, bathing suits, harem pants, crop tops, dresses, and skirts; and Fiesta Concession Corp. for plush, inflatable bottles, and capes for crane and amusement. Aquarius Entertainment Merchandise, Inc. is producing a robust line that includes playing cards/tin deck sets, puzzles, tin lunch boxes, tin signs, Funky Chunky magnets, glassware, T-shirts, neoprene coasters, posters, 2016 calendars, and Desk Top Standees. Hot Properties will also release buttons, flat magnets, lanyards, patches, stickers, key chains and covers, bottle openers, pulp coasters, can coolers, rubber wristbands, air fresheners, bookmarks, Post-it notes, and fridge note pads.
Weight Watchers Cereal Heads to Grocery
Weight Watchers has partnered with MOM Brands, the largest U.S. family-owned cereal company, to launch branded ready-to-eat cereals at select retailers, with additional distribution to roll out by January 2015. The agreement gives MOM Brands the rights to manufacture and distribute the brand. The new Weight Watchers lineup aims to help consumers meet their weight management goals while enjoying sensible, yet delicious cereals. Products include Weight Watchers Oat Clusters with Almonds, Weight Watchers Whole Grain Honey Nut Toasted Oats, Weight Watchers Frosted Shredded Wheat with Protein, Weight Watchers Oat Clusters with Cherries and Almonds, and Weight Watchers Chocolate Frosted Shredded Wheat. All products will contain relevant nutritional information, including Weight Watchers PointsPlus values. Weight Watchers cereals are now available at Kroger, Safeway, Meijer, and several other retailers across the country, with national distribution expected in January 2015.