Lucas Announces Animated Musical 'Strange Magic'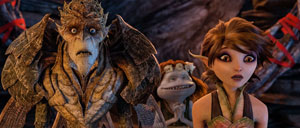 The blogosphere was abuzz earlier this week when Disney purchased the domain Strange Magic, leading many to speculate that it could be the title of the Frozen sequel. Both Disney and Lucasfilms put those rumors to rest and lifted the curtain on the title of a new animated film from Lucasfilms, set to debut in January 2015.
Straight from the mind of Star War's creator George Lucas comes the new animated musical Strange Magic. According to a Lucasfilms' press release, the film will be a "madcap fairy tale musical inspired by A Midsummer Night's Dream. Popular songs from the past six decades help tell the tale of a colorful cast of goblins, elves, fairies and imps, and their hilarious misadventures sparked by the battle over a powerful potion."
The film will be directed by Gary Rydstrom (Finding Nemo). It will be produced by Mark S. Miller (associate producer Mars Attacks!) and executive produced by George Lucas, with a screenplay by David Berenbaum (Elf), Irene Mecchi (Brave, The Lion King) and Rydstrom. Voice talents include Alan Cumming, Evan Rachel Wood, Kristin Chenoweth, Maya Rudolph, Sam Palladio, Alfred Molina, and more.
This marks Lucasfilms' first animated release since Disney purchased the studios in 2012 for $4 billion. The film will premiere in theaters on January 23, 2015 under the Touchstone Pictures banner.
YouTube Launches Music Key, Closes Deal with Merlin
YouTube launched its new monthly ad-free subscription service, Music Key. The new service moves YouTube into the arena with other ad-free music streaming services such as Spotify, Amazon, and Apple.
The YouTube Music Key service will roll out in beta on an invite-only basis for the first six months. After that, it will be available for the promotional price of $7.99/month (discounted from $9.99/month). It will also include a subscription to Google Play Music, with more than 30 million songs, expert-curated playlists, and in the coming days, the ability to watch YouTube official music videos right from the app.
The announcement comes a day after the company signed a deal with Merlin, the rights agency that represents more than 2,000 indie artists and labels, after months of negotiations. This final deal cleared the way for YouTube to move ahead with its plans for the long-talked about but under wraps subscription service. Music labels such as Universal Music Group, Sony Music Entertainment, and Warner Music Group are also on board.
New Data Shows More Consumers Looking to Shop Local This Holiday
The American Specialty Toy Retailing Association (ASTRA) member retailers are optimistic about growth in customer traffic and sales during the upcoming holiday season—with hopes of matching or exceeding the 5.3 percent growth posted by independent businesses in 2013.
According to a consumer survey conducted during the second quarter of 2014, six out of 10 customers say they go out of their way to shop at small, locally owned businesses. The U.S. Department of Commerce predicts that more than 90 percent of fourth quarter shopping will take place in brick-and-mortar stores.
"We've seen a remarkable shift in the past few years," said Stacy Mitchell, coordinator of Advocates for Independent Business (AIB), of which ASTRA is a founding member. "Many shoppers are rediscovering the advantages of locally owned, independent businesses."
Retailers can download and print an informative infographic to use in their stores and around their communities to reinforce the value added aspects of shopping locally.
Care Bears Promotion Expands Deal in Singapore
American Greetings Properties (AGP) announced that consumers in Singapore purchasing Ribena Cordial will receive a free Care Bears premium item in a promotional deal that further expands the Care Bears brand. The program was brokered by local agent, Medialink and is running now through December 15.
The branded gifts developed by Paragon Premiums include a Care Bears plastic tumbler with straw, plastic soup plate with fork and spoon, or a plastic bowl with fork and spoon when a one liter bottle of Ribena Cordial is purchased from department, specialty, and convenience stores throughout Singapore.