MakerBot, Martha Develop 3-D Printables
MakerBot and Martha Stewart Living Omnimedia (MSLO) announced an exclusive agreement to distribute 3-D printing materials and jointly develop 3-D printable designs. The collaboration includes Martha Stewart for MakerBot Filament, MakerBot's first co-branded collection of MakerBot Filament, as well as Martha Stewart for MakerBot Digital Store collections. Models can be purchased, downloaded, and 3-D printed on a MakerBot Replicator 3-D Printer. Three new Martha Stewart for MakerBot PLA Filament colors and the first Martha Stewart for MakerBot Digital Store collection, the Trellis Collection, are now available at makerbot.com and on MakerBot's Digital Store.
The initial Martha Stewart for MakerBot PLA Filament colors—Lemon Drop, Robin's Egg, and Jadeite—are available at MakerBot Retail Stores in New York, Boston, and Greenwich, Conn., and online at store.makerbot.com/pla-filament. The new Martha Stewart colors join more than 20 other MakerBot PLA Filament colors.
The Trellis Collection allows MakerBot users to download exclusive table accessory designs. The collection offers a coaster, napkin ring, place card holder, and LED votive holder, available at digitalstore.makerbot.com/martha-stewart.
Looney Tunes, Hanna-Barbera Head to Forever 21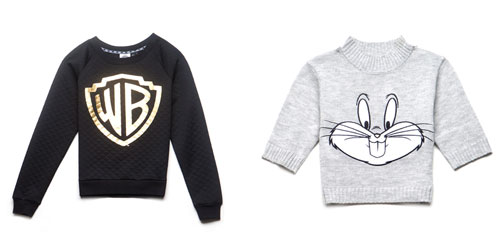 Forever 21 and Warner Bros. Consumer Products (WBCP) launched an exclusive collection of limited-edition women's, men's, and children's apparel and accessories featuring classic Looney Tunes and Hanna-Barbera animated characters. The WB x Forever 21 collection was designed and curated by Jerry Leigh, in partnership with WBCP, for Forever 21.
The 44-piece line includes sweaters, T-shirts, tank tops, cropped tops, socks, and loungewear featuring Warner Bros.' animated characters, including Looney Tunes' Bugs Bunny, Tweety, Daffy Duck, Marvin the Martian, and Taz as well as Hanna-Barbera classics such as Scooby Doo, The Flintstones, The Jetsons, and more. The limited-edition collection will launch in stores globally and on Forever21.com beginning Friday, November 28.
Care Bears Expands Presence in Latin America
American Greetings Properties (AGP) and Exim Licensing Argentina secured three partnerships that expand the Care Bears presence in Argentina. The new partners, Wabro, Cotillon Otero, and Picapau, will create product in strategic categories that include plush toys, backpacks, party goods, and bed linens.
Wabro developed its own Care Bears plush line that launched in August for Children's Day. In market now at key retailers, there are plush toys available in three different sizes as well as small backpacks with and without wheels.
Cotillion Otero will launch party goods at key retailers beginning in the first quarter of 2015 that will include birthday posters, decorative masks, surprise bags and boxes, hats, party invitations, disposable tablecloths, disposable glasses, disposable plates, and piñatas.
Picapau will launch the Care Bears program in the second quarter of 2015 at key retailers. The line will include sheet sets, blankets/covers, duvet/bed comforters, cushions, towels, and curtains.