Peg + Cat Head to Latin America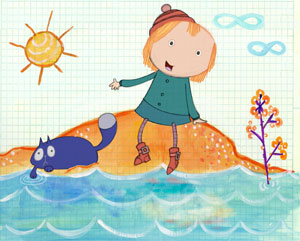 9 Story Media Group announced that its animated preschool series Peg + Cat has been acquired by Discovery Kids for Latin America, including Mexico, Brazil, and Argentina. The series originally debuted on PBS Kids in fall 2013. Peg + Cat recently premiered on Discovery Kids in Brazil and Argentina with other markets expected to follow later this month.
The series has also been acquired by Treehouse (Canada), TFO (French-speaking Ontario), Télé-Québec (Quebec), Canal+ Family together (France and French-speaking territories), CSC (UK), TG4 (Ireland), Super RTL (Germany and German-speaking Europe), YLE (Finland), SVT (Sweden), ABC TV Australia, TVNZ (New Zealand), Disney (Korea), True Visions (Thailand), HOP (Israel), Mini-Mini (Poland), E-Junior (UAE), Zee Learn (India), RTP (Portugal), and MBC Kids (UAE).
Peg + Cat is co-produced by 9 Story Media Group and The Fred Rogers Company for PBS Kids. The series follows a little girl, Peg, and her sidekick, Cat. In order to solve the problems, Peg and her cat must add, subtract, and apply basic arithmetic.
Hog Wild to Manufacture, Distribute AquaPod Bottle Launcher
Hog Wild has been named the exclusive manufacturer and distributor of the AquaPod Bottle Launcher from Great American Projects, Inc. The AquaPod launches a two-liter soda bottle up to 100 feet in the air. The AquaPod bottle launcher comes assembled—all that is needed is a two-liter soda bottle, a basic bike pump, and water.
Trending on TTPM: Dolls
TTPM is showcasing what's trending in each specific product category. Today it's Dolls. This trending list is determined by consumers. It's the number of page views for that item in the previous 30 days and is updated every 24 hours.