Disney to Introduce Latina Princess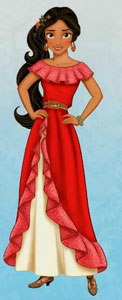 Disney announced last week that a Latina princess will be introduced in 2016 through an episode of Sofia the First on Disney Junior. Princess Elena of Avalor, which Disney describes as a confident and compassionate teenager, lives in an enchanted fairytale kingdom inspired by diverse Latin cultures and folklore. This introduction will usher in a spin-off animated series in 2016 called Elena of Avalor.
"Our creative team has delivered a universal story with themes that authentically reflect the hopes and dreams of our diverse audience," said Nancy Kanter, executive vice-president and general manager, Disney Junior Worldwide, in a statement. "What excites us most is the chance to use distinctive animation and visual design to tell wonderful stories influenced by culture and traditions that are familiar to the worldwide population of Hispanic and Latino families and reflect the interests and aspirations of all children as told through a classic fairy tale."
Created for kids ages 2–7, Elena of Avalor will be presented in 25 languages on Disney Junior channels, among other platforms, in 154 countries around the world.
Warner Bros. Develops New Content Inspired by Mattel, Fisher-Price Toy Lines
Warner Bros. Consumer Products (WBCP), DC Entertainment, and Warner Bros. Animation unveiled new content inspired by toy lines developed in partnership with Mattel and Fisher-Price. Batman Unlimited, inspired by Mattel's toy line, will launch this year with new made-for-video movies and shorts. DC Super Friends, inspired by the Fisher-Price Imaginext toy line, will also offer original content as a series of shorts launching this spring.
Batman Unlimited will debut as a made-for-video animated movie entitled Batman Unlimited: Animal Instincts that stars Batman alongside key superhero allies such as The Flash, Red Robin, and Green Arrow, coming face to face with DC Comics Super-Villain, The Penguin, and never-before-seen cyber animals. Batman Unlimited: Animal Instincts will be available on May 12, 2015, on Blu-ray Combo Pack, DVD, and Digital HD from Warner Bros. Home Entertainment. The sequel is set to release the second half of 2015. Adding to the slate of new Batman Unlimited content, Warner Bros. will release 22 stand-alone, two-minute shorts, which will be available online for free on dedicated channels. Companion apps will also be produced.
The new Batman Unlimited content will bring a new wave of Mattel toys expanded under the banner of Batman Unlimited, including action figures with Animal Ally accessories, a new Batmobile, and the all-new CybeRex robot dinosaur. Additionally, DC Comics' master costume partner, Rubie's Costumes, has signed on for a line of dress-up and costumes; and Thinkway will introduce new Batman Unlimited-themed roleplay accessories. Batman Unlimited will also have a major QSR partner in 2015, with other key categories, such as apparel, to be announced at a later time.
Also debuting this spring, Warner Bros. Animation will release a slate of DC Super Friends animated shorts featuring designs inspired by the Fisher-Price Imaginext DC Super Friends toy line. The 15 three-minute shorts will extend the characters' storylines online for free on dedicated channels. Accompanying the shorts will be the release of companion apps.
DC Super Friends content will build upon the existing world of Fisher-Price Imaginext DC Super Friends toys with an expansion of the toy line following the shorts. There will be all-new playset environments seen in the shorts such as The Joker Laff Factory, as well as a new design of the Batcave, all of which will feature Imaginext's interactive Power Pad, enabling kids to activate key features in the toy. Among other key categories to be announced include publishing partners.
Disney Launches Marvel Super Hero Spectacular Retail Event
Disney Consumer Products announced the expansion of its Marvel Super Hero Spectacular, which is based upon the success of last fall's Marvel Super Hero September. The 2015 event will introduce an enhanced marketing and retail strategy with more partners and merchandise offerings. The campaign will focus on core Marvel franchises including The Avengers, Spider-Man, and Guardians of Galaxy.
Marvel Super Hero Spectacular will see the return of partners such as Hasbro, Party City, Payless, and Hallmark. Its success will also bring in new partners focusing on apparel and consumables. These partners will showcase new promotions, special fan offers, and in-store events.
Marvel Super Hero Spectacular's central hub will be through the newly redesigned www.MarvelKids.com and through www.Marvel.com. These sites will house exclusive superhero content, activities, and special offerings during the event.
KidStuff Public Relations Launches Tech Division

KidStuff Public Relations announced the launch of TechStuff PR. The new division will promote technology and tech-enhanced products that will appeal to children, young adults, and families. The KidStuff PR division will remain focused on traditional toys, games, and gear for families.
"There's a great proliferation in the marketplace of exciting tech products for families," said KidStuff PR president and founder Lisa Orman. "And our agency is perfectly positioned to help these companies gain consumer awareness among our target audiences."
The agency began working with tech start-up Evollve, Inc., in October 2014 to promote its Ozobot, the world's smallest programmable robot. This working relationship was the catalyst in launching the new division. KidStuff says it got Ozobot more than 400 media placements including important tech outlets such as TechCrunch, Mashable, Gizmodo, and Cnet during the holiday season.
Trending on TTPM: Baby Gear
TTPM is showcasing what's trending in each specific product category. Today it's Baby Gear. This trending list is determined by consumers. It's the number of page views for that item in the previous 30 days and is updated every 24 hours.