Masterchef Junior, American Girl in Promotional Partnership
Endemol Shine Brand Partnership Group announced a promotional agreement with American Girl and Masterchef Junior spanning television, film, and digital that kicked off during last night's episode of Masterchef Junior on Fox. In the episode, entitled "The Crème de la Crème…Brûlée," viewers met American Girl's 2015 Girl of the Year, Grace Thomas and got a sneak peek at the new full-length movie, An American Girl: Grace Stirs Up Success.
In An American Girl: Grace Stirs Up Success, Grace (Olivia Rodrigo) is a contestant on a fictionalized baking version of Masterchef Junior and comes face-to-face with Masterchef Junior judge Joe Bastianich. The movie will be released this summer on Blu-ray, DVD, and Digital HD from Universal Pictures Home Entertainment. It will be supported with a major marketing campaign. Watch the trailer here.
iStory, Laser Pegs to Develop Kids' Series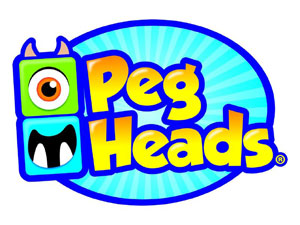 iStory Animation Studios, a spinoff of Laser Pegs Ventures LLC, announced that it has signed an agreement with DQ Entertainment International, a global entertainment, production, and distribution company, to develop and produce a 52 episode x 11 minute Peg Heads CGI-animated series that will be pitched to international broadcasters. The series is expected to launch in 2016. The characters will also be available as a line of toys that are compatible with Laser Pegs.
The Peg Heads storyline is being written by four-time Emmy Award-winning writer Jeffrey Scott and is based on three characters created by Jon Capriola (founder of iStory and Laser Pegs).
Rubie's Upgrades its Delicious Division
Delicious of New York, a division of Rubie's Costume Company, Inc., is making upgrades to take it to the next level, says the company. The new 2015 Delicious of New York Collection will include higher-end costumes and characters with more mass appeal. The new rebranding efforts will also include the introduction of high-end licensed products such as Super Girl, Bat Girl, Harley Quinn, and Wonder Woman.
Delicious plans to execute premium designs that will be packaged in garment bags showcasing the intricate detailing and plush fabrics. Moving forward, all Delicious products will be available under Rubie's discount programs, says the company. In addition, Delicious has unveiled a revamped website and logo.
"The goal is to elevate the division by providing customers with sophisticated options at affordable prices," said Patty Gatto, Delicious of New York national sales director. "The industry has shifted gears in recent years but with an upcoming Saturday Halloween there will be tremendous growth in adult participation so we adapted our upcoming collections accordingly. The new styles and rebranding of Delicious are specially designed to reflect the growing market among young female adults."
LEGO Zooms Past Ferrari to Become World's Most Powerful Brand
Brand Finance, a leading brand valuation and strategy consultancy, says it has tested thousands of the world's top brands, evaluating them to determine which are the most powerful and which are the most valuable resulting in two separate lists.
LEGO has come out on top as the world's most powerful brand, according to the study. Ferrari held the top spot last year while this year it is ranked No. 9. LEGO scored highly on a wide variety of measures on Brand Finance's Brand Strength Index such as familiarity, loyalty, promotion, staff satisfaction, and corporate reputation. A number of factors contributed to LEGO topping the list. Brand Finance says that LEGO is a creative and immersive toy with fans of all ages. In a tech-saturated world, parents approve of the back-to-basics creativity it encourages and they have a lingering nostalgia for the brand from their own childhood. The LEGO Movie captured the brand's cross-generational appeal. Here are the companies listed as the World's Most Powerful Brands:
LEGO
PWC
Red Bull
McKinsey
Unilever
L'Oreal
Burberry
Rolex
Ferrari
Nike
Separately, LEGO also topped Brand Finance's Top Toy Brands. LEGO was followed by Fisher-Price, Barbie, and Playskool. See the Top Toy Brands list here.
Meanwhile, the world's most valuable brand was Apple, followed by Samsung, and Google. See the Most Valuable Brands list here.
Trending on TTPM: App Accessories for Kids
TTPM is showcasing what's trending in each specific product category. Today it's App Accessories for Kids. This trending list is determined by consumers. It's the number of page views for that item in the previous 30 days and is updated every 24 hours.