Jakks Signed for Select Minions Products
Jakks Pacific, Inc., announced that it has been granted rights to manufacture, market, and distribute a line of consumer products based on the Minions from Universal Pictures and Illumination Entertainment's Despicable Me global film franchise as well as the upcoming film Minions, in theaters July 10, 2015.
The licensing agreement awarded by Universal Partnerships & Licensing covers non-articulated figural storage containers (20 inches or larger), inflatable ball pits, wagons, arcade games, The Original Big Wheel, and outdoor children's furniture. Products are expected to launch at retailers in North America in spring 2015.
Disney, Colorforms in Deal
Colorforms announced a licensing agreement with Disney to create a variety of Colorforms sets featuring Frozen, Doc McStuffins, Disney/Pixar's Cars, and Marvel's The Avengers and Spider-Man.
New features in Colorforms include glow-in-the-dark, glitter, magic reveals, and even some with sound effects, and record-and-play capabilities.
In 2014, Colorforms was acquired by Colorforms Brand LLC, a subsidiary of Out of the Blue Enterprises. For more information on Colorforms, see page 22 of the February issue of TFE or click here.
VTech Signed for Teletubbies in Europe, Australia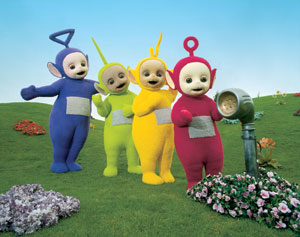 DHX Brands, the brand-management and consumer-products arm of DHX Media, has appointed VTech as licensee for interactive electronic toys (ELAs) for Teletubbies. Product is expected to roll out in fall 2016 in the UK, followed by France, Germany, Benelux, Iberia, Australia, and New Zealand.
The new 60-episode series of Teletubbies has been commissioned by the UK's CBeebies and is being produced for DHX Media by UK production company Darrall Macqueen Ltd.
More than 20 new licensees have been signed to date including Worlds Apart (furniture and accessories), Aykroyds (nightwear and underwear), Character World (bedding), Amscan (partyware), Bon Bon Buddies (confectionary), Posh Paws (bags), GB Eye (posters), and Zak UK (melamine tableware).
CBS Launches The Duff Product Line
CBS Consumer Products and CafePress are partnering for a line of products inspired by the teen comedy, The Duff, which opens on February 20. The first-of-its-kind shop for a CBS Films release launched on February 11 and features an array of products across multiple categories including jewelry, phone cases, journals, stationery, drinkware, accessories, T-shirts, and additional apparel. (The Duff stands for Designated Ugly Fat Friend.)
Watch the trailer here. The store can be found here and will remain open through July 2015.
Scholastic Announces Goosebumps Licensees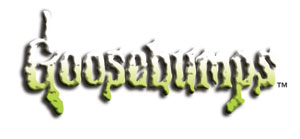 Scholastic has announced a host of licensees for the motion picture Goosebumps, which opens October 16, 2015. The film, from Sony Pictures Entertainment, stars Jack Black and is based on the Scholastic book series by R.L. Stine.
As licensing agent for the brand, Scholastic Media is working in tandem with Sony Pictures Consumer Products to sign partners. The following have recently been signed:
• Berkshire—headwear, footwear, rain gear, winter accessories, and socks
• C-Life—T-shirts, fleece, and thermal tops for men, women, and children
• Card.com—pre-paid payment cards
• Cosmic Forces—mobile game
• Cotton On—T-shirts, stationery (global)
• GameMill Entertainment—PC/video and online games
• GB Eye—posters and novelty (Europe)
• Katalyst—stationery and novelty items (Canada)
• Outset Media Corp.—board/activity/card games
• Rasta Imposta—Halloween costumes
• SG Companies—girls' and boys' sleepwear and slippers
• SRM Idea Lab—novelties, including light/sound slammers, slap bracelets, flashlights, plush sound gloves, book lights, lenticular bookmarks, sound machines, compound toys, and plush
• Trends International—posters and bookmarks
In addition, Scholastic Audio will produce audio books based on the Goosebumps film, while Scholastic's trade book publishing division will introduce five new movie tie-in titles.
New Deals for KISS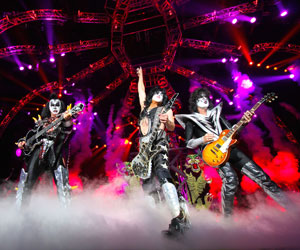 Epic Rights continues to expand the product offerings for KISS with a slate of new licensing deals across a broad range of categories. The most recent deals include:
• The Factor.e LLC for printed performance activewear for men and women
• H3 Sportgear for headwear, including caps, visors, buckets, and knits
• Hypnotic Hats for novelty socks, backpacks, tote bags, and luggage.
• Airwaves for infant onesies
• Stepping Stones for newborn, infant, and toddler footwear and newborn and infant gift sets, including head wraps, caps, and bibs
• Just Funky for throws, blankets, beverageware, and more
• Perri's Leather for guitar straps, guitar picks, and guitar bags
• Advance Graphics for cardboard stand-ups in all sizes
• Trends International for posters and writing instruments
• Costume Galore for Halloween costumes, including masks, make-up, and accessories for the U.S
• UD Replicas for a line of high-end KISS replica stage costumes
• Aquarius Entertainment, C&D Visionary, and Surreal Entertainment will create playing cards, puzzles, and more.
In 2014, KISS celebrated their 40th anniversary with a national tour and were inducted into the Rock and Roll Hall of Fame.
Wonder Forge, DreamWorks in Kids' Game Deal
Wonder Forge announced a new collaboration with DreamWorks Animation to produce games for preschoolers and families in 2015. The multi-year domestic deal spans multiple properties, including timeless classics as well as upcoming theatrical and television releases such as Home and DinoTrux. For holiday 2015, Wonder Forge will publish DreamWorks Eye Found It!, a collaborative family game, featuring a six-foot board game with original art from eight popular DreamWorks Animation properties: Shrek, How to Train Your Dragon, Madagascar, Kung Fu Panda, and more.
Licensees Named for La Guerre des Tuques 3D
CarpeDiem Film & TV, Inc., announced the appointment of The Licensing Shop, Inc., as the exclusive merchandising and licensing agency for its new children's feature film La Guerre des Tuques 3D.
This new animated 3-D feature film is a remake of the 1984 classic, La Guerre des Tuques. (The original film is part of Quebec's cultural history. It has been broadcast every year on Tele-Quebec on Christmas Eve and watched by more than 300,000 viewers annually.)
There are seven new licensees on board as follows:
• Imports Dragon—master toy
• Bayard Canada Livres, Inc.—master publishing
• Ketto Designs—backpacks, back-to-school stationery products
• Kombi Sportswear—cold-weather accessories
• Lady Sandra—home décor
• Hunter Canada—pet gear, housewares, souvenir products, holiday ornaments, crazy carpets
• Allstar Vending—vending novelty products
The film is scheduled for release in December.
CJ Products Signs Veggie Tales
CJ Products, the creators of the Pillow Pets foldable plush, announced that it will create a line of plush products featuring characters from the animated series VeggieTales in the House. The line will include an 18-inch plush of Larry the Cucumber and Bob the Tomato. There will also be Dream Lites of Bob and Larry.
Licensees Signed for Pumpkinheads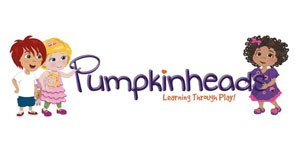 The ThinkTank Emporium, licensing agent for Pumpkinheads, announced that Totally Toys has been named as a toy licensee and Playrific will develop mobile apps for the preschool publishing property.
Totally Toys will develop dolls, playsets, and more to build upon the publishing program. Playrific will create games, puzzles, and read-along stories.