TIA Says Tentative Agreement Reached at West Coast Ports
The International Longshore and Warehouse Union (ILWU) and Pacific Maritime Association (PMA) announced a tentative agreement on a new five-year labor contract, ending several months of significant back-ups and costly delays at 29 West Coast ports, according to a statement issued by the Toy Industry Association (TIA).
After more than nine months of protracted labor talks, the deal was finally reached with the assistance of U.S. Secretary of Labor Tom Perez and Federal Mediation and Conciliation Service Deputy Director Scot Beckenbaugh. Though the deal is subject to ratification by both parties, the ports have resumed full operations, according to the TIA.
"TIA is relieved to hear that a deal has been reached to end the standoff at the ports, and we are thankful that the Administration stepped in to help broker a deal," said Carter Keithley, president and CEO of TIA, in a statement. "While we are aware that the port congestion will not be cleared up overnight, this deal is a big step towards bringing the toy industry some degree of relief. Going forward, TIA has two objectives: in the short-term, we need to get our ports back in working order and clear the backlog. In the long term, we will continue to actively work on these issues, as we look for ways to improve our nation's transportation infrastructure to prevent a similar congestion crisis from occurring again."
TIA worked for several months with industry stakeholders, port directors, and federal and state government officials to advocate for a swift resolution to the negotiations and identify possible solutions to the severe backlogs experienced at the ports.
TIA members will be kept informed on this topic as further updates and developments occur. Those interested in further information can contact TIA's Rebecca Mond, director of federal government affairs at (202) 459–0352.
Toy Fair 2016 Dates Announced
The Toy Industry Association (TIA) announced that Toy Fair 2016 will run from Saturday, February 13–Tuesday, February 16, 2016, in New York City's Jacob Javits Convention Center. For more information, visit ToyFairNY.com.
Meanwhile, PlayCon is fast approaching. This year's conference is set for Wednesday, April 29–Friday, May 1 at the Hyatt Regency Scottsdale Resort & Spa at Gainey Ranch in Scottsdale, Ariz. See the list of speakers here.
Genius Brands to Create Content, Licensing Program Based on Llama Llama Book Series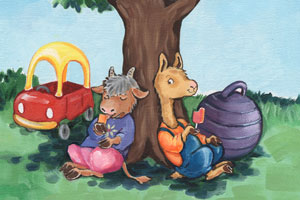 Genius Brands International (GBI) has partnered with Penguin Young Readers and author and illustrator Anna Dewdney to lead the worldwide expansion of Dewdney's New York Times best-selling children's book franchise, Llama Llama. GBI will create animated content based on the Llama Llama books for multi-platform distribution. The book series has previously been adapted for the stage, dance performances, and musicals.
Additionally, GBI is developing a global licensing and merchandising program for Llama Llama across a multitude of categories, including toys, games, apparel, accessories, bedding, and healthy snacks and meals. The products are expected at retail in the U.S. in 2016.
With 9.4 million units in print, Dewdney's Llama Llama books have all been New York Times bestsellers with several titles claiming the No. 1 spot. Her work has been translated into eight languages. Praised as a "geographer extraordinaire of the emotional terrain of preschoolers and their mothers," (Chicago Tribune), Dewdney's soothing tales are synonymous with calming early childhood anxiety, says GBI.
The book series includes Llama Llama Red Pajama, Llama Llama and the Bully Goat, Llama Llama Time to Share, Llama Llama Misses Mama, Llama Llama Holiday Drama, and Llama Llama Mad at Mama.
Walmart Reports Q4
Wal-Mart Stores, Inc., last week reported financial results for the fourth quarter and fiscal year ended January 31, 2015. It also announced major new initiatives designed to benefit its in-store associates.
Fourth Quarter
Consolidated net sales for the fourth quarter were $130.7 billion, an increase of 1.4 percent over last year. This quarter included the negative impact of approximately $2.6 billion from currency exchange rate fluctuations. On a constant currency basis, net sales increased 3.5 percent to $133.2 billion. Membership and other income decreased 0.5 percent. Total revenue was $131.6 billion, an increase of approximately $1.9 billion, or 1.4 percent.
Consolidated net income attributable to Walmart was $5 billion, a 12.1 percent increase. Diluted earnings per share from continuing operations attributable to Walmart were $1.53, compared to last year's $1.34. Underlying diluted earnings per share from continuing operations attributable to Walmart were $1.61, compared to $1.60 last year.
Fiscal Year 2015
Consolidated net sales for the year were $482.2 billion, an increase of 1.9 percent over fiscal year 2014. Net sales included approximately $5.3 billion of negative impact from currency exchange rate fluctuations. Membership and other income increased 6.3 percent. Total revenue was $485.7 billion, an increase of approximately $9.4 billion, or 2 percent. Constant currency revenue was almost $491 billion.
Consolidated net income attributable to Walmart was $16.4 billion, up 2.1 percent. Diluted earnings per share from continuing operations attributable to Walmart were $4.99, or 2.9 percent above last year's $4.85. Underlying diluted earnings per share from continuing operations attributable to Walmart were $5.07, compared to $5.11 last year.
Investing in 2016
"We had a good fourth quarter to close out our fiscal year, with underlying EPS of $1.61," said Doug McMillon, Wal-Mart Stores, Inc., president and CEO. "Walmart U.S. delivered better than expected comp sales. Sam's Club had its best performance of the year, and Walmart International had solid sales and profitability. Like many other global companies, we faced significant headwinds from currency exchange rate fluctuations, so I'm pleased that we delivered fiscal year revenue of $486 billion. But, we're not satisfied."
According to the statement issued by Walmart, McMillon says that the leadership teams are very focused on improving customer experiences through various investments and program initiatives, and for several months, developed and tested new ideas to reward associates for serving customers.
"We have work to do to grow the business. We know what customers want from a shopping experience, and we're investing strategically to exceed their expectations and better position Walmart for the future," he said. "Our first priority is to run great stores and clubs. We will continue to integrate our physical locations with a great e-commerce and mobile commerce business."
Walmart also announced that approximately 500,000 full-time and part-time associates at Walmart U.S. stores and Sam's Clubs will receive pay raises in the first half of the current fiscal year. Current and future associates will benefit from this initiative, which ensures that Walmart hourly associates earn at least $1.75 above today's federal minimum wage, or $9 per hour, in April. The following year, by February 1, 2016, current associates will earn at least $10 per hour.
As part of this announcement, Walmart and the Walmart Foundation also committed $100 million over five years to help increase the economic mobility for entry-level workers by advancing their careers. This initiative will benefit the retail and service industries. The Walmart Foundation will work with other foundations, employers, community colleges, and non-profit organizations to address a fundamental challenge in America—how to better train and advance workers in the retail and adjacent sectors. Today, more than 15 million people, including seven million women, work in retail.
"We're encouraging our associates to continue their education by providing no-cost access for them to complete their high school diploma or GED, as well as free and low-cost college credit to reduce the time and cost of earning a college degree," said McMillon. "The skills and training that an associate receives through this program will be transferable outside of Walmart."
Guidance
Walmart provided guidance for EPS and updated its estimate for fiscal year 2016 sales growth.
"Given the investments we're making in our worldwide e-commerce initiatives and in our associates through higher wages and training, we expect operating income to be pressured in fiscal 2016," said Charles Holley, Wal-Mart Stores, Inc., CFO. "We will invest approximately $0.02 per share in the first quarter and approximately $0.20 per share for the full year in the new wage structure, comprehensive associate training, and educational programs. Our incremental investment in global e-commerce initiatives will range between $0.06 and $0.09 per share this year. Together, we're investing between $0.26 and $0.29 per share for these initiatives in fiscal year 2016. We are forecasting earnings per share for the full year of fiscal 2016 to range between $4.70 and $5.05. For the first quarter, EPS will range from $0.95 to $1.10."
Returns
The company paid $6.2 billion in dividends and repurchased approximately 13.4 million shares for $1 billion during the year. In total, the company returned $7.2 billion to shareholders through dividends and share repurchases.
Return on investment (ROI) for the trailing 12 months ended January 31, 2015, was 16.9 percent, which was relatively flat compared to ROI for the fiscal year ended January 31, 2014. The slight change in ROI was primarily due to continued investments in store growth and e-commerce initiatives, offset by currency exchange rate fluctuations.
Free cash flow was $16.4 billion for the 12-months ended January 31, 2015, compared to $10.1 billion in the prior year. The increase in free cash flow was primarily due to the timing of payments for accounts payable and accrued liabilities, as well as the timing of income tax payments, combined with lower capital expenditures.
U.S. comparable store sales results
During the 13-week period ended January 30, 2015, Walmart U.S. comp traffic rose 1.4 percent, while average ticket increased 0.1 percent. Excluding fuel, for the 13-week period, Sam's Club comp traffic was up 1.5 percent, and average ticket increased 0.5 percent. The company's e-commerce sales impact includes those sales initiated through the company's websites and fulfilled through the company's dedicated e-commerce distribution facilities, as well as an estimate for sales initiated online, but fulfilled through the company's stores and clubs. For the 13-week period, e-commerce sales positively impacted comp sales in Walmart U.S. by approximately 30 basis points, and positively impacted Sam's Club comp sales by approximately 40 basis points.
"Our fourth quarter was the first positive traffic comp we've had since the third quarter of fiscal year 2013," said Greg Foran, Walmart U.S. president and CEO. "Walmart U.S. had increased traffic during the six-week holiday season, with strong sales in seasonal, toys, home, and apparel. We completed almost 1 billion total transactions during the holiday season, including our largest online day ever on Cyber Monday."
Trending on TTPM: Dress-Up
TTPM is showcasing what's trending in each specific product category. Today it's Dress-Up. This trending list is determined by consumers. It's the number of page views for that item in the previous 30 days and is updated every 24 hours.