Propel Equity Partners Acquires Buzz Bee Toys
Propel Equity Partners announced that it has acquired Buzz Bee Toys. Buzz Bee Toys, a diverse line of active play toys, will join the Alex Brands family of brands, which includes Alex Toys, Poof, Slinky, Scientific Explorer, Ideal, Zoob, Backyard Safari, Zillionz, Citiblocs, and Shrinky Dinks. This acquisition marks the eighth by Propel Equity Partners since August 2012 on behalf of the Alex Brands family of brands.
"This acquisition is yet another step in our strategy of building Alex Brands into a home of best-in-class brands in the toy industry and an indication of our strong belief in the health and vitality of this sector," said Michael Cornell, chairman and CEO of Propel Equity Partners, in a statement.
First introduced in 2002, the Buzz Bee Toys portfolio of brands includes Air Warriors, Water Warriors, and Ruff Stuff and provides an active play experience with an extensive line of products ranging from dart blasters and water blasters to water toys, flying toys, roleplay, and junior sports offerings.
McHugh Leaves ASTRA
Kathleen McHugh will leave her role as president of the American Specialty Toy Retailing Association (ASTRA) effective October 6, 2015, the ASTRA board of directors announced today.
"It has been a privilege to work with dozens of board members and other committed volunteers during the many years I have led ASTRA and my decision to leave is one of the hardest I've ever made," said McHugh in a statement this morning. "For over 15 years, ASTRA has provided me the opportunity to grow professionally and personally. Working with our members and supporting their entrepreneurship dreams with effective ASTRA programs has been my joy. I am deeply grateful for the opportunity I have had to contribute to the success of the organization as well as to the sustainability of the industry. I am proud of what we have accomplished together."
Michael Levins, CEO of innovativeKids and chair of the ASTRA board of directors said in a statement. "ASTRA has seen remarkable growth under Kathleen's leadership. Today we enjoy the largest membership in our history, a thriving Marketplace & Academy, which is a not-to-be-missed event each June, a well-respected Best Toys for Kids award program that represents the collective expertise of our retailers nationwide, and collaborations that help us make an impact on public policy issues affecting our members. Plus we have exciting new programs we are rolling out, including the ASTRA Exclusives program and year-round professional education for retailers, sales reps, and manufacturers. This list does not begin to cover all of Kathleen's accomplishments over the past 15 years. Suffice it to say that ASTRA members have access to more services and more programs to support their businesses than ever before."
In the coming weeks, ASTRA's board of directors will provide information to the membership and the trade on its search for the next president of ASTRA.
Are You Smarter Than a 5th Grader? Set for Relaunch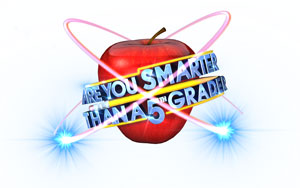 Fox is relaunching the quiz show Are You Smarter Than a 5th Grader? for a 12-episode season on Fox, premiering Tuesday May 26, 2015, (8pm ET). Brand Central, LLC has signed with United Artists Media Group to return as the show's licensing agency. The show is owned by United Artist Media Group (a venture between MGM, Mark Burnett, Roma Downey, and Hearst Corporation), executive produced by Mark Burnett, and featuring comedian Jeff Foxworthy, who returns as host. Originally premiering in 2007, it ran for three seasons. The series then enjoyed a successful syndication run.
Brand Central represented the game show for its initial run and helped generate over $175 million in retail sales since 2007, according to the company. For the show's relaunch, Brand Central has built a cohesive consumer products program with leading licensing partners encompassing toys and games, interactive games, publishing, and educational products to name a few.
Care Bears on the Big Screen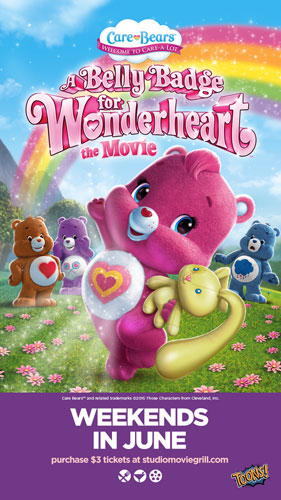 Care Bears is partnering with Studio Movie Grill (SMG) to run A Belly Badge for Wonderheart movie for the first time on the big screen. This Care Bears feature will run in SMG's 20 locations each weekend next month as part of its SMG Toons program, which is a preschool-targeted matinee program for families with children ages 2–6.
SMG is the largest theatrical exhibitor in Texas and the 30th largest in the nation, that combines first-run movies, alternate, and family programming, with in-theater dining and entertainment experience.
Top Toys in April on TTPM
TTPM is sharing what were the top toys in April. The past 30 days saw a lot of hot new toys and here are the most popular. New dolls from Monster High, movie toys from hits like Home and upcoming flicks like Jurassic World, plus lots of seasonal favorites. As always, for the latest in toy reviews as well as what's trending, visit TTPM.com.