Jakks Signed for Batman v Superman
Jakks Pacific, Inc., announced a licensing agreement with Warner Bros. Consumer Products to manufacture, distribute, and market a line of toys and products based on Warner Bros. Pictures' and RatPac Dune Entertainment's feature film, Batman v Superman: Dawn of Justice, scheduled to hit theaters on March 25, 2016. The film, which pairs the two superheroes for the first time on the big screen, is directed by Zack Snyder and stars Ben Affleck as Batman and Henry Cavill as Superman.
The agreement, which covers the Batman v Superman: Dawn of Justice film, also includes a domestic and international renewal for the full DC Comics franchise. The multi-category license includes large-scale action figures and vehicles, accessories, games, wagons, and more. The Batman v Superman: Dawn of Justice product line will launch in spring 2016 to coincide with the film's worldwide theatrical release. New DC Comics product lines will also be available at retailers in this fall.
New Licensees for Angry Birds

Rovio Entertainment announced a host of anchor partnerships that will bolster the Angry Birds North American licensing program ahead of the launch of Angry Birds, the full-length movie that is set for worldwide release in May 2016.
Spin Master joins games partner Hasbro and LEGO in the toy category taking the rights for figures, environments, remote control, and action games. Commonwealth Toy and Novelty Co. extends its relationship with Rovio by adding multiple new plush lines.
Apparel partners include Hybrid and Freeze while Komar has been signed for pajamas and loungewear. Accessory Innovations will introduce a new collection of backpacks, bags, lunch kits, luggage, headwear, and cold weather accessories. Dr. Fresh will launch a variety dental hygiene products.
New Licensees for Peppa Pig
Entertainment One (eOne) Licensing's Peppa Pig, which airs daily on Nick Jr., has announced seven new partners. The new licensees include:
• Baby Boom (The Betesh Group): Toddler bedding, blankets, pillows, nap mats; toddler travel; toddler hooded towels, washcloths, and soft bath accessories
• Idea Nuova: Furniture, lighting, soft storage chests, rugs, hampers, wall hangings and hooks, inflatable beds, and bed tents
• Spin Master: Marshmallow foam furniture, including the Just My Size chair
• The Bridge Direct: Inkoos Color n' Create draw, wash, and redo activity plush
• Handcraft: Children's packaged and hanging underwear in sets and separates
• Esquire Footwear: Children's boots, athletic shoes, sandals, and slippers in sizes 5–12, shoelaces, and accessories
The new Peppa Pig product is part of a major mass-market rollout of Peppa licensed merchandise in the U.S., which in addition to Toys "R" Us includes Walmart and Target. Peppa Pig is now on track to exceed $1 billion in worldwide retail sales in 2015, according to eOne.
New Deals for Shopkins
Bulldog Licensing has announced new deals for Moose Toys' Shopkins in Europe. The brand will see Aykroyds/TDP develop children's nightwear, underwear, and swimwear for UK/Eire. Autumn Publishing/Bonnier will be launching scented publishing that will hit the shelves in all English-speaking markets. The range will include scented sticker scene books, scented sticker activity books, a shopping bag craft kit, scented puzzle books, and notebooks with a scented pen, press-out model books, scented sticker books, and an activity box.
Mattel, Speakaboos in Deal
Speakaboos, the mobile education platform that brings children's stories to digital devices through interactive storybooks, has signed a partnership with Mattel to offer interactive stories for Android for Mattel's preschool brands, Thomas & Friends, Angelina Ballerina, and Mike the Knight.
From May 28–June 28, Speakaboos will offer the following interactive stories featuring Mattel preschool content, exclusively on Google Play. After that, the content will be available across all platforms as part of the Speakaboos subscription service. The new Mattel stories for Speakaboos include:
• Thomas & Friends: Musical Day for Percy
• Angelina Ballerina: Angelina's Gift for Ms. Mimi
• Mike the Knight: Search for Squirt
The launch of the new Thomas app continues a year of celebration for Thomas & Friends as the brand celebrates its 70th anniversary with new content, partnerships, and activations around the globe.
The Speakaboos app is free to download on the App Store and users can explore stories for free on a trial basis. An unlimited subscription service is available for $4.99 a month and $49.99 for a year.
Masha and The Bear Signs Spin Master, Simba Dickie as Toy Licensees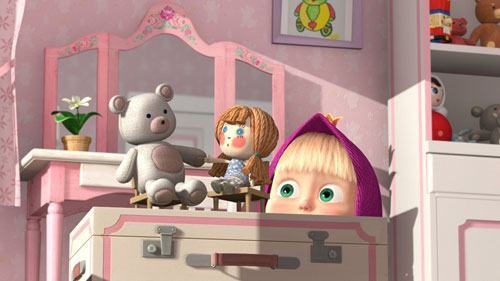 Animaccord Animation Studios, producers and owners of Masha and The Bear, announced the signing of Spin Master and Simba Dickie Group as toy licensees. Spin Master will serve as the master toy licensee in U.S. and Canada for Masha and The Bear. Simba Dickie Group will serve as the brand's master toy licensee for Europe.
Animaccord recently announced a deal with Netflix and has also signed deals with Danone, Egmont, Panini, Hachette, Sony Music, NBC Universal, Ferrero, LG, and others for Masha and The Bear.
Peg + Cat, Candlewick in Book Deal
Peg + Cat, from The Fred Rogers Company, has signed a publishing agreement with Candlewick Press. An extensive range of titles will begin rolling out everywhere books are sold beginning this September with the debut story, Peg + Cat: The Race Car Problem, by Jennifer Oxley and Billy Aronson, co-creators and executive producers of the TV series. Candlewick Press, which holds English-language publishing rights for Peg + Cat, will release the books in the U.S., Canada, the UK, and Australia as part of its multi-year, multi-territory agreement with The Fred Rogers Company.
The broad-based new assortment of Peg + Cat books will include all formats. The company will initially introduce hardcover, jacketed picture books in fall 2015 and spring 2016, and then expand its offerings.
HiHat Media, licensing agency for the brand in the U.S., plans to expand the Peg + Cat consumer products program to include a master toy licensee as well as partners in the apparel, bedding, stationery and gifts categories, and more.
IMG to Develop Emergen-C Brand
Pfizer Consumer Healthcare, makers of Emergen-C, has appointed IMG to develop its licensing program in the United States. The multi-year deal will focus on broadening into an array of consumable goods for the largest U.S maker of vitamin C products, including food, beverage, and health and beauty aids. Emergen-C offers a variety of effervescent supplement drink mixes as well as a new chewable range.
Thermos Signed for Little Charmers
Corus Entertainment's Nelvana announced a new licensing partnership with Thermos, LLC for the Nick Jr. TV series, Little Charmers. The newly signed deal gives Thermos the licensing rights to produce soft and hard lunch kits for kids as well as stainless-steel, vacuum-insulated hydration bottles and food jars, non-insulated hydration bottles, and reusable ice packs.
New Licensees for Outlander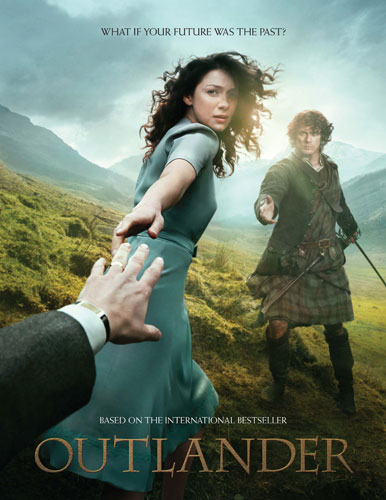 Knockout Licensing, the agency managing the licensing program for Outlander: The Series on behalf of Sony Pictures Television, has brokered a number of new licensing deals. Licensees include:
• Walkers Shortbread for themed shortbread products and packaging
• Dark Horse Comics for assorted gifts including sculpted snowglobes and bookends, ceramic steins, and more
• Lion Brand Yarn Company for yarns and patterns
• RockLove for premium, handcrafted jewelry made in sterling silver and bronze
• Surreal Entertainment for assorted fan-based products including glass beverageware, fleece blankets, and other novelty items
• Vandor for assorted gifts including ceramic items such as cookie jars, drinkware, wall clocks, flasks, and more
Build-A-Bear to Feature Care Bears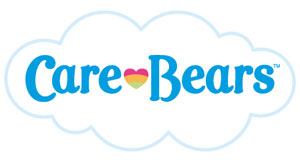 American Greetings Properties (AGP) and Build-A-Bear Workshop announced a global collaboration that will feature the Care Bears brand in Build-A-Bear Workshops for a limited-time worldwide promotion beginning in 2016. Shoppers can create their own stuffable plush toys and choose from a range of accessories to personalize their Care Bear.
Endemol Shine Announces New Licensees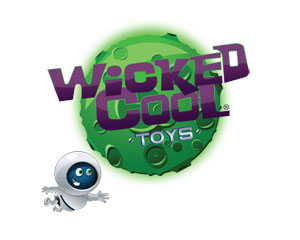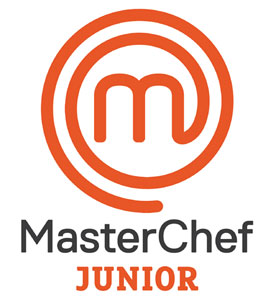 Endemol Shine North America announced licensing partnerships with Wicked Cool Toys, Continuum, WePlay Media, and Venum Fight, for its television series.
Wicked Cool Toys will be launching a kid-safe cooking line inspired by MasterChef Junior in November exclusively at participating Walmart stores.
Continuum is set to design cookware, bakeware, kitchen tools and utensils, and ceramics inspired by MasterChef. The new line is expected in stores Q4 2015.
WePlay Media, will launch the Ask Steve app based on the syndicated talk show Steve Harvey. Coming soon on iOS and Android, the app will provide viewers of Steve Harvey the opportunity to engage with the talk show's content, drawing out community opinion on trending issues. User-generated content will be a prime feature of the app.
Venum Fight, a mixed martial arts and related sports apparel brand, will launch a Navy St. Gym apparel line for a first-of-its-kind TV partnership with Kingdom, DirecTV's original series. Apparel and gear including shirts, shorts, sweatpants and shirts, hats, gloves, mouth guards, gym bags, and sports equipment gear will be available in next month.
Legendary Pictures Announces Partners for Crimson Peak, Warcraft, Krampus
Legendary Pictures announced its lineup of licensees for its upcoming movie slate of Warcraft, Crimson Peak, and Krampus. For Warcraft, global master toy partner Jakks Pacific will release action figures in all scales along with roleplay items. Additional licensees developing product to support the film include Disguise, a division of Jakks Pacific, with Halloween costumes and accessories; WETA Workshop with prop replicas and collectibles; Topps with trading cards; Funko with Pop Vinyl Figures; Insight Editions and Titan Publishing with art books/novelizations; 3D Systems (Gentle Giant) with statues; Trends International with calendars and posters; J!NX with apparel, loungewear, wallets, etc., and more. Warcraft, a Legendary Pictures and Universal Pictures production, is expected in theaters and IMAX June 10, 2016.
For Crimson Peak, Ripple Junction will be developing a line of apparel. Additional licensees that will be developing products include Funko with Pop Vinyl Figures; Insight Editions and Titan Publishing with art books/novelizations; Black Phoenix Alchemy Lab with fragrances, candles, and jewelry; Trends International with calendars, posters, and more. Crimson Peak, a Legendary Pictures and Universal Pictures production, is expected to hit theaters and IMAX October 16, 2015.
For Krampus, WETA Workshop will create a line of collectibles and novelty gifts and Middle of Beyond will create knitted sweaters and ornaments. Krampus, a Legendary Pictures and Universal Pictures production, is expected in theaters December 4, 2015.
AALMG to License Tavern on the Green
Restaurateur and businesswoman Jennifer Oz LeRoy announced that she has acquired the rights to the Tavern on the Green trademark for outside of the tri-state area. She has also signed an agreement with licensing company All American Licensing & Management Group (AALMG) to create a line of branded Tavern on the Green products. AALMG will be seeking partners across categories including tabletop, glassware, flatware, cookware, home accessories and décor, linens, and food and beverage, among others.
In addition, Oz LeRoy will be establishing a series of Tavern on the Green luxury restaurants around the world. The first of these—to be called Tavern on the Green Polo West—is expected to open in Wellington, Fla. in October. The 350-seat restaurant will boast 15 acres of polo fields and an arena that will accommodate evening and daytime equestrian activities.
(Oz LeRoy's father—the restaurateur Warner LeRoy—took over Tavern on the Green's lease in 1974 and shaped it the world-famous dining experience that the name evokes today.)
Hasbro Signs Pie Face Game
Hasbro announced it has acquired the rights to manufacture and distribute the Pie Face game. Under license from Rocket Games, Hasbro will launch the game in multiple markets including the UK and U.S. this fall. (The excitement around the Pie Face game heightened earlier this year after a video of a grandfather and grandson playing the game became a viral sensation with more than 88 million views.) The game is simple to play as players load the arm with whipped cream (not included) or the included sponge and take turns sliding their head through the mask and spinning the spinner. Players turn the handle the number of times indicated on the spinner and the tension on the arm will build—suddenly someone will be surprised with a face full of whipped cream.
The Pie Face game was previously distributed by Esdevium Games, a UK-based distributor of games, collectibles, and toys across Europe.
Hustler Vapes to Launch
Hustler has partnered with ISI Wholesale to launch a range of Hustler Vapes globally this summer. This is the first product launch to utilize the new Hustler Brand Vision, and Hustler Vapes is the only vapor brand on the market backed by an established household name, according to the companies.
Hustler Vapes employs cutting-edge technology tailored by the only ISO-compliant vaporizer manufacturer, into a collection of models such as the Hustler Player Edition 3-in-1 personal vaporizer. Hustler Vapes is also launching a collection of five e-liquid flavors for use in the vaporizers.
Ghostbusters in Six Flags Mexico City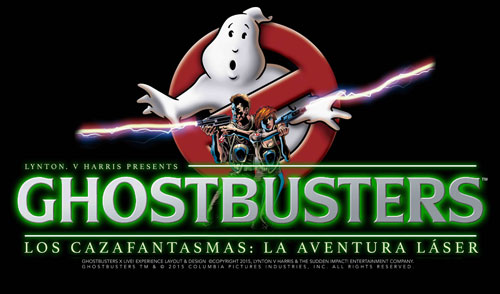 Lynton V Harris & The Sudden Impact! Entertainment Company created the world's first live, interactive Ghostbusters attraction under license from Sony Pictures Consumer Products (SPCP).
The company has signed a three-year deal with SPCP and continues its relationship with Six Flags Mexico following the success of previous attractions such as The Van Helsing Experience Live! and TerminatorX: A Laser Battle for Salvation. The new attraction has a cast of between six and eight live actors who will play as seasoned Ghostbusters to interact with guests in the historic La Llorona building inside Six Flags Mexico.
Hasbro Signs Plein for Men's Transformers Apparel
Hasbro announced that it has signed a licensing agreement with top designer Philipp Plein for a collection of Transformers-branded shirts for men to be sold at Plein's global luxury stores and online starting in the second half of June. The German fashion designer, known from his presence at Fashion Week in Milan, will combine eccentric materials with attention to detail and extravagant applications for this line.
New Deals for Daniel Tiger's Neighborhood
The Fred Rogers Company announced that it has signed five new licensees for Daniel Tiger's Neighborhood. The licensees include:
• Bakery Craft—Round and sheet cakes as well as edible and non-edible cake decorations, featuring scenes and individual characters (Daniel Tiger, Katerina, O the Owl, Miss Elaina, Prince Wednesday). The offerings will also include a cake kit featuring a plastic figure of Daniel Tiger with Trolley as well as Katerina and O the Owl.
• Bendon, Inc.—Coloring/activity books and box sets including some with crayons, paints, stickers, and markers; activity sets and kits; and oversized coloring floor pads.
• Buy Seasons—An array of party and celebration goods such as paper dinner/dessert plates, napkins, paper cups, invitations, thank-you notes, Mylar balloons, centerpieces, table covers, personalized banners, piñatas, giant wall decals, cone hats/ masks, favor boxes, and assorted party favors.
• Colorforms—Two restickable activity sets that showcase the series' main characters. The Take-Along set provides recloseable storage and six Colorforms sheets, and the Create-a-Story set features a box that transforms into a pop-up easel with storage and includes eight Colorforms sheets.
• Komar Kids—A range of colorful children's sleepwear, including two-piece pajama sets in both long- and short-sleeved tops and long and short bottoms, and nightgowns.
Jazwares Expands Deal with Terraria
Jazwares announced an expanded global partnership for the video game Terraria. Jazwares, producer of Terraria's toy line, will represent the brand's licensed product portfolio and animation rights worldwide. The expanded product portfolio including soft lines, hard lines, and publishing partners will be announced next month and will begin to hit stores this fall. New partnerships are expected to be announced next month.
Mattel Named Master Toy for Dinotrux
DreamWorks Animation's Dinotrux, airing only on Netflix, introduces kids to a prehistoric world filled with creatures that are half-dinosaur, half-construction vehicle. Mattel has been named master toy licensee for the series. Mattel will create large-scale characters and vehicles, among many other items.