Disney, Hasbro Launch Playmation Merging Digital/Physical Play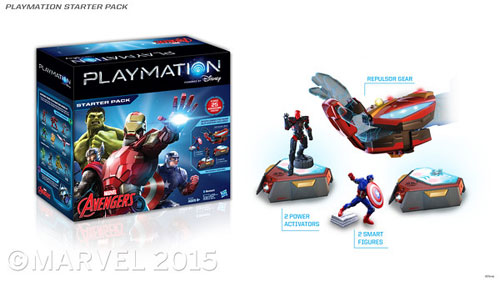 Disney Consumer Products (DCP) introduced Playmation yesterday, which the company says is the next step in the evolution of play, merging digital and physical play. DCP's system of toys and wearables, created through a partnership with Hasbro, uses smart technology to inspire kids to run around and use their imaginations. Playmation will allow kids to become the hero or heroine of stories from across The Walt Disney Company. DCP and Hasbro collaborated on physical product design and manufacturing of Playmation.
Playmation Marvel's Avengers is the first in a series of systems in development around Walt Disney Company franchises, and will hit shelves this October. At launch, the Playmation Marvel's Avengers Starter Pack will include five connected toys: one piece of Avenger Gear (Repulsor), two Power Activators and two Smart Figures—a Super Hero (Captain America) and a Super Villain (Iron Skull). DCP says that getting started is easy, strap the high-tech Repulsor Gear onto your arm, and listen to JARVIS as he takes you through the tutorial on how to control the Gear, inspired by Iron Man technology. Other Playmation Marvel's Avengers connected toys that work with the Starter Pack will also be available separately for purchase at launch, with more on the way.
Also available at launch, is the AvengersNet app where kids can register Avenger Gear to see progress, explore additional locations and characters, and get access to new missions. New recruits to the Avengers can fight Marvel Super Villains including Ultron, Iron Skull, Loki, or join fellow Avengers Super Heroes like Black Widow, Falcon and more as they battle to save the Earth by running, jumping, ducking, and dodging—whatever each challenge requires.
Playmation Marvel's Avengers uses familiar technologies including smart toys, wearables, wireless technology, motion sensors and more, but DCP says it applies them in ways that are completely new to create an experience that's never been possible before. The Repulsor Gear connects with the Power Activators and Smart Figures to take kids on a variety of adventures through locations around the Marvel Universe, from the Avengers Lab in New York to the jungles of Wakanda. Playmation is purposely not tethered to an internet connection so players can run around and explore each adventure from anywhere they want. Multiplayer modes are also available.
The Playmation Marvel's Avengers Starter Pack will have a suggested retail price of $119.99 and will launch in October in the U.S. and Canada at mass retailers, select Disney Store locations, and DisneyStore.com. It will be available for pre-order starting July 7.
Star Wars and Disney Frozen systems are currently in development for 2016 and 2017, respectively.