LEGO Worlds Debuts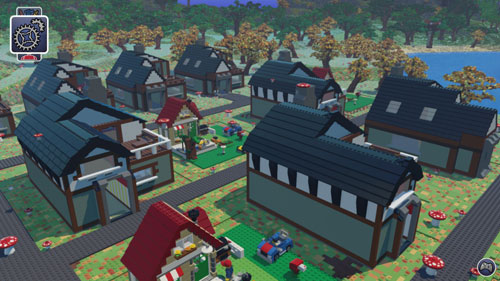 Warner Bros. Interactive Entertainment, TT Games, and The LEGO Group announced LEGO Worlds, a limitless collection of procedurally generated worlds made entirely of LEGO Bricks, where players build unique environments and define their own experience. Developed by TT Games, LEGO Worlds allows players to use LEGO building sets digitally so they can build and create wherever their skills and imagination roam.
The game entered STEAM Early Access earlier this week, with the goal of allowing the gaming community to provide feedback for continual improvements and the integration of additional content over time. Players who want to join the Early Access experience can download the STEAM client here and then visit the LEGO Worlds product page here to download the game.
Beanstalk's Blueprint Launches Brand Extension Indicator
Blueprint—Powered by Beanstalk, the consulting division of Beanstalk, announced the launch of an online tool designed to help brand owners evaluate prospective brand extensions. The Brand Extension Indicator, or BXI, was developed by Blueprint as a solution to a growing need for evaluative tools that can help brands apply a customized approach to brand extension opportunities.
BXI utilizes qualitative and quantitative metrics to determine how potential extensions align with a brand's equities and assesses the viability of entry into future market segments. The tool also enables the brand to consider the suitability of partner candidates.
Utilizing a proprietary rating system tied to an assessment that is designed specifically for the individual needs of a brand owner, BXI creates a weighted recommendation about the quality and possible red flags of a potential brand extension and partner. For more information, click here.
Aurora World Opens New AmericasMart Showroom
Aurora World announced the opening of a new state-of-the-art permanent showroom at AmericasMart Atlanta, a facility in which Aurora has operated since 1993. The new showroom will make its debut at The Atlanta International Gift & Home Furnishings Market, July 7­–14.
Previously located on the seventh floor, the new showroom will launch in Building 2 on the 14th floor of AmericasMart. The 4,200 square foot showroom will allow Aurora World to better display its more than 3,500 everyday, seasonal, licensed, and proprietary products. These include popular branded plush and leading licensed lines such as YooHoo & Friends, My Little Pony, and Cutie Curls, as well as Raggedy Ann, which is currently celebrating its centennial anniversary.
Bravo Sports Introduces PlayWheels Kids' Brand
Bravo Sports, known for sporting and recreational goods, is introducing PlayWheels, a new brand focused on outdoor products and toys for kids ages 3–8. PlayWheels will include a full range of licensed skates, skateboards, ice skates, scooters, safety accessories, and more. Licensees for the line will include Disney Princesses, Frozen, Minnie, Disney Fairies, Sofia the First, Jake and the Never Land Pirates, Transformers Robots in Disguise, Planes, Cars, Spider-Man, Avengers, Guardians of the Galaxy, Teenage Mutant Ninja Turtles, Bubble Guppies, Team Umi Zumi, Paw Patrol, Dora, SpongeBob SquarePants, Hello Kitty, My Little Pony, and more.
The first products from PlayWheels will be available this fall at retailers nationwide.
What's New in Jurassic World Toys on TTPM
TTPM is showcasing the newest toys for Jurassic World, which opens in theaters on Friday, June 12. For the latest in toy reviews as well as what's trending, visit TTPM.com.