PlayStation Gear Online Store Debuts Globally

Sony Computer Entertainment Europe (SCEE) announced details of PlayStation Gear, its official online store, which has now rolled out across 22 countries. The e-commerce platform debuted in the UK in June, making a wide range of SCEE-licensed merchandise available. Products available from PlayStation Gear feature the most popular gaming franchises for PlayStation as well as PlayStation-branded merchandise. Additional PlayStation Gear stores are now live across Europe, the United Arab Emirates, and Australia.
PlayStation Gear is hosted on the official PlayStation website which receives over 90 million unique visitors annually. The online store has been designed as an integrated part of the PlayStation universe and has been localized for each country so that consumers can shop online in their local language and currency.
In addition, PlayStation Gear also stocks merchandise featuring third-party gaming brands that are available on the PlayStation platform such as the recently released Arkham Knight Batman game.
Wissper to Air on Nick Jr.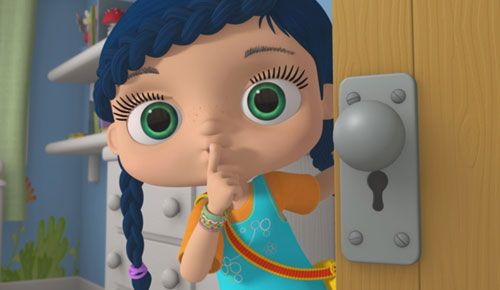 The preschool animated series Wissper is set to make its U.S. debut on Nick Jr. in 2016. Nickelodeon has secured the U.S.-broadcasting rights from German brand management and media company m4e AG, which is co-producing the TV series with Absolutely Cuckoo, Telegael, and Discreet Art Productions as well as BASTEI Media. The series is being sold internationally by m4e AG.
The preschool series is centered around a little girl called Wissper, who has a very special talent—she is able to communicate with animals. She is able to understand their problems and assist them.
TIA, CARU Partner for Advertising Guide to Assist Parents
The Children's Advertising Review Unit (CARU) collaborated with the Toy Industry Association (TIA) to publish a free, updated guide that helps parents talk with their children about advertising. The latest edition of the brochure includes new information about online privacy, apps, and mobile marketing.
A Parent's Guide to Advertising and Your Child provides parents with tips and strategies for teaching their kids about the principles and purpose of advertising, and how to be alert for different forms of ads and marketing.
A Parent's Guide to Advertising and Your Child is now available online—download the free PDF.
What's New in toys for The Peanuts Movie
TTPM is showcasing the newest toys for The Peanuts Movie. For the latest in Toys, Tots, Pets, and More as well as what's trending, visit TTPM.com. The Peanuts Movie opens November 6, 2015. Create a Peanuts character of yourself at peanutizeme.com and be sure to share it on social media.