Saban Partners with Pop Group Blush for Glitter Force
Saban Brands announced a partnership with pop music girl group, Blush, for its new Netflix original series for kids, Glitter Force. Blush, which is made up of five female members from all different parts of Pan-Asia, recorded the Glitter Force theme song and performed additional tracks to be featured in music videos throughout the series. The 20-episode first season of Glitter Force is set to premiere on December 18, 2015, available worldwide on Netflix, excluding Asia.
Glitter Force is an adapted version of Toei Animation's Japanese anime television series, Pretty Cure (or PreCure). The new series follows five preteen girls who learn that they are a legendary superhero squad known as the Glitter Force and must defend Earth from evil fairytale villains.
The Glitter Force music sung by Blush will be digitally released via iTunes and Amazon in 2016. Visit the official Glitter Force YouTube channel for more information.
Ohio Art's Bill Killgallon to Retire
The Ohio Art Company announced today that Bill Killgallon, chairman of the board, will retire from executive responsibilities at the end of this year. However, he will continue to serve as chairman of the board. Killgallon, who has served as its CEO for more than three decades has been working closely with new CEO Elena F. West and president Martin L. Killgallon, III since each were appointed to these positions in February 2015.
"I am grateful to have spent 47 years with this great company, and deeply honored to have had the opportunity to lead The Ohio Art Company for close to 40 years. I am very proud of what my Ohio Art colleagues and I have accomplished together and look forward to supporting Elena and Martin in my continued role as chairman of the board," he said. "The time is right for new leadership to build upon our most recent success and lead the company as it expands into new product categories and new directions as Ohio Art enters its 108th year."
After resigning from The Bank of New York, Killgallon joined his father, the late William C. Killgallon, in 1969 as corporate development director and proceeded to steadily move up the ranks to vice-president of administration (1972), executive vice-president (1976), president and CEO (1978) and, finally, to chairman of the board (1989). Throughout the years, Killgallon also served as director of the Toy Industry Association (TIA), director of the State Troopers of Ohio, Trustee of the YWCA, Chairman and Trustee of the Buckeye Institute, Trustee of Ohio State's Fisher College, and Trustee of Hillsdale College.
Rovio Appoints New CEO
Rovio announced that Pekka Rantala has stepped down as the company's CEO. Rovio has appointed Kati Levoranta as the new CEO.
As part of the leadership change, Mikael Hed will lead Rovio's media business, including its licensing activities, and Wilhelm Taht will lead the company's games unit.
"I want to thank Pekka for his dedication, change leadership, and for steering Rovio through challenging times," said Levoranta. "We are now positioned to make the most of the release of The Angry Birds Movie in May and some exciting developments in the games and consumer products portfolios throughout 2016. I'm looking forward to continuing to collaborate closely with Mikael Hed and Wilhelm Taht in our new roles, and working with all Rovio employees as we take our business to new heights together."
Levoranta has served Rovio since 2012 as chief legal officer, and has also headed the company's sales for the EMEA region since March 2015. Rantala will stay on as CEO until the end of the year to ensure a smooth leadership transition on January 1, 2016.
Mikael Hed, who will lead Rovio's media business including the production of The Angry Birds Movie, is a board member and co-founder of Rovio and serves as chairman of the Rovio Animation Company.
Wilhelm Taht, who will lead the company's games business, has previously served as head of Rovio Stars, Rovio's publisher of games produced by third-party developers.
Shopkins Auction to Benefit TIF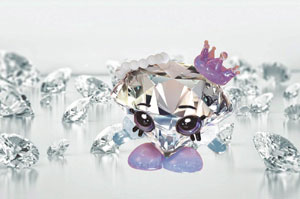 Moose Toys announced that it is donating the full auction amount of $21,500 from the recent week-long charity auction for the Gemma Stone Shopkins to the Toy Industry Foundation (TIF). After 118 bids, a dedicated Shopkins fan in Florida is now the owner of the highly coveted Gemma Stone after bidding $21,500 on the rare Shopkins character. All proceeds from the eBay auction will benefit TIF.
Moose Toys is also donating Shopkins toys with a $100,000 retail value to TIF.
What's New in Strollers on TTPM
TTPM is showcasing the newest Strollers. For the latest in Toys, Tots, Pets, and More as well as what's trending, visit TTPM.com.